InterNations Appoints Kathrin Chudoba as Head of and Vera Grossmann as Deputy Head of Content & Communications
The world's largest network for expatriates adds its Content & Communications Department to the Management Board
Munich, 23 November 2016 — InterNations (www.internations.org), the world's largest network and information site for people who live and work abroad, announces the promotion of Kathrin Chudoba to Head of Content & Communications and Vera Grossmann to Deputy Head of Content & Communications. Both positions were newly created and reflect the increasing relevance of the department, which is now also represented on the Management Board, for the continued expansion of the international network.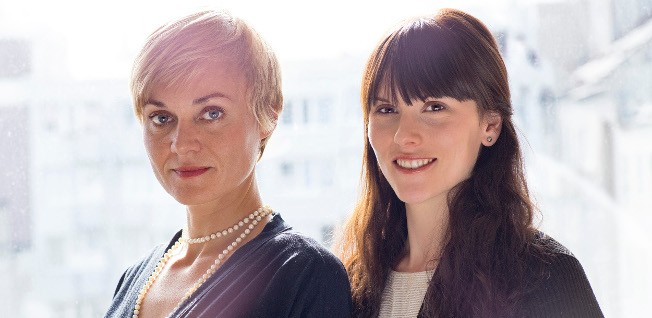 Kathrin Chudoba joined InterNations six years ago and has since grown the company's editorial team not only in numbers, but also in responsibilities. Since moving the Editorial Office out of the Online Marketing Department in 2014, she has been leading the expansion of InterNations' online content, such as the expat country and city guides for more than 150 destinations. She is also responsible for the Expat Insider survey, one of the world's largest annual expat surveys, and oversees the company's social media presence and communication with currently more than 2.4 million members. Kathrin Chudoba holds a degree in European Literature and Culture from the University of Cambridge, UK.
Vera Grossmann has been leading public relations and internal communication at InterNations for the last two years, during which her team has succeeded to increase InterNations' media coverage tenfold. Additionally, she is in charge of the company's photo and video production. Prior to joining InterNations in 2014, Vera Grossmann was a Senior Account Executive for global communications marketing firm Edelman, where she was a strategical advisor and campaign manager for clients from the technology and entertainment industries, such as Microsoft or Bose. Vera Grossmann holds a degree in sociology and media communication from the University of Basel, Switzerland.
The joint expertise of Kathrin Chudoba, Vera Grossmann and their teams will give new impetus to InterNations' content and communication strategies and help the company set new standards in the field. The new department will also be the official home of the InterNations brand and drive the company's efforts to position itself as a trusted companion on every step of the expat journey.
Malte Zeeck, Founder and Co-CEO of InterNations, says: "By creating these new roles and an additional seat on the management board for a key division of our organization, we are reacting to the increasingly intertwined digital conversations of our internal and external stakeholders in a more and more globalized world. Our integrated corporate communication strategy will inspire trust and identification among our members, the public and our employees as well."
After the merge of all editorial and communication teams, the Content & Communications Department at InterNations now consists of 15 out of 100 employees overall. This ratio reflects InterNations' emphasis on the creation and distribution of relevant, high quality content and genuine dialog with all its stakeholders.
About InterNations
With more than 4.8 million members in 420 cities around the world, InterNations is the largest global community and a source of information for people who live and work abroad. InterNations offers global and local networking and socializing, both online and face to face. At around 6,000 events and activities per month, expatriates have the opportunity to meet other global minds. Online services include discussion forums and helpful articles with personal expat experiences, tips, and information about life abroad. Membership is by approval only to ensure we remain a community of trust. InterNations is part of the New Work SE, a group of brands that offer products and services for a better working life.
Find more information about InterNations on our press page, in our company blog, or in our magazine.
Press Contact