The World's Largest Network for Expats Launches New Mobile App
InterNations now offers expats an easy way to stay in touch and explore upcoming events on the go.
Munich, 15 September 2016 — InterNations (www.internations.org), the world's largest network and information site for people who live and work abroad, just launched a new mobile app that is destined to make life easier for expats: connecting and messaging with other international people, joining events in 390 cities around the world and sharing personal photos with the community can now all be done on the move via the InterNations app, which is available for Android and iOS.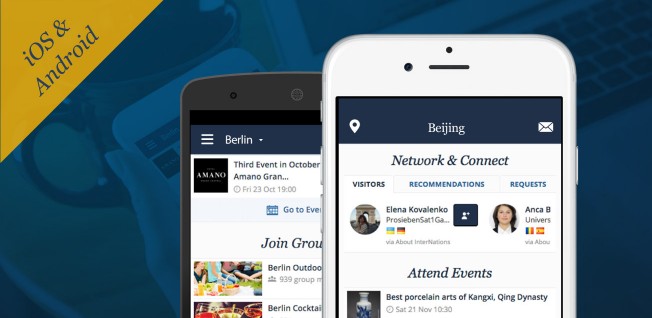 Build a Personal Network
Building a personal network of friends is crucial for expats to feel at home in their new environment. InterNations' extended member search enables them to find others with similar backgrounds, interests or professions. Whether they are looking for a fellow national living in the same destination or someone who works in the same industry or shares a hobby, expats can easily get in touch by using the InterNations messaging system in the app. "Our more than 2.3 million members send several thousand messages every day," says Philipp von Plato, Founder and Co-CEO of InterNations. "Because communicating is so important to them, we recently decided to provide unlimited messaging services not only to our premium members, but to all InterNations users."
Attend Events and Activities
Apart from its free online services, InterNations also offers members the opportunity to regularly meet in person. Volunteers of the network organize more than 4,000 events and activities worldwide every month, including after-work gatherings, business networking, sports sessions and book clubs, just to name a few examples.
Shinta Lucia, an Indonesian InterNations member in Munich explains: "Since having moved to Germany without previously knowing anyone here, I spend much of my free time with other InterNations members — expats and local Germans alike. The InterNations app suggests numerous interesting activities taking place in town every day, ranging from an after-work drink to a bike ride or a photography class. Additionally, I regularly attend the InterNations Official Events, at which hundreds of people mingle and dance the night away. Spending time with others who are also new to the country really helped me to get a better understanding of the cultural differences I am facing and to settle in."
The events and activities can be joined not only by resident expats, but are also open to InterNations members who are traveling to one of the 390 cities with an InterNations Community. Whether in Sydney, Tokyo, Dubai or New York, on a business trip or a vacation, the InterNations Official Events and Activities are a great way to get to know a city and its inhabitants in a very personal and authentic way.
More and More Expats Go Mobile
Over the last months, consumer behavior on the InterNations platform has been showing a clear shift from desktop to mobile use. "More than 60 percent of our members now access InterNations on their mobile device," says Philipp von Plato. "The InterNations app now finding its way onto our 2.3 million members' home screens is a crucial step in our mobile first strategy and allows us to better cater to the needs of our members."
The InterNations app is available for Android and iOS and can be downloaded for free on Google Play and the App Store.
About InterNations
With more than 4.8 million members in 420 cities around the world, InterNations is the largest global community and a source of information for people who live and work abroad. InterNations offers global and local networking and socializing, both online and face to face. At around 6,000 events and activities per month, expatriates have the opportunity to meet other global minds. Online services include discussion forums and helpful articles with personal expat experiences, tips, and information about life abroad. Membership is by approval only to ensure we remain a community of trust. InterNations is part of the New Work SE, a group of brands that offer products and services for a better working life.
Find more information about InterNations on our press page, in our company blog, or in our magazine.
Press Contact