Five Ways to Eat (& Feel) Like a Local
Five Ways to Eat (& Feel) Like a Local
Food is an essential ingredient when it comes to human connection and forming ties in new places. Sampling the local cuisine is a sure-fire way of helping you feel more integrated into the local culture and getting closer to calling your new host country a home. Here are five ways to step out of that culinary comfort zone and into the unknown territory of your new local cuisine.
Research, Research, Research
The first nugget of advice for you is to do your research. It's never been easier to gain extensive knowledge about the country you're moving to, and the eating culture that comes with it. With the help of foodie Instagram accounts and a variety of different google searches, you can develop a bank of knowledge at the beginning, so you know the top dishes to try out first.
This can also be used to impress any prospective local friends when you arrive and show that you have an open attitude towards your host country's culture. It's great to try as much as you can when you first arrive, but with a little more investigation, you might also discover the foods you might want to avoid. In my case, this helped me sidestep eating a bowl of boiled white sausage, a traditional Bavarian breakfast, it definitely wasn't my kind of thing.
Take a Guided Tour
Food tours are also an excellent way of tasting many different traditional dishes from local producers and restaurateurs. As an added plus, they're often walking tours, so you get to find your feet in the city while enjoying delicious food. These guided trips allow you to sample bite-sized portions of traditional dishes and to work out what you like before you order it at a restaurant. The tour guides enthusiastically talk you through each location and tell stories and anecdotes about the meals, too. Knowing that you've tried the best clam chowder in the whole of America could come with some serious bragging rights when you're meeting new people from around the world.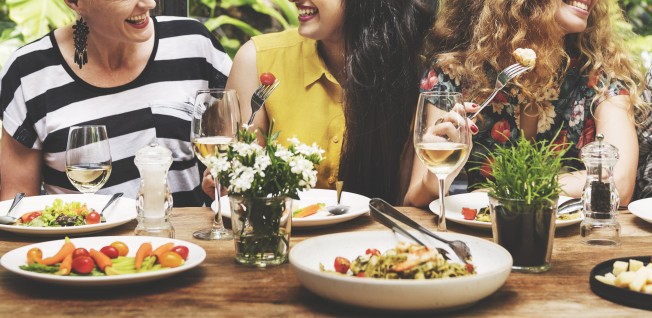 Step Out of the City
If you're living far away from the urban hustle and bustle, then you are halfway there. Cities tend to be a melting pot of cultures from all over the world, and it might be harder to find authentic, traditional food there. This can be simultaneously fantastic and frustrating.
We recommend that you hop on a train or bus and head to the suburbs. These more rural areas often have more affordable food that is less likely to be adapted to a tourists palate. Living so close to the mountains in Munich means that some of the best traditional German meals I've enjoyed have been in tiny wooden huts, hidden on the side of a mountain. The food there is always authentic and incredibly delicious.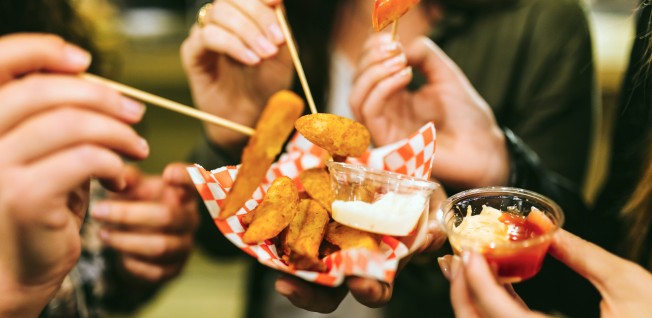 There's an App for That
You can also use different apps to help you find the perfect place for a delicious local meal. There are some great ones out there where foodies share their experiences with a particular restaurant, post photos, and connect with other people searching for the same thing. No matter where you are, so long as you have a WiFi connection you'll be able to look up the place to go for the best ice-cream or a traditional feast, in town. Technology is an incredible tool of the modern-day age, so we might as well take advantage of it!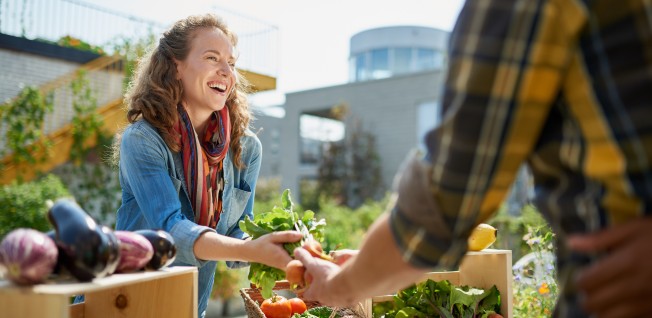 Explore the Markets
As Lauren suggests in the video, food markets are another great way to discover the local produce of the region. Heading there on a sunny morning over the weekend can make for the perfect start of the day and be a great precursor for some relaxing evening cooking. The food is usually locally grown, with less packaging, and fewer harmful chemicals, so both you and the environment benefit from it. Visiting the market also presents a fantastic opportunity to practice the language with the local people. Asking for a handful of tomatoes in the language you're trying to learn won't go unnoticed! You might be surprised at how well your language skills have improved, and, as a backup option, you can always point at the item and smile.
By following even a few of these steps, you'll soon find that you have a better understanding of your new culture in general. Food is for sharing, exploring, and enjoying so if you're feeling pekish, why not give some of these tips a go? You'll feel like a local in no time.
To see the rest of this ongoing video series with our resident expat expert Lauren, visit our Facebook page. There you can share your feedback with us or even ask for advice — we may just use your question as the starting point for the next video!
---
---
Article Topics