Keeping Up the InterNations Spirit: Online Events and Activities to Make It Through Social Distancing
Keeping Up the InterNations Spirit: Online Events and Activities to Make It Through Social Distancing

By Elena Born
After social distancing laws were implemented in many of our communities, our Ambassadors and Consuls had to get creative. With the help of the internet, group call software, and their dedicated communities, they have organized a variety of online events and activities, ranging from parties and coffee chats to therapy sessions and science talks. Have a look at some of the highlights!
Monthly Events Take to the Screen
When their event got canceled due to the coronavirus outbreak, Stockholm Ambassadors Amaris and Johannes quickly came up with a solution: they organized a virtual beach party instead! They shared a playlist with beach songs and encouraged their members to dress in their favorite summer outfits and to bring some snacks. With virtual break rooms that allowed members to meet and talk and a total of 54 attendees, this event was not just the first official event online in Scandinavia and all of Europe, it was also a great success.
At the end of March, InterNations Casablanca went virtual and hosted an online event with DJ Maao. Ambassadors Patrick and Douglas asked their members to put on their favorite party outfits and get ready. In total, 40 people attended the event and enjoyed the live DJ performance. "The members were quite happy, and we received some nice messages," the Ambassadors said. Some of them even shared their experience on Instagram, using the hashtag #internationscasa.
Our community in Tampa Bay hosted their first online event in March, and is now getting ready for the second one, scheduled for Friday, 24 April. Besides meeting up on ZOOM and sharing a drink, Ambassadors Keny, Alvin, and Paula have a whole list of activities planned: you can create a homemade face mask, participate in a show & tell, or play a round of Bingo. Why don't you join in on the fun too?
Share a Drink, Have a Chat
The Malmoe Coffee Break Group has always upheld the very Swedish tradition of fika, a coffee break that is an important ritual and deeply embedded in Swedish culture. Now the group has taken their activities to virtual realms with an Online Fika. Unlike the bigger events, this was a more relaxed activity with the purpose of getting to know one another, sharing a hot beverage, and showing off your most loyal mug or cup.
Between stress-eating and spending a lot of time at home, staying in shape can be a bit of a challenge. The Milan La Dolce Vita Group used their virtual Easter Monday Aperitivo to share some of their healthy habits — from exercise routines to nutritional strategies. This was already the fourth online activity hosted by Group Consul Francesco. The number of participants at his aperitivos keeps increasing week by week, and members from different communities have started to join in on the fun.
The Hong Kong Professional Networking Group also hosted a "drink activity". The event lasted for an hour and a half and had the same spirit as the group's in-person activities. Participants didn't just talk about their favorite drinks, they also shared memories about their first jobs. It is not surprising that this group is very successful and was also one of the first groups in the world to organize online activities.
Although everyone is staying home, the Munich Expat Investment Group is as active as can be. In fact, Consul Wendy created this group just before the crisis hit, so the "Let's Talk Investment over Virtual Happy Hour" Activity was the first one she organized for this group and it was very successful. After this panel discussion, group members can look forward to another virtual happy hour about real estate investments, coming up on Saturday, 25 April.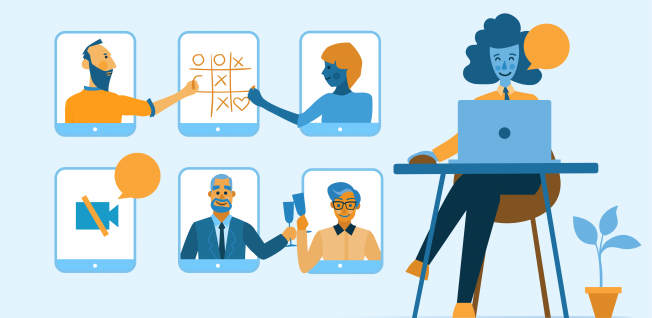 Therapy Sessions and Science Talks
In order to address the mental implications of social distancing, the Thessaloniki City Trotters hosted an open laughing therapy at the beginning of April. Led by InterNations member Eliana, the group dipped into the power and joy of a good laugh. What was originally planned as a small activity for 18 attendees ended up having 100 participants from all over the world.
The Paris Science Group took on not one but two topics related to love. Consul Fred Nour is a neurologist and regularly hosts virtual talks. This time, the group discussed what falling out of love means and how to understand true love based on brain science. The group was created just before the lockdown, and since then it has been very active online, attracting lots of participants. If you missed these activities or if you want to know more about these topics, Fred has also uploaded the virtual talks to YouTube.
Get Creative
Margie, the Consul of the Seattle Literature Group got very creative with two activities organized for the month of April, both of which were cross-featured in many other communities. The first one was a microfiction challenge: after choosing a specific genre and action, each participant wrote a short story. Their literary creations were later discussed with the other members.
Her second activity, scheduled to take place on Saturday, 25 April, is perfect for all hobby cooks and bakers: it's the group's first ever edible book extravaganza! Participants get the chance to create their own personal expression of a literary work, character, or theme, using only edible ingredients. They can then submit their creation and see if it's picked as a favorite during the online activity. Time to get crafty in the kitchen!
If you want to join one of our fun online events or activities and meet other members at a safe distance, check out our events calendar. If you are a member of a group and have a great idea for an activity, why not organize it yourself? Check out our article on how to create virtual events and connect with your community.
---
---
Article Topics