October at InterNations: A Month Bursting with Color
October at InterNations: A Month Bursting with Color

By Monica Hide
With Halloween taking place at the end of the month, many people think of October as the time for all things dark and spooky. But before that, we've got 31 days full of color — from celebrating the changing of seasons and all things autumnal in the Northern Hemisphere, to getting outdoors in the fresh spring sun in the southern part of the globe. Let's take a look at some of this month's highlights!
Bier, Tracht, and All Things Bavarian: Oktoberfest across the Globe
Even though our eleventh anniversary celebrations is sadly behind us, it never takes us long to find a new reason to celebrate, and what could be better than singing along to the "oom-pah-pahs" of a brass band, with a pint of hearty German beer? That's right, all over the globe, far and wide, communities have been celebrating the Bavarian tradition of Oktoberfest.
Starting in the hub of it all, the Munich Community began partying ahead of schedule on Wednesday, 26 September. Hosted in the lively Kaiserschmarrn tent, the night was a luxurious affair of food, fabulous entertainment, and friends. The strong and brave then carried on into the early hours in the VIP area of the Wiesn Club to experience Germany's newer Oktoberfest traditions. A massive thank you to our Munich Ambassadors for hosting such a wonderful night, and all of those who came!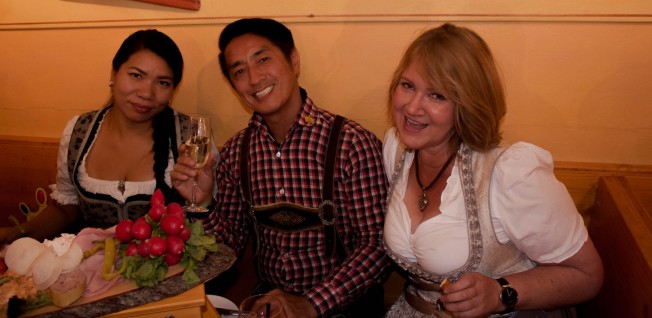 Across the ocean, the Quebec Community also didn't hold back on having a great time. Quebec City Ambassadors Davina Michel, Ombeline Desvignes, and Jeremie Lavoie organized a marvelous event at Pub St Patrick's on Friday, 5 October. We love to see the tradition traveling so far and hats off to all those that made the special effort to wear tracht (traditional Bavarian clothing)!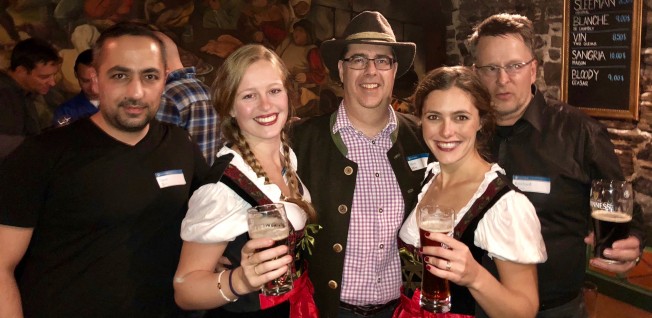 The Belgian Capital gave Bavaria a run for its money this year. Starting the party a little early on Saturday, 29 September, the Brussels Community met at the Steigenberger Wiltcher's Hotel for a night to remember. Those who attended enjoyed a three-course meal accompanied by a traditional band and, of course, beer. The event looked incredible; thank you Waël Afifi for organizing such a splendid night!
The Party Goes On…
For those that have missed out so far, don't worry there are still many more Oktoberfest events to come.
If you are in Dubai on Saturday, 26 October, then why not attend the Dubai Breakfast Networking Group's Bavarian lunch at Grand Hyatt Dubai? The live band "Die Kirchdorfer" will be making an appearance, and there will be plenty of opportunity to try a real variety of foods — including the infamous Kalbsbratwurst (Veal Sausage).
Alternatively, the Singapore Community is also hosting an Oktoberfest event for the seventh year running. This unmissable night will take place at the outdoor lawns of Chijmes on Friday, 19 October, from 19:00 onwards. Be sure to click attending on the event and don't forget your Lederhosen and Dirndl!
We've Been Falling in Love with Fall!
What is there not to love about fall? It's the time of the year when the leaves start to turn dazzling shades of orange and gold, and you can fetch all those warm snug sweaters from the attic that have been neglected over the summer. Plus, the colder darker nights provide a great excuse for staying inside a cozy bar and hanging out with friends old and new!
And that is exactly what the Boston Community did on Wednesday, 10 October. Much in the spirit of the season, Ambassadors Kaslong Nda, Zenab Mansoor, Diana La, and Susan Theus organized a "welcome to fall" event at the Back Bay Social Club. InterNations members met up in the mahogany-toned bar for a drink or two and some great company.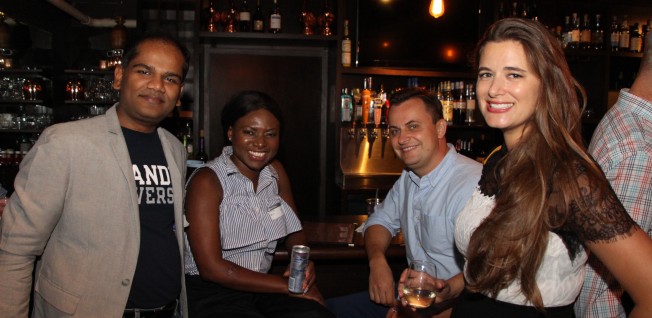 Upcoming Fall-bulous Events
Don't worry, there are still plenty of opportunities to celebrate this season, with lots of upcoming events occurring all across the Northern Hemisphere.
Raleigh Ambassadors welcomes all global minds to a pumpkin and fall celebration at the Fullsteam Brewery on Friday, 26 October. The brewery will be offering all sorts of traditional and experimental beers to taste, all made from locally farmed ingredients — there's even a sweet potato flavor!
In our Cali Community, Amanda Pairitz-Campo, Maria Constanza del Real, and Wolfgang Velasco have organized a real treat of an event! On Saturday, 20 October, they will be hosting their first ever three-course fall-inspired dinner at La Table Des Vins restaurant. Be sure to reserve your spot, and feel free to invite all of your international friends along to this night of fine company and dining!
Meanwhile It's Sunny down South
While the leaves are turning brown up north, the Southern Hemisphere is fully blossoming into spring.
In Nairobi, the warm and pleasant weather made it the perfect opportunity for a get-together, and our new Nairobi Movie Lovers Group Consul Mercy Kariuki did a fantastic job organizing a Kenyan food and movie night under the stars. A massive thank you Mercy, we hope to see more magical movie nights like this in the future!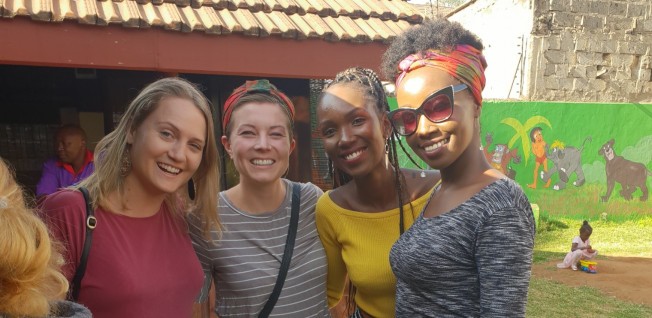 In Johannesburg, our members also celebrated spring with a trip to the Windy Brow game reserve for the second year running. The Johannesburg Outdoor and Adventures Group met on Sunday, 7 October, for a day of hiking and game-spotting. Thank you to Bent Steenberg Olsen for arranging such a wonderful trip.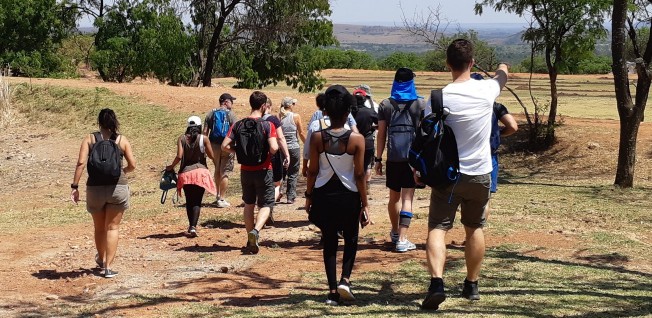 Activities Which Will Put a Spring into Your Step
If you've not made it out to any of our spring activities so far, then maybe one of the following events might be just for you!
At Club de golf Montevideo, the Montevideo Spirituality Group will be having a picnic and meditation on Sunday, 21 October. Hopefully the sunny weather will be the perfect setting to relax and share some delicious food!
Alternatively, if you are in Panama on Friday, 19 October, why not attend the Panama City Singles Group Friday night beach party at Panorama Veracruz. With a backdrop of the beautiful sea, you can enjoy a relaxed evening with fellow global minds.
Last but Definitely Not Least: Upcoming Halloween Events
Of course, it wouldn't be October without Halloween! With so many Halloween events to choose from this month, you are spoilt for choice.
For those who have always wanted to experience life in the twenties, now is your chance! The Dubai Professional Networking Group is hosting a great Gatsby themed networking function. With prizes for the best outfit being announced at 20:30, make sure to get there early for a chance of winning!
London Community beware! Something grisly is going down at TRAMP Private Members Club on Friday, 26 October. The haunted Halloween soiree will be a night of thrills. With tickets going fast, be sure to get them while you can!
For Halloween events near you, check out the Events sections in your community to see what's going on there! From everyone at InterNations, we hope you have a spooktacular time!
---
---
Article Topics