(Re)Discovering Your Passion: Rolling through Expat Life
(Re)Discovering Your Passion: Rolling through Expat Life
I've been an expat in three different countries over the past 15 years. Even with all my time abroad, I continue to face the typical challenges and pitfalls, but I embrace them because I grow stronger with every experience. Luckily, with advancements in telecommunications, development of social media platforms, and increased services that cater to expats' nomadic tendencies, it's gotten easier to pick up and start a new life oversees.
While discovering a new country, learning its customs, tasting its food, and diving into its history, you often discover new parts of yourself. Moving to a foreign country forces you to leave your comfort zone and try new things, and I did just that in a big way four years ago.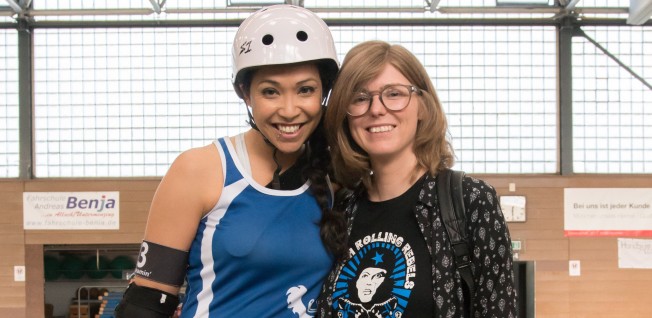 Discovering Derby
The capital of Bavaria attracts not only tourists, but international students, families, and business people who decide to stay mid-to-long term. One weekend, there was a trade show in Munich that targeted international residents, so I decided to check it out. This expat fair's exhibitors included multilingual doctors, tax consultants, international schools, English-speaking choirs and bands, sports clubs, and more. I had already lived in the city for quite some time and more-or-less picked up the language but was interested is discovering some hidden gems. As I browsed the stands collecting informative flyers, free magazines, and goodie bags, I stumbled upon the Munich Rolling Rebels.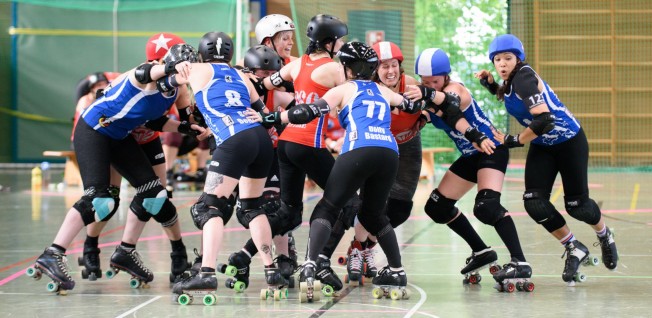 Munich Rolling Rebels vs. Bembel Town Rollergirls
Photo by Bruno Ponce Foto / CC BY-SA 4.0
The Rebels are the city's premier roller derby league. Roller derby is a fast-paced, full-contact women's sport played on roller skates. Yes, roller skates. I guess I'd previously heard of the sport one way or another (there's a movie, right?), but I really knew nothing about it. I soon discovered that this powerful sport originated in the US — my home country — in the 1920s. Speed, team spirit, and a tough attitude, often reflected in the "derby names" of the female skaters, are characteristic for this sport.
Make It or Break It
I decided I had to attend the club's open day and give it a go for myself. With a slightly-too-large helmet on my head, protective gear on my knees, elbows, and wrists, and roller skates on my feet, I waddled into the sport hall. I hadn't worn skates since I was probably ten years old, and it felt like the first day of school all over again. Were the other participants as awkward as I was? How ridiculous did I look? What had I gotten myself into?
The coach entered the room, and I'd never seen someone move so gracefully on two legs, let alone eight wheels. After giving a condensed version of the rules and explaining the point of the game, she let us loose. Some of the regular players were also there to offer tips, a shoulder for support, or a hand to get up when we landed on our butts. After several bumps, scraps, and bruises, I was hooked. Someone that day said, "If you're not falling, you're not learning," and I've applied that advice to every aspect of my life since. Through roller derby, I learned valuable life lessons as well as made meaningful friendships with fearless, strong women. This unique sport got my adrenaline pumping and provided a sisterhood where all nationalities, shapes, sizes, and colors were welcome.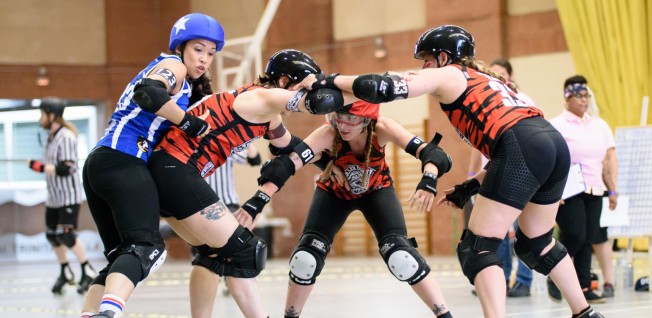 Munich Rolling Rebels vs. Roller Derby Madrid
Photo by Bruno Ponce Foto / CC BY-SA 4.0
Sharing My Passion with Others
This summer, I was able to share my passion for this extreme sport with fellow InterNations members by hosting my first activity and inviting anyone who was interested to watch roller derby in action. We were lucky enough to have an important international bout where the ladies of Team Germany took on Team Italy. Both teams had recently competed in the Roller Derby World Cup hosted in Manchester at the beginning of the year — of 38 teams, Germany placed 13th and Italy placed 23rd. From the bleachers, I explained the slightly complicated rules to the attendees and piqued their interest. Who knows if they'll attend another game in the future, but it was a real pleasure to share the sport with my new friends.
One of the hardest parts about starting out in a new city is making friends, and I'm fortunate to have found a tight-knit community of expat and local women with roller derby. During your time abroad, don't be a spectator and watch your international life roll by. Get out there, and out of your comfort zone, and play!
---
---
Article Topics