Standing Together in Solidarity for a Cleaner, Greener Planet
Standing Together in Solidarity for a Cleaner, Greener Planet
Humble Beginnings
Born in the small northern European country of Estonia in 2008, the idea of a World Clean Up Day initially united 50,000 people. Together, they cleaned up the whole country in a five-hour countrywide initiative. Twelve years later, the idea has grown into a global movement, uniting over 180 countries and millions of people. Each year, volunteers come together to make a difference by cleaning up their beaches, rivers and forests, and, of course, busy streets.
This year, our Changemakers got together to support this vision. Our Changemakers Consuls from Istanbul, Amsterdam, and Düsseldorf share how they joined this global movement to make our planet a better place.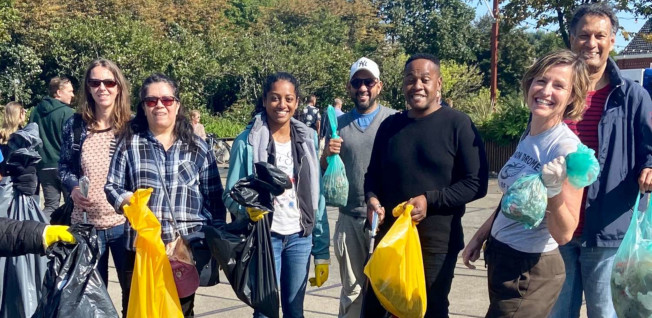 Cleaning up Our Community
Together with their Consul Juan Jose De Blas, the Düsseldorf Changemakers were inspired to join the 3rd edition of the Rhine cleanup. Juan tells us, "this year, there were 35,000 helpers in six countries along the Rhine River, with around 330 tonnes of waste collected. Isn't it crazy?"
In Amsterdam, Changemakers Consul Andra Radu was inspired to host a World Clean-up Day @ Wester Park activity for her group. She tells us, "we noticed the need for such work in our city's most popular public spaces — especially during the summer when the parks and beaches get crowded."
Istanbul Changemakers Consul Alan Davies also saw a need to organize a local cleanup, "seeing so much trash around, especially on our beautiful islands". Focusing on Büyükada, the biggest of the nine Princes' Islands, the group headed to the area near the monastery, to pick up broken glass and other litter.
Highlights and Feedback
Istanbul Changemakers Consul Alan Davies shares that, while making a change in the community was big highlight for his Changemakers Group, it was also "nice to meet people from other countries and have a relaxed chat and lunch after the cleanup."
Juan from Düsseldorf, on the other hand, was impressed with how perfectly the activity in his community was organized by the RIVER CLEANUP organization. "We were provided with the gloves, waste bags, and grabbers to pick up trash," Juan tells us, "and after a long day's work, we gathered at Stadtstrand, a bar next to the Rhine to enjoy a drink sponsored by local companies that support the RIVER CLEANUP organization."
In Amsterdam, members were also well equipped with rubbish grabbers and trash bags provided by the municipality. According to Andra, they found surprising items like a shoe, a children's walker, and a toy snake during their cleanup initiative. Like the Changemakers in Düsseldorf, the group in Amsterdam gathered at a cafe afterwards to celebrate the day's efforts with drinks and some food.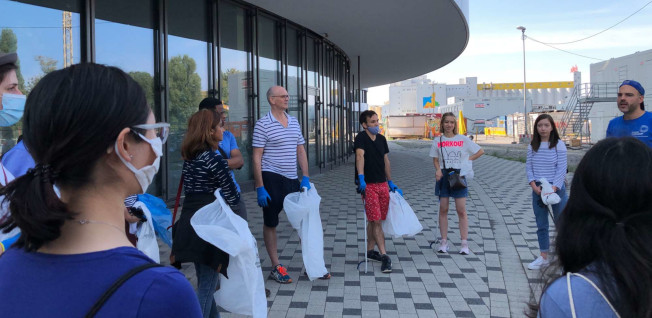 Incorporating Sustainability in Our Daily Lives
According to Alan from the Istanbul Changemakers Group, the most important thing is not to be afraid to speak out when he sees that something is wrong. "We need to highlight the fact that wasting electricity or water and using single use plastics, for instance, is something we should all try to avoid."
Andra shares that the most common type of trash they found during their cleanup in Amsterdam was plastic utensils. To combat this, she advises others to "prepare your picnic or snacks at home instead of buying supermarket plastic-packed ones." In fact, "recycling whenever possible,as well as responsible consumption, especially with regard to plastic items, can go a long way."
The Düsseldorf Changemakers show us how just collecting trash for ten minutes a day during a ten-day period can already make a difference. "It doesn't take much," Düsseldorf Changemakers Consul Juan says, "in our own ways, every one of us can take a step towards making our planet a cleaner, waste-free place."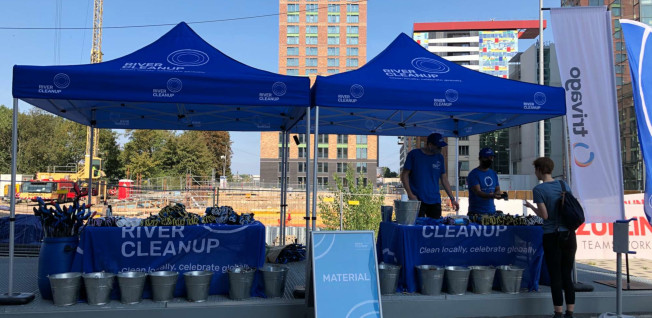 Environmental Issues and Ideas for Future Clean-Up Initiatives
Alan shares that the Changemakers in Istanbul want to encourage their employers to take environmental issues more seriously, by introducing new measures, "such as recycling, using reusable containers, and saving on electicy". Andra mentions that she sees an increased need to clean-up the environment in Amsterdam: "We aim to do this through annual clean-up initiatives, especially during the warm season."
All three of our Changemakers Consuls agree that we have to act locally. Düsseldorf Changemakers Consul Juan stresses that "this directly improves the environment around us." Andra encouraged her group members in Amsterdam to come up with proposals of actions, beyond the activities they had already participated in, "to further develop their ideas with Non-Profit Organizations".
From Plans to Reality
The Istanbul Changemakers pledge to meet once a month to clean up their city and build good connections with other environmental groups. Alan mentions that "we have a motivated group who want to give back to the community, and together we aim to make a difference in any way we can."
With winter coming to Düsseldorf, Juan tells us that the Changemakers plan to "switch back to online activities that raise awareness on environmental problems or other important social issues".
While the Amsterdam Changemakers are also inspired to incorporate sustainability, this will certainly not be the only focus. "We will consider the different interests of our members, while keeping a balance between different social actions and serving various groups of people in need — children, elderly people, and the homeless," shares Andra.
Playing Our Part — The InterNations Sustainability Initiative
Along with our Changemakers, we at InterNations also do our part to create a better planet for us all. We reached our goal of officially becoming a carbon-neutral company by investing in climate protection projects and, in this way, offseting all CO2 emissions caused by our business activities. We continue to focus on sustainability and incorporating it into our everyday company culture. Check out our blog to learn more about how we play a part in giving back to our community.
---
Article Topics