Strength in Diversity in Kuala Lumpur
Strength in Diversity in Kuala Lumpur
There is no limit to what the Kuala Lumpur Changemakers can do. From volunteering at an elephant sanctuary, to tutoring refugee children, and from increasing awareness on food waste and to cleaning gardens, the Kuala Lumpur Changemakers Group has done it. Rather than partnering with one NGO, the Consul, Aida Mustaffa, has another approach: help as many organizations as possible and make sure the members have a brilliant time doing it.
Aida's key word for the Changemakers Group is diversity. She knows that not everyone feels passionate about the same causes and she makes sure that everyone has the possibility to lend a hand for something they feel strongly about. As Aida points out: "There are many organizations in Kuala Lumpur that are in need of assistance (in cash or in kind) or volunteers to help out with their operations." Aida acts as a matchmaker between the members and the organizations. She introduces these NGO's/charities to our Changemakers — like a taster session — and, if it matches their passion, schedule and skills / ability to help out, they can continue volunteering with that particular organization on their own time.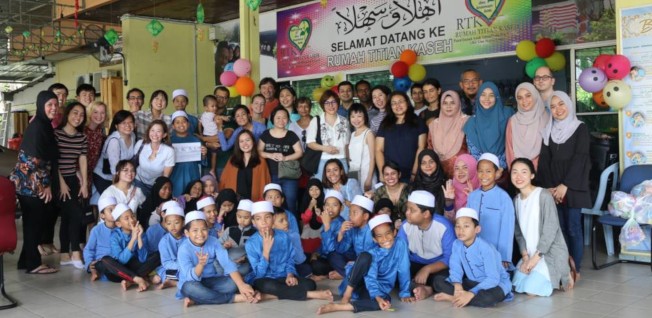 This approach has ensured a steady stream of interest in the group, though, of course, with a core group of people interested in lending a helping hand whatever the activity.
After three years as a Consul, Aida says three activities really stand out for her:
New Year Picnic in the Park with Afghan Refugees (2019) — "We had 13 Afghan refugee kids and 20-odd Changemakers (children included) who attended the event. It was a huge success despite my initial worries and stress. Our group members not only attended the event, but sponsored Subway sandwiches, snacks, ice cream, and bicycle rental for the kids. Some provided transportation to get the kids to the park and back home. There even were some excess funds that allowed us to sponsor these Afghan kids to play a futsal game on another day. The picnic was so much fun for both kids and volunteers. We played several games, too. Whenever we meet up at other events, people are still talking about (and laughing about) how funny these games were!"
Turtle Volunteer Trip (2017) — "This was our inaugural overnight trip away from Kuala Lumpur and a couple of our members reckon this was the best InterNations activity they've attended so far. We volunteered at a turtle sanctuary located two hours from KL, where our Changemakers cleaned the beach, washed the turtle ponds, fed turtles, scrubbed turtle carapaces, and released baby turtles into the sea at sunset. We had a fantastic seafood dinner and spent the night at a beach motel. The next day we drove another hour south to Melaka where we had lunch, enjoyed a river cruise and a walking tour of the famous historical city, visiting museums and centuries-old sites. I'm hoping to organize another trip like this in 2019."
Volunteer at Kuala Gandah Elephant Sanctuary (2017) — "Our Changemakers got to come up close to the rescued elephants that are under rehabilitation at the sanctuary when they cleaned the enclosures, scooped the droppings, and hand fed the elephants. A couple of our group members brought their kids along and the children even got to bottle-feed the baby elephants. The highlight of this trip was definitely the chance to swim in the river with the baby elephants after a hot day. I've got members asking when they could do it again, so perhaps this would be in this year's plans, too!"
But what makes the Kuala Lumpur Changemakers Group for Aida is definitely the members, who are always there to contribute in the best way they can in a kind and friendly manner.
Are you curious about what the Changemakers Group in your city is doing or would you like to get involved? Then learn more about the InterNations Changemakers and find out how to make a difference.
---
---
Article Topics