The Happiness Survey Results Are In
The Happiness Survey Results Are In
Our vibrant community life, spanning across 420 cities worldwide, is only possible thanks to our dedicated Ambassadors and Consuls. Hosting over 500 events and 4,500 activities every month, they are true community leaders, with a passion for bringing people together. Whether it be connecting over a cocktail at an official event, sharing stories while dining on a delicious brunch, hiking up a mountain to enjoy the view, or discussing a best-selling novel, our events and activities are wide-ranging.
Our Ambassadors and Consuls know first-hand that being an expat can be a challenging and, at times, lonely experience. They strive to provide members with plenty of opportunities to come together and connect over their common interests and hobbies, making lifelong friends and sharing many laughs.
Introducing Our First Ever Happiness Survey
But these get-togethers don't organize themselves, and there is a lot of planning and preparation that goes on behind the scenes. Our Ambassadors and Consuls spend their free time organizing unique events and activities, searching for exciting venues and locations, and taking care of all the nitty-gritty details. While you are enjoying the view, the venue, and the good company, our Ambassadors and Consuls are busily juggling many tasks, making sure that everybody has a great time and that each of their guests leave with a big smile on their face.
We strive to ensure that our Ambassadors and Consuls feel supported in their roles as the backbone of our offline life and leaders in their local communities. It is important to us that they experience a collaborative and nurturing environment, and that we provide recognition for the wonderful contribution they make to the lives of expats worldwide.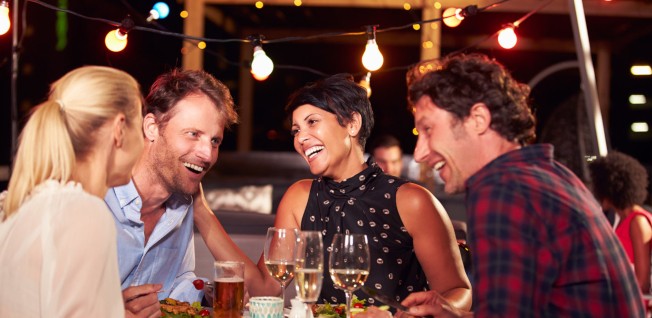 In April 2018, we conducted our first Happiness Survey, collecting feedback from our Ambassadors and Consuls around the world. With almost 1,000 respondents, the survey was a huge success. We received valuable insights into the Ambassador and Consul roles, with respondents providing input on six separate categories:
understanding of InterNations mission and vision
community & team spirit in the local communities
support & communication with headquarters
motivation and recognition
learning & development opportunities available for Consuls and Ambassadors
insights into personal experience with features on the InterNations website, InterNations app, and the Guest List Manager app
The answers to the questions in these six categories produced a combined Happiness Index of 75%. This means that 75% of our Consuls and Ambassadors are generally happy in their roles, taking all aspects of their experience with InterNations into account. We will be conducting this survey on an annual basis and are keen to achieve improved results next year.
The Survey Shows Exciting Results!
We would like to use this opportunity to thank everybody who took the time to take part, and to share some of the findings from the survey with you, broken down by the six categories.
Identification with InterNations: 90% of all Consuls and Ambassadors who took the survey are familiar and able to identify themselves with the InterNations mission, vision and business model.
Community & Team Spirit: 85% of all respondents are feeling welcome in their respective communities and have opportunities for collaboration and exchange with their peers.
Support & Communication: 76% of those who took part in the survey are highly satisfied with the quality, helpfulness, and timing of the headquarters' everyday support and communication.
Motivation & Recognition: 87% are happy in their roles and satisfied with the personal value, benefits, and recognition which their involvement as Consuls and Ambassadors provides.
Learning & Development: only 62% of all the respondents think that the learning and support material they are provided with is helpful. We also received a lot of comments and suggestions in this section, which we will use to improve the learning experience for our Consuls and Ambassadors moving forward.
Experience with the Website and the App: 84% of respondents are very satisfied with their experience with the InterNations website. However, only 42% share the same opinion when it comes to our InterNations app. Through the survey we have collected helpful insights about features and tools that could be useful. We will incorporate this feedback into the development of the native app, which is planned to be released this year.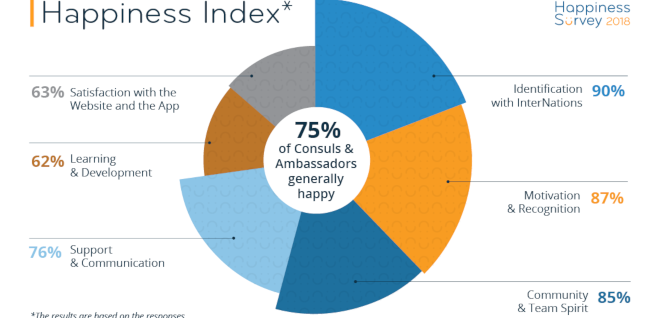 We were glad to see that our Ambassadors and Consuls feel supported overall and are happy in their role at InterNations. However, we will also use the feedback and comments to make some improvements in the future.
Thank you once again to all of our wonderful Ambassadors and Consuls across the globe! Your efforts do not go unnoticed, and we greatly appreciate the time and dedication you put into your roles.
We are always looking for more people to get involved and invite everybody who is interested to become a leader in their community!
---
---
Article Topics