Why I Changed My Mind About Virtual Socializing
Why I Changed My Mind About Virtual Socializing
Getting to know new people and making friends, whether in a city I've already lived in for a while or after a fresh start in a foreign place, is always a bit scary for me at the beginning. But I usually change my mind as soon as I see them face to face. When I had just arrived in Munich, one of the first things I did was to attend different events at InterNations to meet new people with similar interests. I would have loved to keep that going, especially now that the weather is getting better.
However, about six months into living in Bavaria, the coronavirus reached Germany and social distancing measures had to be taken. Like many of you, I quickly started missing going to events and connecting with other people — and I didn't think I'd find it exciting to connect with people I don't know through a screen. Still, I wanted to give it a try and attended three very different kinds of events: a party, a tandem-cooking session, and a Zumba dance lesson. And after one slightly failed attempt, I was really happy that I had pushed myself to socialize online.
Driven by the Urge to Meet New People and Do New Things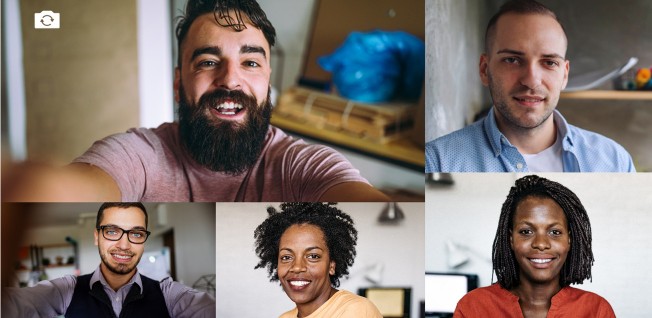 Whether you currently are an expat or not, you might be able to relate: in the past weeks, I've been really missing having conversations with people that don't belong to my closest circle of friends and family. Not that I don't appreciate them, but I've been virtually seeing quite a lot of them lately, especially over the Easter vacation period. To be honest, we've talked so much that at some point, we were actually just staring at each other through our screens for at least ten seconds without having anything special or new to share (which is a very long time to spend in awkward silence).
Still, I felt the urge to communicate with someone else than my partner at home or my family and friends online for a change. Besides, it's really nice to get to know people outside of my usual circle — to hear their stories, broaden my horizon, or discuss old matters with fresh insights. And even if I'd prefer doing that without a screen between us, in the end, it became exactly what I was looking for: a fun distraction, new skills, and one new and deeper connection.
My First (Failed) Attempt
The first event I very briefly attended was a virtual beach party. Looking back at it now, I'm not quite sure why I thought that it would be a great experience for me personally. I'm not a party animal — except if it's on a special occasion or when it comes to theme parties, carnival, Halloween, or other costume parties. The event sounded fun and I was curious about how it would be. But as soon as I joined the online event, I realized that I might have taken the beach theme a bit too seriously: I came in with a lot of white sunscreen on my face, a sun hat on my head, and wearing a huge beach toga.
The people at the virtual party were super friendly but no one was as overdressed as I was. On top of that, my internet connection kept breaking off that day, so I just took it as a sign to leave and try again next time. Yes, I felt a bit embarrassed, and it might have been a great virtual party experience for me, if I would have been able to stick around. But what I learned at my very first virtual event was that I should simply stick to events that already match my interests and expectations.
If you love cocktail parties in real life, you'll also enjoy them online, but if you'd rather discuss the philosophy of Winnie the Pooh, own up to that and find the people who will discuss that with you online at the right event.
The Second Attempt: Inviting a Stranger into My Kitchen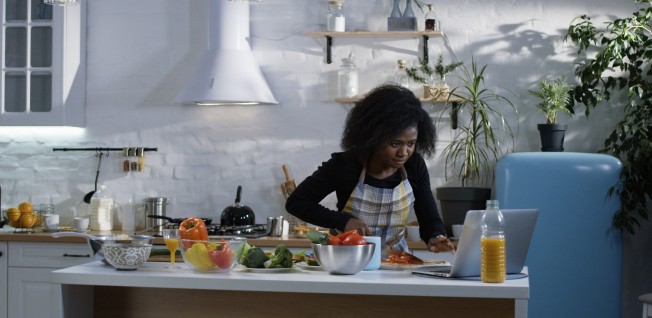 Two days later, I jumped right into the next opportunity: a one-on-one virtual cooking event. I'm neither a professional cook, nor a total beginner, but this time I was sure that I'd enjoy sharing a passion for something I already like with someone else. As we already knew who our respective tandem-cooking partner would be, I connected with her via the InterNations app and we had a chat before the event officially started. My cooking-partner, Alina, lives in Bucharest, Romania. This is definitely one of the things I love most about virtual events: there are no borders, at least as long as everyone has proper access to the internet, which I took care of before the event this time.
About an hour before the event started, quite a lot of thoughts were running through my head, like: What if we don't have anything to say to each other? What if we have nothing in common? How will I even manage to keep the conversation going and not burn my food in that process? But then I just told myself that we do have at least one interest in common: cooking. On top of that, it was a vegan cooking event, so we'd definitely have the millions of vegan topics to cover. And regarding the fear of burning food, I just positioned the laptop in the right spot in my kitchen, so that I could talk to Alina while the food on the stove was always in sight.
From a Nervous Freak-Out to a Quick Bond
Putting my laptop into position immediately reminded me of another issue: "Perfect, I'm not in costume this time, but my kitchen looks like hell." I was in the middle of spring cleaning and had stacked most of the things from the living room in the "webcam-area". So, I just packed everything back into the living room and threw it on the couch before finally switching off my worried head and starting to prepare the ingredients for the vegan chili that Alina and I would virtually cook together.
Finally, all my worries turned out to be unfounded. As soon as my tandem-cooking buddy appeared on my screen, we began talking about ourselves, getting to know each other, discussing food and our progress with the recipe. We worked on the same chili recipe and only had slightly different outcomes as she had to cook it without coriander and I had to replace fresh bell peppers with paprika powder. All in all, we talked and laughed a lot and I cannot recall one awkward moment of silence.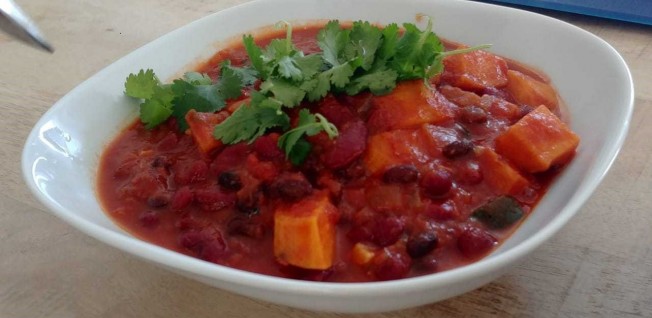 My chili sin carne. (Un)fortunately, Alina did not have time to take a picture before her family dug into her chili, but from what I saw, it looked delicious!
Since then, Alina and I have stayed in touch, mainly sending each other ideas and tips on vegan recipes or on how to transform traditional Bavarian or Romanian dishes into vegan-friendly meals. I would have never expected our very first conversation to go so well, and I'm more than happy to have found someone I can actually stay in touch with.
Event Number 3: Trying Out Something New-ish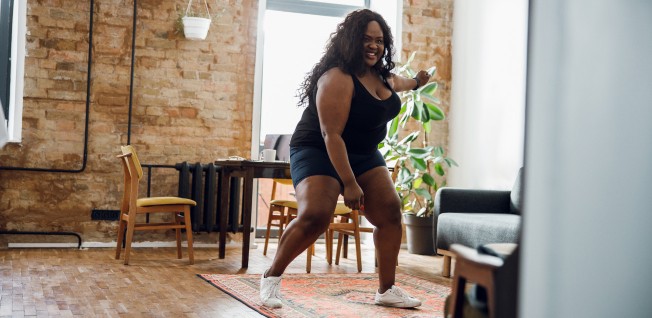 This amazing virtual cooking experience encouraged me to join the next InterNations activity about two weeks later: a Zumba class. Based on my comfort zone, I was definitely pushing myself because I have never attended a Zumba class in real life. The thought of doing it all wrong on camera made me a little bit nervous, even though the class wouldn't be recorded. I considered switching off my own webcam, but in the end, I wasn't that anxious after all.
Additionally, I felt like it might be fairer towards the Zumba instructor if as many attendees as possible kept their cameras switched on — otherwise, it might be an awkward experience for her talking to black screens. She did mention though, that it was fine if we felt more comfortable dancing and jumping around in your apartment without anyone else being able to see us.
But I wanted to be a bit courageous, doing something new-ish: I've attended ballroom dance classes when I was 16 years old, had two Salsa lessons before coronavirus put a quick stop to that, and I like to boogie in my home-disco. But I've never done anything like Zumba before. As soon as the class started, though, I was at ease because our instructor, Wendy, explained every step and move before starting the music. She actually did that every time before she started playing a new song. What I also loved was that she mentioned right at the beginning that it was totally fine to invent your own moves and just go with the flow. I felt so comfortable that I actually did that multiple times throughout the class, and seeing other attendees do so as well, really made me smile. It was honestly the most fun I had during a dance lesson ever.
Will I Do It Again?
While the first event didn't go as planned, it was still a good experience and I learned that picking the right virtual event isn't very different from picking real-life events. However, getting to know someone really kind and friendly during an online cooking session was amazing and exceeded all my expectations. Maybe I was lucky with my cooking-buddy, but from what I've experienced from various real-life and online events so far, InterNations is a safe space where I can feel free to connect with other people.
The Zumba class was an entirely different kind of socializing experience. I did not connect with people individually, but the other attendees and I clapped and laughed so hard together when a good song ended or when we followed new dance moves that it created a strong sense of togetherness and connection. That is what surprised me the most. Still, I'm also really looking forward to meeting people face to face again, including the ones I am bonding with for the first time online now. Until then, I'll try out another Zumba class or maybe even karaoke.
---