Cheers to Twelve Years of Fun — September Celebrations
Cheers to Twelve Years of Fun — September Celebrations
Communities from all around the world have been raising their glasses to another year of great fun, international friendships, and unforgettable memories. Here is a glimpse of how expats and global minds have been celebrating twelve exciting years of InterNations.
Glittery Outfits, Sparkling Wine, and Dance Nights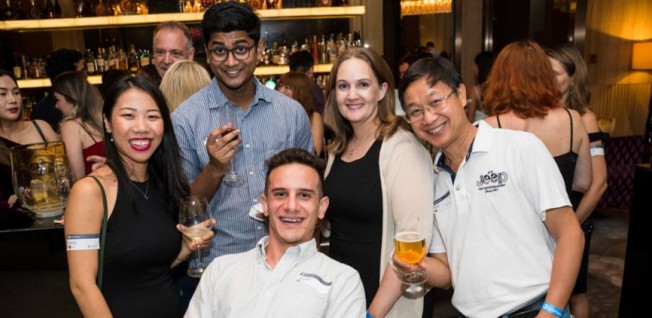 Photo credit: Gisèle JI
Members in Guangzhou made InterNations' birthday sparkle and shine with their bright smiles and glittery outfits on Saturday, 7 September. This glamorous event took place at Sofitel Hotel, where participants had a great time mingling, taking pictures, and drinking sparkling wine, while feeling like super stars for one night. Moreover, not only did they have fun with a lucky prize draw, but five of the best dressers of the night also received a special award. Thank you Lena Zhu, Gisèle JI, Wiebe Wilbers, and Felipe Rufino Atkocius for making this night unforgettable.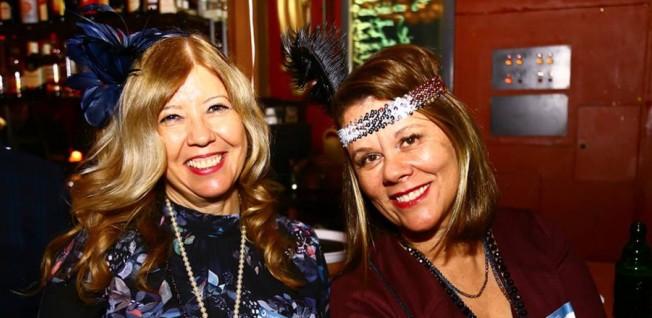 Photo credit: Barry Baruch
On Saturday, 14 September, the Berlin Community gathered in one of the most classy locations in Berlin, the vintage Ballhaus, showing off their 20s and 30s outfits to match the vibe of this stunning venue. Everyone had a lot of fun dancing to the best vintage music, while learning some swing dance steps with a professional dancer. Our Ambassadors Barry Baruch, Björn Dressler, Emmanuel Ibok, and Denise Kotulla did an amazing job arranging this sophisticated event!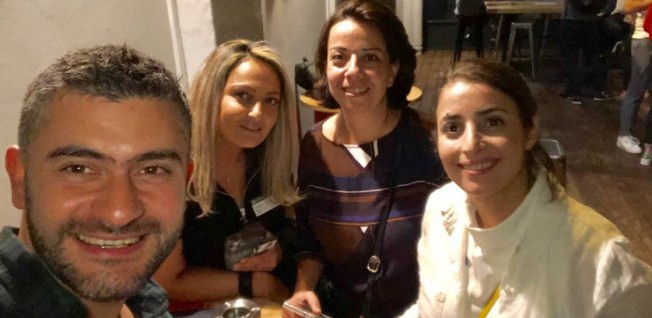 Photo credit: Soha Fayad
Our Ambassadors Gwenn Canevet and Marie Odile in Bordeaux threw an InterNations birthday party on Thursday, 12 September. The event took place at Café Oz, where expats and global minds were treated to a special happy hour, filled with Australian wine and other good drinks, as well as XXL pizzas!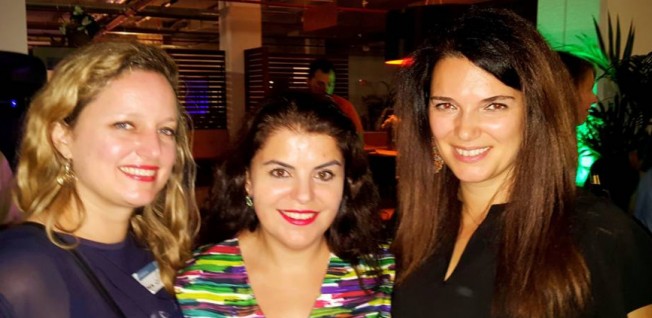 Photo credit: Ilkay Ar
Members of the InterNations The Hague Community gathered at the concept bar Zziin on Friday, 13 September. After being welcomed with tasty finger food and drinks, a DJ set the scene with some background music, while expats and global minds enjoyed networking and relaxing after the long working week. Thank you Ambassadors Hamed Khazen, René Ahuja, and Zahara Zahara for planning this event.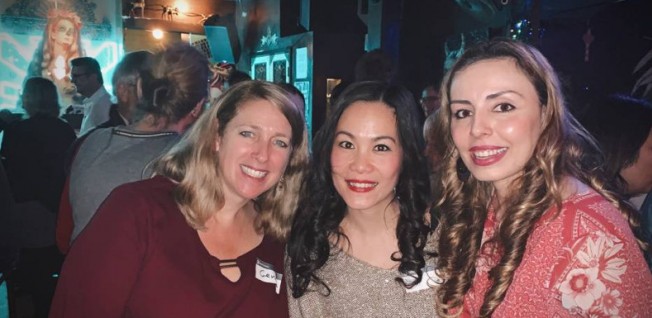 Photo credit: Lara Yawno
Expats and global minds also got together in Melbourne on Friday, 13 September to celebrate the 12th anniversary of InterNations, as well as old and new international friendships. Our Ambassadors Lara Yawno and Rosha Rad choose one the most mysterious venues ever for this special occasion, the House of Maximón, a bar inspired of the Day of Death located in the heart of Chinatown. Here, attendees experienced a journey into the afterlife, filled with themed cocktails, Mexican spiced popcorn, and late-night dancing.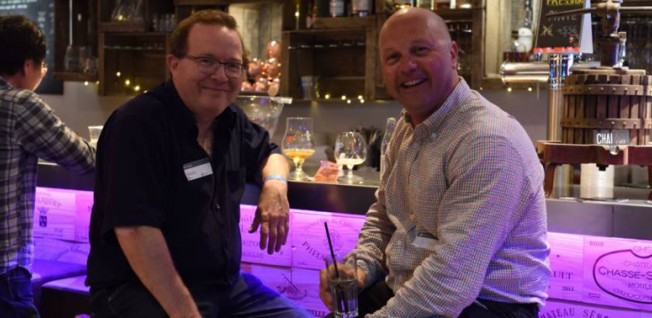 Photo credit: Anna Ichtchenko
What represents France better than good wine? The Lyon Community made the most out of the large variety of French wine, meeting up at Chai Vous for a degustation of 28 different bottles, mixed charcuterie, and cheese. Thank you, Lidia Sanna and Yasmina Zaabi, for making this possible and for celebrating this anniversary with us!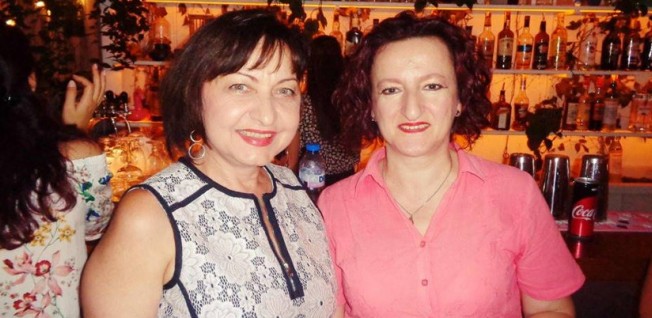 Photo credit: Carlos Arellano
On Thursday, 5 September, the Sofia Singles Group used the opportunity to spend a night out at the KEBA Club. At this newly opened club, members had a blast mingling with their InterNations friends from all around the world. Thank you, Carlos Arellano for hosting this superb activity!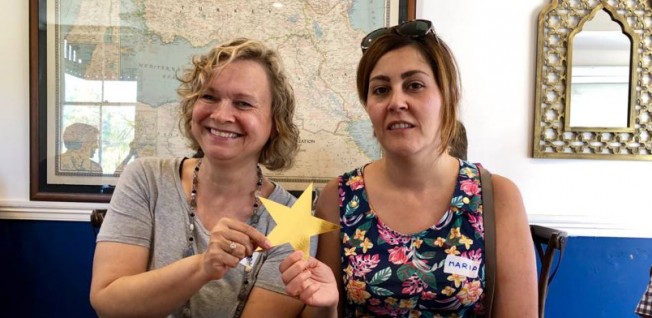 Photo credit: Angela Heise
The Brisbane Coffee & Brunch Group didn't miss the chance to join the rest of the world in celebrating this special occassion. Angela Heise and Maria Iglesias hosted a brunch at Naim on Sunday, 15 September, where members and global minds enjoyed tasty middle eastern food and great conversations with new international friends.

Celebrating with Birthday-Themed Activities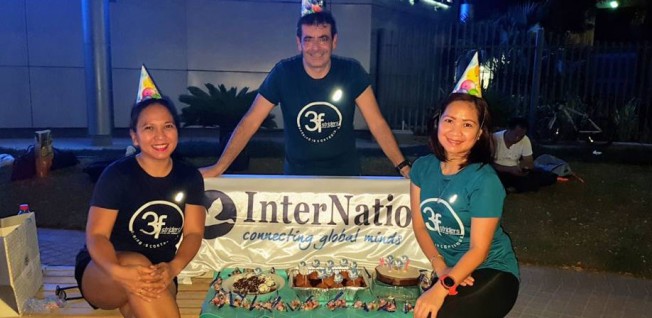 Photo credit: Demetrios Agrios
The Dubai Obstacle Course Racing Group met on the first day of September, welcoming the month and celebrating InterNations' birthday with a training and yoga session. The group took a very creative approach with a special training session based on the number twelve: twelve short run intervals and twelve reps of strength exercise for each interval, ending with a yoga session. Thank you, Alma Fernandez, Ainee Listana, and Demetrios Agrios, for hosting this activity!
If you love running, you cannot miss the Social Run organized by the Dubai Runners Group ! InterNations Consuls Mo Arafa and Ainee Listana have prepared three different routes for beginners/walkers, intermediate runners, and a 12 km route to commemorate twelve years of InterNations for the more advanced participants. We're sure that this activity will be lots of fun for everybody involved!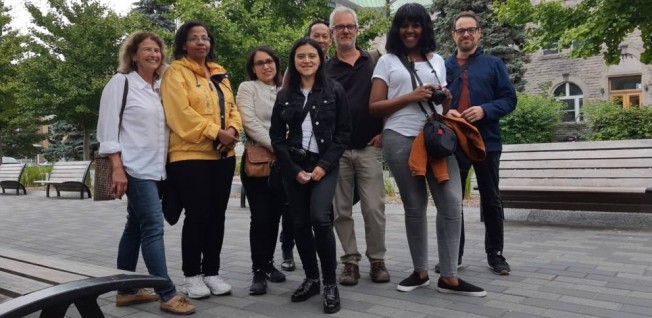 Photo credit: Charles Boch
On Saturday, 7 September, the Montréal Community decided to explore the city together, in a very creative way. After choosing twelve photographic themes, they were divided into small groups to go around the city using their creativity and capturing things and moments, related to their assigned theme. Charles Boch did an incredible job hosting this activity!
More Highlights in September
The celebrations are not over yet! Many other communities across the globe are going to get together to celebrate the 12th anniversary of InterNations. The Jakarta Community is throwing a Bollywood Dance Party at the Ritz Carlton Mega Kuningan on Friday, 27 September. This will be the perfect opportunity to have fun and expand your network!
On Friday, 20 September, expats and global minds in Mainz will not only celebrate twelve years of InterNations, but also the traditional and long-awaited Oktoberfest. The event will take place at Bratwurst Glöckle and the first 50 guests will get a free welcome drink. So, don't forget to put on your traditional outfit and get ready to have fun Bavarian-style!
No matter how you celebrate, make sure to upload any pictures to your (public) Instagram with the hashtag #GlobalLocalCelebrations for the chance to win a 200 EUR hotel voucher! The contest started 1 September and runs until 30 September 2019 — photos must be uploaded during this period of time. See the contest Terms and Conditions for more information.
---
---
Article Topics