(Re)Discovering Your Passion Abroad — Tell Us Your Story!
(Re)Discovering Your Passion Abroad — Tell Us Your Story!
Every person has something they are passionate about. Just because you have moved abroad doesn't mean you have to give up your hobbies. It may even be the perfect time to start a new one!
Tell us which activities you discovered after moving abroad or how you pursued a long-standing passion in a new environment for a chance to win a Hero Sessions GoPro. We want to hear your story!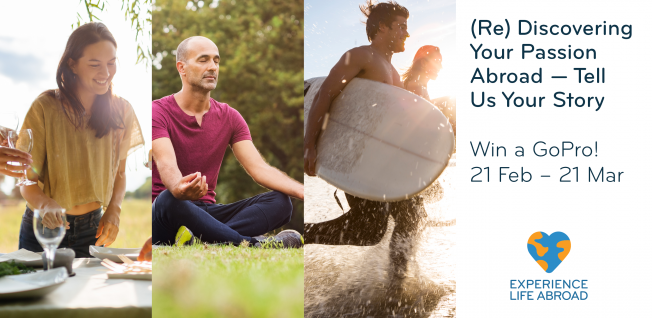 New experiences are one of the main selling points of moving abroad for many expats and with the change of scenery, they embark on new adventures. More often than not, these activities become more than just a pastime. They become something that gives you a purpose in life, a true passion.
Whether you have moved abroad for work, for love, or for a better quality of life, expat life is full of opportunities to explore — from cobblestone streets to beautiful beaches and turquoise water, from buzzing urban centers to rural landscapes, a move abroad offers a multitude of opportunities to find or rediscover your passion. Maybe you have always lived in a landlocked country and now that you live by the sea you have found your love for surfing or scuba diving. Or you have a passion for acting that you weren't sure you could pursue in a new country, but you found a local theater group where you made new friends that helped you feel at home. Which activities have you (re)discovered since moving abroad and how did you pursue your passion? InterNations team member Tegan already shared how she rediscovered her love for rock climbing after her move to Germany and found her feet on the climbing wall.
Now we want to hear your story!
Contest Details
Submit your story (500 words or less) to socialmedia@internations.org between 21 February and 21 March 2019. We will select three finalists to be interviewed for our website, and the writer of the winning story will receive a Hero Sessions GoPro.
Please see our Terms & Conditions for more information.
---
Article Topics