InterNations Reaches 3 Million Members
The world's largest expat community has grown by 20 percent in the last year alone — and has many new projects in the pipeline.
InterNations expands its international range to 420 cities around the world with 30 new communities mainly located in Europe and Asia.
New business lines include a dedicated solution for corporate clients and international relocation services.
In April, InterNations celebrated its milestone of 3 million members with a campaign focusing on individual connections in the community.
Munich, 26 April 2018 — InterNations, the world's largest expat community, has just reached 3 million members, which equals a growth of 20 percent within the last twelve months and an impressive 85 percent within the last three years. "There are at least 50 to 60 million expats around the world. This milestone brings us another step closer to reaching our vision of connecting all of them. We aspire to be the go-to-place for all expats and global minds to network, socialize, and find trustworthy information and services," says InterNations Founder and Co-CEO Malte Zeeck.
Apart from opening additional local communities in 30 cities around the world, InterNations is currently establishing two new business lines. "A growing number of companies are looking for professional support to ensure that international hires and their spouses feel at home in their new destination soon," explains InterNations Founder and Co-CEO Philipp von Plato, "a need that we address with our new corporate solution." Additionally, InterNations is expanding its business to include relocation services for expats. "While we already offer many opportunities for building a social network and gathering practical information, we want to cover every aspect of the international relocation process in the future," adds Philipp von Plato.
Growth of the InerNations Member Base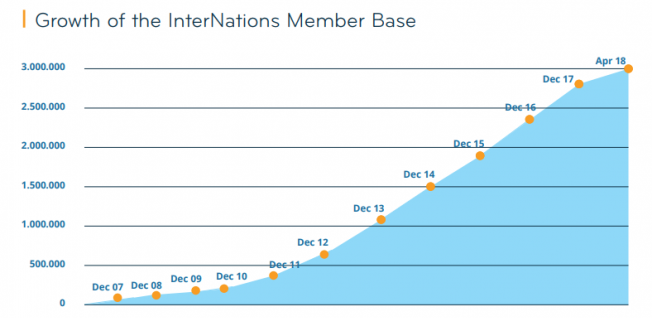 Stronger Global Presence in 420 Cities Worldwide
In April 2018, InterNations opened 30 additional local communities, which are mainly located in Europe and Asia, but also in the USA, Canada, South America, and Africa. This increase in global presence in 420 cities spread across close to 170 countries and territories makes it even easier for members to build a truly international network. "After introducing InterNations Official Events in selected cities, members around the world asked us to open additional local communities in their place of residence", says Malte Zeeck. "No matter if an InterNations community has up to 100,000 members like the ones in London, Dubai, and Singapore, or a few hundred, such as our new local communities in Changchun (China), Pamplona (Spain), and Chattanooga (USA) — they all offer valuable opportunities for building personal connections with other expats and global minds."
InterNations is currently looking for volunteers in those new communities, who will act as local representatives and event organizers in their respective residence. Worldwide, there are more than 6,000 InterNations Ambassadors and Consuls, who organize around 5,000 monthly events and activities around the world, create a welcoming community, and bring people together. 420 InterNations Communities in 170 Countries and Territories
420 InterNations communities in 170 Countries and Territories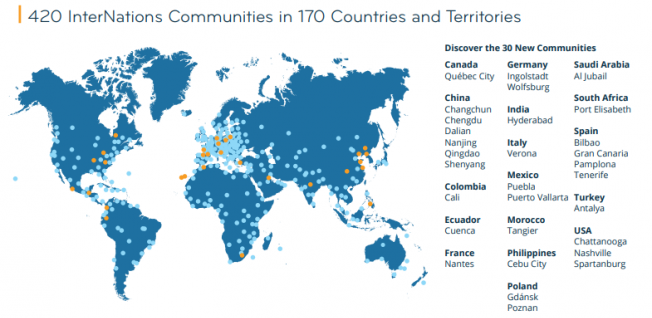 Celebrating 3 Million Members
To celebrate the milestone of 3 million members, InterNations introduced a campaign focusing on individual connections within the community, branded with the hashtag #1in3million. Members had the chance to say thank you to a special InterNations friend in a video contest. "A sense of belonging is not created by the number of people in your contact list, but by the meaningful connections that make a difference in your life," explains Malte Zeeck. "With this campaign we wanted to highlight the value of international relationships that expats build in their local InterNations Community and around the world."
"I met a Colombian girl at an InterNations Event in South Africa, and we became very good friends. Although I moved to Cologne and she moved to Chile, we are still very close and stay in touch thanks to InterNations."
- Ashara Giordanelli, InterNations Cologne Community, from Colombia
"I would like to thank our Consul Maria for managing and organizing such fantastic activities!"
- Saskia Porta, InterNations Balearic Island Community, from Germany

"I have known you for some time now and I know that you are a really warm-hearted person. Silvia, you are always helping and organizing things for me and all the other InterNations members, thank you so much for that!"
- Simon Goodall, InterNations Munich Community, from the UK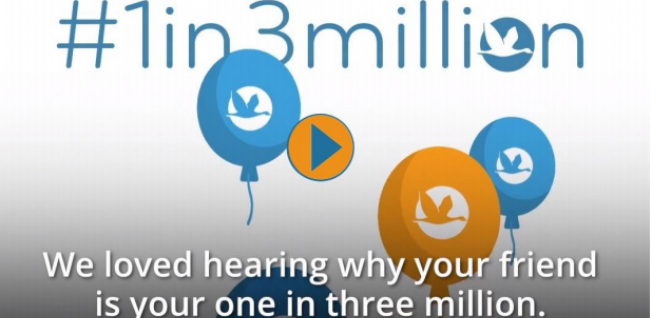 Downloads
About InterNations
With more than 4.8 million members in 420 cities around the world, InterNations is the largest global community and a source of information for people who live and work abroad. InterNations offers global and local networking and socializing, both online and face to face. At around 6,000 events and activities per month, expatriates have the opportunity to meet other global minds. Online services include discussion forums and helpful articles with personal expat experiences, tips, and information about life abroad. Membership is by approval only to ensure we remain a community of trust. InterNations is part of the New Work SE, a group of brands that offer products and services for a better working life.
Find more information about InterNations on our press page, in our company blog, or in our magazine.
Press Contact