Top 10 Countries with the Best Weather and Climate
Sun-seekers rejoice! InterNations survey finds that Greece, Costa Rica and Cyprus have the most favorable weather
Munich, 01 August 2016 — For all those who dream of 365 days a year of sun, the members of international expat community InterNations have identified the places around the world with the best weather: If you move to Costa Rica, Cyprus or Greece, you can be sure to enjoy the outdoors almost every day of the year. Other destinations with fine temperatures include Malta, Uganda, Kenya, South Africa, Spain, Portugal and Mexico.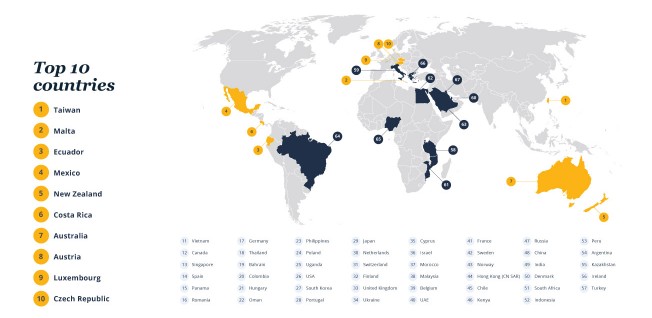 Who Considers Weather and Climate Important?
For the annual Expat Insider survey, InterNations asked more than 14,000 people living in 195 different countries about their satisfaction with the climate in their current place of residence. The results conveyed that 45 percent of British citizens considered weather to be an important factor before relocating to a new country. That is a whopping 16 percentage points more than the global average. Other nationalities that thought about the weather a lot before making their move abroad include the Swiss (41 percent), Irish (39 percent) and Belgians (38 percent).
InterNations CEO Malte Zeeck puts special emphasis on weather being an important factor for certain nationalities. "It is clear to see from the survey results that depending on expats' origins, they do not necessarily prioritize hard factors, such as safety and job security, over soft factors, such as the weather and climate, before moving to another country — sometimes it is even the other way round."
Where the Sun is Shining Everyday
Expats around the world rated the weather and climate favorably in sunny spots spread along Europe, South America and Africa, whereas North America, Oceania and Asia — left alone Antarctica, the seventh continent —did not receive much appraisal when it comes to good climate. Here are ten best countries for those ready to wave goodbye to the gloomy weather in their home country:
1. Costa Rica
The country clinches the 12th spot out of 64 countries in the overall ranking of the survey. One prominent factor for its high rank is the weather and climate, with 71 percent of the respondents living there rating it as very good. The friendly locals and great work-life balance are just some of the reasons why expats decide to move to this tropical paradise. Unlike many other destinations that are mostly career-focused, the most popular reasons for moving to Costa Rica are for a better quality of life and a thirst for adventure.
2. Cyprus
Alongside the uplifting weather, which 69 percent of expats rate as very good, there are several other aspects that can be appreciated in Cyprus. Making new friends, personal safety and feeling at home in the local culture are among the top criteria that were praised by expats living there. In fact, 21 percent of the respondents were completely satisfied with their social circle in Cyprus, whereas the global average stands at 15 percent.
3. Greece
About 76 percent of expats in Greece rate the weather and climate there as very good, which is a staggering 53 percentage points more than the global average. With such pleasant weather, expats in Greece are able to enjoy a variety of leisure activities. Some 38 percent of expats rate the availability of leisure options as very good. On the other hand, the country's political stability is in the time-being non-existent, which has been detrimental to the peacefulness and the state of the economy there. Indeed, 39 percent of the respondents rated the political stability in the country as bad or even very bad, whereas the global average stands at a meager 8 percent.
4. Malta
Malta is ranked first overall in the Working Abroad Index, as well as in its sub-categories Job Satisfaction and Work-Life Balance The country clinched the third sport in the Work-Life Balance sub-index. Therefore it is no surprise that expats working in Malta still seem to have enough free time left to enjoy the good weather, which is appreciated by 68 percent of the respondents.
5. Uganda
Delightful weather and friendly locals are what make Uganda splendid. However, the country's political instability is a considerable lowlight for expats' personal safety. Only 15 percent of the foreign residents there rate their personal safety as very good. Other setbacks include poor transportation infrastructure, a struggling economy and not up to par medical care.
6. Kenya
This culturally-rich country has good weather all year round, but it lags behind in several other categories. Personal safety is one of them, where 28 percent of expats rate it bad or very bad. That is 23 percentage points less than the global average. In addition, the cost of living is also very high, with only three percent of the respondents rating it as very good.
7. Spain
Located in Southwestern Europe, Spain has a plethora of attributes: a Mediterranean climate, excellent opportunities to travel, a robust transport infrastructure, as well as various socializing and leisure activities.In fact, 51 percent of the expats in Spain rated the leisure activities there as very good. That is 19 percentage points more than the global average. Nonetheless, Spain may not be the place to find a good job in: About 30 percent of expats find the state of the economy not up to global standards, whereas the global average stands at 10 percent.
8. South Africa
Out of all of the countries in the top ten, South Africa has the lowest percentage of expats who feel positively about their personal safety — some 31 percent of expats rated it bad or very bad. Nonetheless, enchanting weather, high quality of environment and availability of leisure activities are all positives of life in South Africa.
9. Mexico
Mexico offers much more than good weather, as 55 percent of the respondents rated the climate and weather there as very good. The country also occupies the second spot out of 64 countries in the overall rank of the survey, thanks to several other factors such as the career prospects, job security and the friendliness of the local population.
10. Portugal
Expats in Portugal can enjoy the fine weather in peace and quiet, as 62 percent of the respondents rated their personal safety there as very good. That is a whopping 20 percentage points more than the global average. In addition, the country is considered the third most welcoming country for expats overall and ranks fifth in both, the Quality of Life and the Ease of Settling In Index.
About InterNations
With more than 4.8 million members in 420 cities around the world, InterNations is the largest global community and a source of information for people who live and work abroad. InterNations offers global and local networking and socializing, both online and face to face. At around 6,000 events and activities per month, expatriates have the opportunity to meet other global minds. Online services include discussion forums and helpful articles with personal expat experiences, tips, and information about life abroad. Membership is by approval only to ensure we remain a community of trust. InterNations is part of the New Work SE, a group of brands that offer products and services for a better working life.
Find more information about InterNations on our press page, in our company blog, or in our magazine.
Press Contact