From Ramadan to Summer Parties — A Month of Celebrations
From Ramadan to Summer Parties — A Month of Celebrations
With Ramadan celebrations filling the calendar and our communities in the northern hemisphere getting ready for summer, InterNations members around the world didn't miss the chance to get together and plan amazing activities, full of food and fun. Let's have a look at the highlights in June!
The InterNations Communities Enjoy Iftar and Eid
Running from 6 May to 4 June this year, the holy month of Ramadan is a time of fasting, as well as of celebrations at sunset, with plenty of delicious home-cooked food and family gatherings!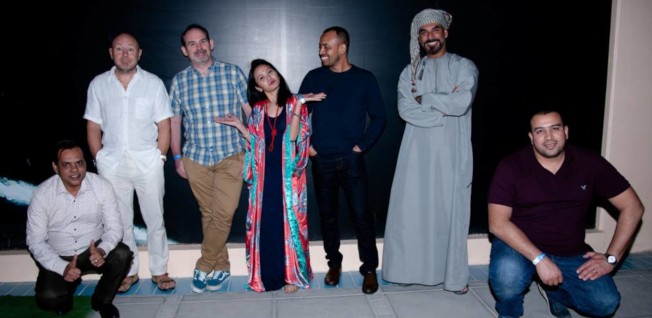 Photo credit: Jayesh Babla
According to the tradition, the celebration starts at sunset with a fast-breaking meal, called Iftar. For the occasion, our Muscat Community met up at the InterContinental Hotel, where they had the chance to eat delicious food from an impressively rich buffet. Expats and global minds had a wonderful night, enjoying good chats and good company. Thanks to our Ambassadors Rupesh Yashvant, Darlene Antonio, and Maria Josephine for organizing such a great event!
Photo credit: Muhammad Habibul Islam
Our Ambassadors Muhammad Habibul Islam and Abdul Karim Siraji did an amazing job planning a get together at the Istanbul restaurant. The growing Dhaka Community had a blast mingling at the venue, while eating very tasty food. We hope you had fun and cannot wait to see more of you at future events!
The Dubai Community went above and beyond this month, with plenty of activities, that gave members the chance to celebrate Ramadan together, as a big family!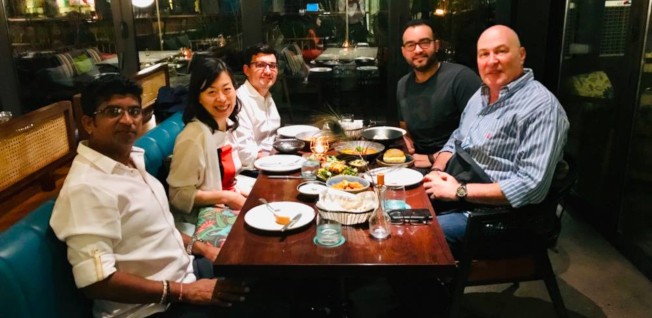 Photo credit: Emi Hayabuchi
The Dubai DinnerNations Group decided to celebrate their last Iftar of the year at an Indian Bistro on Sunday, 2 June. Expats and global minds came together at the Masti restaurant and bar and enjoyed a six-course dinner in a sophisticated and colorful atmosphere. Thank you, Emi Hayabuchi for hosting this amazing activity!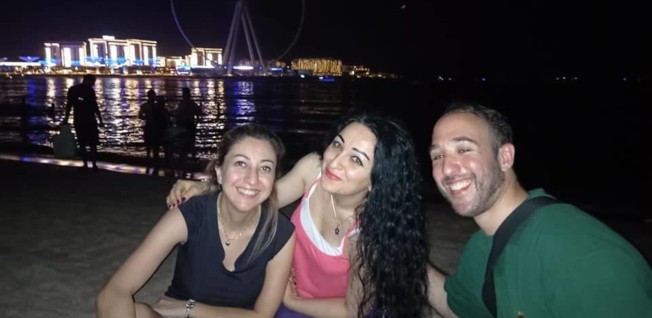 Photo credit: Aelita Aellie
On Wednesday, 5 June, the Dubai Culture Round Table Group met up to celebrate Eid, which marks the end of Ramadan. After spending half an hour on the Flying Cup admiring the amazing view of the city, members took over JBR beach, where they enjoyed some chit-chat with their feet in the sand. A big thank you Aelita Aellie for hosting such an incredible activity!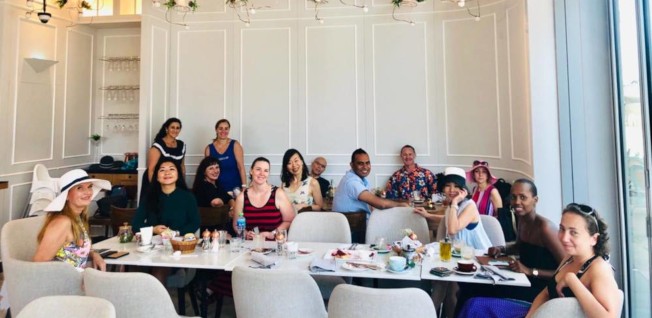 Photo credit: Despina Joannidis
Also in Dubai, the Dubai DinnerNations Group went for an Eid breakfast at Mitts and Trays on Thursday, 6 June. The location is perfect for natural, fresh, and wholesome meals, served straight from the oven to the table. Christina Caringal, Aline Fiat, and Amr Heikal did a fantastic job taking care of every detail of this superb morning.
The Northern Hemisphere Gets Ready for Summer
InterNations activities and events provide many opportunities to get together, have fun, and create amazing memories around the world, even for those of our members not observing Ramadan. What better time than the summer months to do outdoor activities and participate in all kinds of special celebrations! Here is a sneak peak of how our communities in the northern hemisphere have welcomed the warmest season of the year.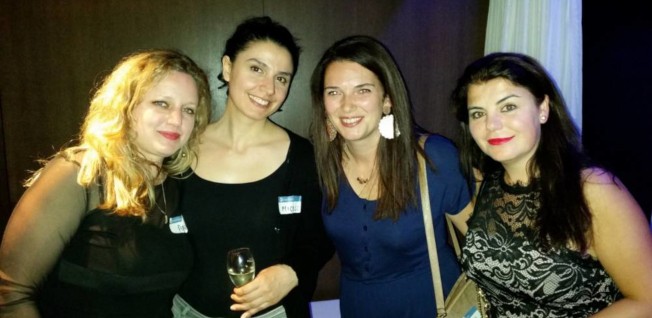 Photo credit: Wayne Stoios
At their black and white cocktail night, global minds in The Hague surely didn't go unnoticed at the luxurious Penthouse, on Friday, 31 May. Expats and global minds enjoyed good drinks in a cosmopolitan and international atmosphere, while making the most out of the stunning view. Hamed Khazen, René Ahuja, Zahara Zahara, and Wayne Stoio, thank you for all your hard work planning this fun night.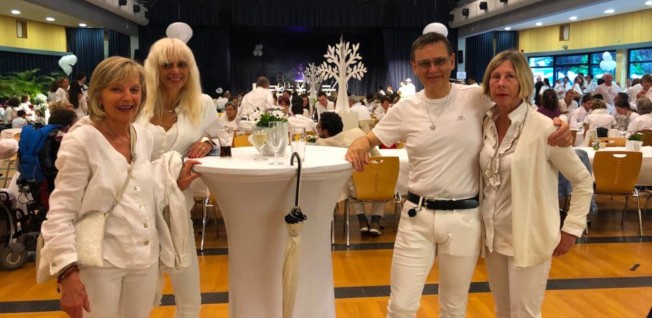 Photo credit: Lian Oey
On Friday, 14 June, the Centre Culturel Paul Barblé was taken over by the Luxembourg Drinks, Food & More Group. Members put on their favorite white outfits and had fun at this fantastic activity. The location was wonderfully decorated for the occasion and food trucks provided tasty food for all attendees. Of course, members couldn't miss this fun get-together and the amazing cocktails. Thank you Lian Oey for hosting this fantastic activity!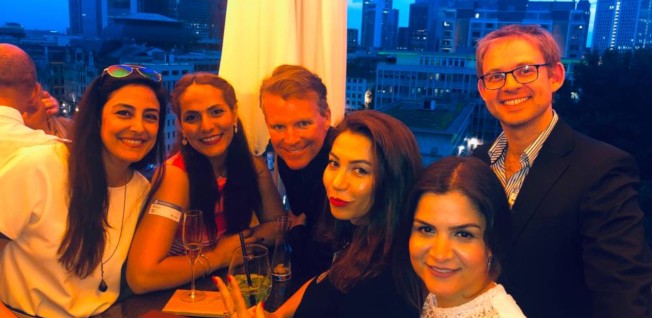 Photo credit: Samineh Mojaver
With summer right around the corner, the Frankfurt Community took full advantage of the long days and spent a fun evening together on Sunday, 9 June. This InterNations Official Event took place at the Fleming's Club restaurant: a five-star luxury venue with a breath-taking view of the Frankfurt skyline, that astonished participants and made this event a night to remember. Thank you to our Ambassadors Samineh Mojaver and Mozhgan Vatanpoor for making all of this possible!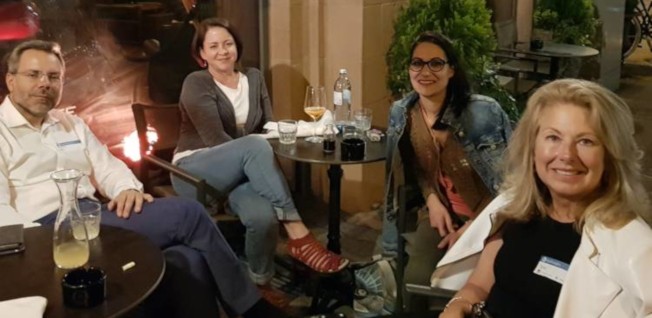 Photo credit: Gokhan Gecer
InterNations Ambassadors Ana Coelho and Gokhan Gecer reserved the library and bar of the Syte Hotel Mannheim and brought the Mannheim Community together on Friday, 31 May. During the event, expats and global minds got the chance to mingle with a cocktail in hand, expanding their network and looking forward to the official start of summer. We hope you all had fun!
---
---
Article Topics