(Re)Discovering Your Passion Abroad — One Brushstroke at a Time
(Re)Discovering Your Passion Abroad — One Brushstroke at a Time
A move abroad offers a multitude of opportunities to find or rediscover your passion, be it to embark on new adventures or cope with all the challenges that a move abroad can bring. We asked our members to tell us their story and this is Liz Hipolito Mula's recount of how she picked up a brush and rediscovered her love for painting.
As a child, I have always been into arts. My mom used to tell me that I started drawing at the age of two, even before I learned how to write. Growing up, I was fond of drawing gowns and doing simple sketches. I remember admiring paintings, but I didn't actually try it in my home country, the Philippines, since painting materials were quite costly relative to what I was earning at the time.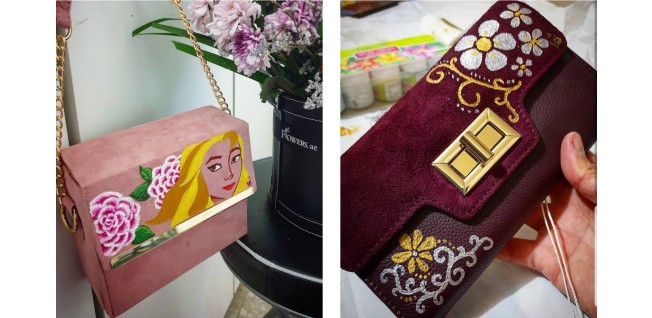 My ability to paint was actually an incidental discovery. After about a year in Abu Dhabi, the man whom I was in a relationship with decided to end things with me due to reasons he alone understood. Heartbroken was an understatement. I was devastated! After months of never wanting to get out of my room and just crying in bed on my days off, I knew I had to do something. I had to continue living. I just had to find a diversion into which I could pour all my emotions. So, I got up and went to the nearest bookstore and impulsively bought a canvas, tubes of acrylic paint, and a set of paintbrushes. I didn't care about which brands were of better quality and which were substandard. I just HAD to obtain my own painting materials. I admit it can be very easy to buy out of impulse here as you can easily afford to do so (sometimes) with the salary that you are getting.
Initially, painting served as a way to express my hurt and sadness; but eventually, those feelings were replaced with the love and joy that God, my family, and true friends have shown me. From the initial dark canvases, I progressed to painting bright images and positive works of art.
Recently, I experimented with painting bags and purses. Even my luggage is personalized with my masterpiece. Now, I use painting as an expression of friendship and love as I give people dear to me customized bags with paintings that I feel most represent how I see them. From painting on bags, I have even been blessed with a chance to collaborate with a colleague for a mural in the relaxation room of the hospital where I work (by the way, I'm a nurse).
Moving and living abroad opened my eyes to countless possibilities. It gave way for me to really learn who I am and what I am capable of. I realized what my passions were and have seen those friends who stuck by me. Better career opportunities here gave me a chance to travel to different parts of the world. The more I see and experience, the more inspiration I acquire for more and even better pieces of art. I know I am still a novice and I still have a long way to go. But I know that, with time, I will continue to create visual representations of what's in my heart, one brushstroke at a time.
Get to Know Liz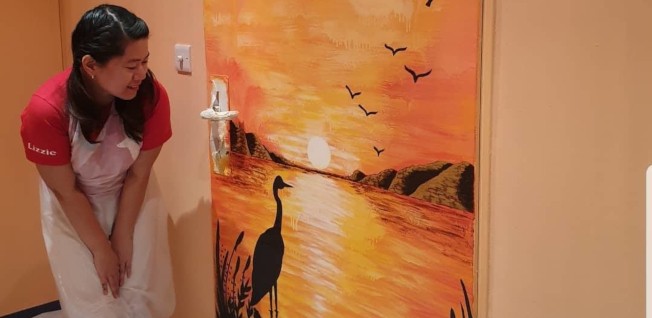 What is your favorite aspect of the passion you shared with us? Has it changed your life in any big way?
What I love most about painting is that it allows me to express my emotions and thoughts through means which will last for a long time and will eventually serve as mementos — reminders that I have gone through something sad and survived, or that I have experienced memories so wonderful that they motivated me to materialize the colors that they brought to my life. Every time I look at my paintings, I can't help but smile as I look at how far I have come and how my experiences helped shape who I am now. Finding a way to let out whatever feelings I have through painting has initially helped me cope with a very depressing time and now, it serves as a way to express my love and friendship to people who are important to me in a more personal way. Aside from that, I can freely express my inner voice without the risk of hurting others with what I may say out of impulse or being judged by how emotional I may get. It's like creating something beautiful from both pleasant and unpleasant sentiments.
Tell us how your passion allowed you to make new friends or meet anyone you normally wouldn't have!
People who I don't actually interact with on a regular basis sometimes acknowledge me when we meet in the hallway as they have seen a post of my latest work on my social media account. Some of them even surprisingly approach me and ask me to paint a bag they have bought which they intend to give as a gift to their friends or loved ones. Some friends of my friends also ask me to paint on their old bags to give them a new life.
Why did you join InterNations? Has InterNations helped you pursue any of your passions?
I joined InterNations a few years ago when I first set foot on foreign land. I forgot how I heard about it, but I remember being motivated to sign up as I felt awed knowing that there is an organization of people who help expats, or what I call strangers in another land, adjust in a foreign country and meet fellow expatriates who came here not knowing a single soul. It's true that I haven't had the chance to attend any events yet, as they always fall on days that I am working, but I feel that this organization serves a very good cause and tries to not make us feel alienated as much as possible. That cause has also inspired me to welcome friends who venture to Abu Dhabi for the first time and help them adjust to the environment and lifestyle in this country. I have somewhat developed a passion for making them feel that, even though they are far from home, they still have a family here whom they can seek help and advice from. As a result, I have become like an "ate" or an older sister to friends who come here without any family members with them.
Why do you think it's important for people to have a passion?
I believe that passion is what drives us to keep doing what we do because of the mere fact that it is what we love, and it gives us a sense of happiness and fulfillment. Passion is what motivates us to keep reaching for our goals no matter how difficult the journey may be. Sometimes it may even be a means of escape from the stresses of daily life. Be it passion for making one's family happy, traveling, doing sports, making works of art, helping the less fortunate, or even passion for one's job — this passion serves as the paddle that keeps our boat going to the direction we want it to.
Liz is a Filipina who moved to Abu Dhabi in 2013 to pursue her career as a nurse. When she is not giving injections and medication at work, she can be found either painting canvases and bags or watching investigative documentaries. Living overseas has also woken up her love for traveling and seeing the world.
Are you curious about how other members (re)discovered their passion abroad? These are the other finalists of our story contest:
---
---
Article Topics