The Ukraine Crisis: How Our Communities Help People in Need
The Ukraine Crisis: How Our Communities Help People in Need
Millions of people have been affected by the war in Ukraine. Many of our members around the world have been extending a helping hand and donating their time and money to support refugees and people still in Ukraine.
Members of the InterNations Community in Gdansk came together at the restaurant Kulinarna Ukraina on Friday, 4 March to collect goods for the people who had to flee and leave behind most of their possessions. Together with the owner of the venue, Gdansk Ambassador Izabela Sokolowska organized a collection of sleeping bags, blankets, warm clothes, first aid kits, flashlights, and backpacks. Members brought these items to the restaurant where everyone gathered to share a meal and spend some time together.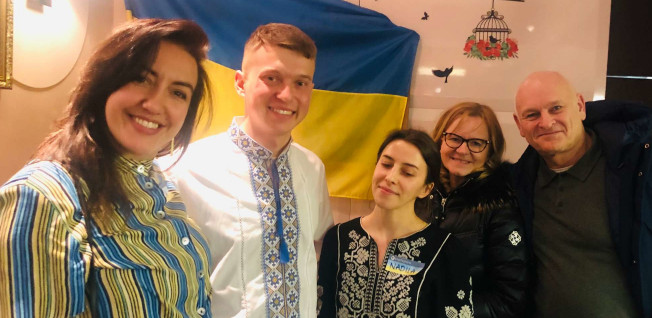 The Krakow Community also organized an event with the aim of helping people in Ukraine and those who have been displaced by the war. The entrance fee of 50 PLN per person was used to buy essentials for people in need. Event attendees were also encouraged to bring along some in-kind donations.
The Luxembourg Drinks, Food & More Group attended a fundraiser concert for Ukraine on Tuesday, 8 March. This event was organized by the Ukrainian association LUkraine, the Polish Women's Association, and the venue QBOX. All proceeds of the ticket sales, including the generous donations of everyone who attended, went towards medical equipment and medication for people in Ukraine. All items will be delivered to Lviv and distributed there.
The crisis in Ukraine has also had a big impact on foreign students. On Thursday, 10 March, the Brussels African Culture Group hosted a Ukraine Crisis Q&A and African Dinner. The event informed African students, both those planning to study in Ukraine and those already enrolled in universities there, about the current situation. Speakers included Nigerian students, as well as Ukrainian students and university staff.
On Sunday, 6 March, the Padua Outdoor Activities for All Group hosted a Yoga for Peace Activity. The one-hour yoga session was open to everybody, regardless of their age or body type. Members had the opportunity to have breakfast afterwards and go for a hike on Monte Grande to enjoy the sunshine. All proceeds and donations collected during the yoga class will be given to the International Red Cross to help people affected by the crisis.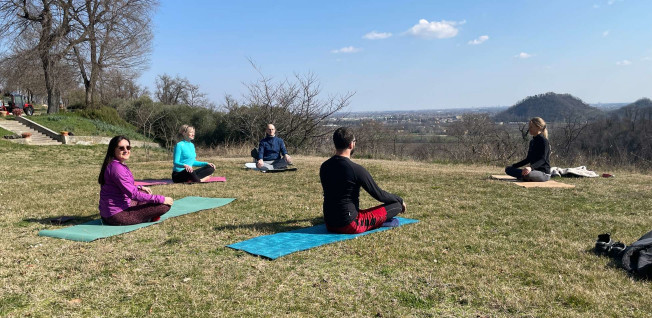 The Ambassadors of our Prague Community organized a charity raffle for their official event on Wednesday, 23 March. Expats and global minds got together at the local Hard Rock Café for some tasty food and great company, and the chance to win exciting prizes. The money earned from the sale of the raffle tickets will be donated to the nonprofit People in Need.
Members of the Bangkok Changemakers Group met on Sunday, 13 March to discuss how they can help people affected by the crisis in Ukraine, including those who were on vacation in Thailand and got stranded there when the war started. If you would like to get involved, get in touch with the group directly.
The Zagreb Let's Grab a Coffee Group got together on Thursday, 17 March to raise some money for a good cause. At a time when many feel helpless, getting involved is all the more important. The group met at a bar to talk about the situation and just mingle, while also making donations to various organizations that help people affected by the crisis in Ukraine.
Francesco Cornacchia, Consul of the Warsaw DinnerNations Group and member of the Warsaw Professional Networking Group, has been organizing dinners in Warsaw to introduce organizations that support refugees.
Members of the Warsaw DinnerNations Group could learn more about Help Ukraine, a foundation providing humanitarian and medical aid to Ukrainians in flashpoint areas. The Warsaw Professional Networking Group, on the other hand, is getting an introduction to Our House, an organization welcoming Ukrainian refugees to Poland.
If you want to know how you can get involved, visit our Worldwide Forum. We've created a thread to collect different ways to help. Or, if you're an Albatross Member, you can also organize an activity yourself.
A big thank-you from the InterNations Team to all Ambassadors, Consuls, and InterNations members for coming together to help those who have been affected by the war in Ukraine.
---
Article Topics