Top Destinations for Working Abroad
Top Destinations for Working Abroad
Norway, Luxembourg, and Germany are leading in job security and satisfaction, as well as work-life balance. But top career prospects lie elsewhere.
Methodology
Our Working Abroad Index explores different factors of professional life. It rates over 60 countries according to different aspects, including job satisfaction and career prospects, satisfaction with working hours, work-life balance, job security, and the state of the local economy.
To be included in this ranking, the countries required a sample size of 50 expatriates. Respondents were asked to rate various factors based on a scale of one to seven.
Working Abroad Index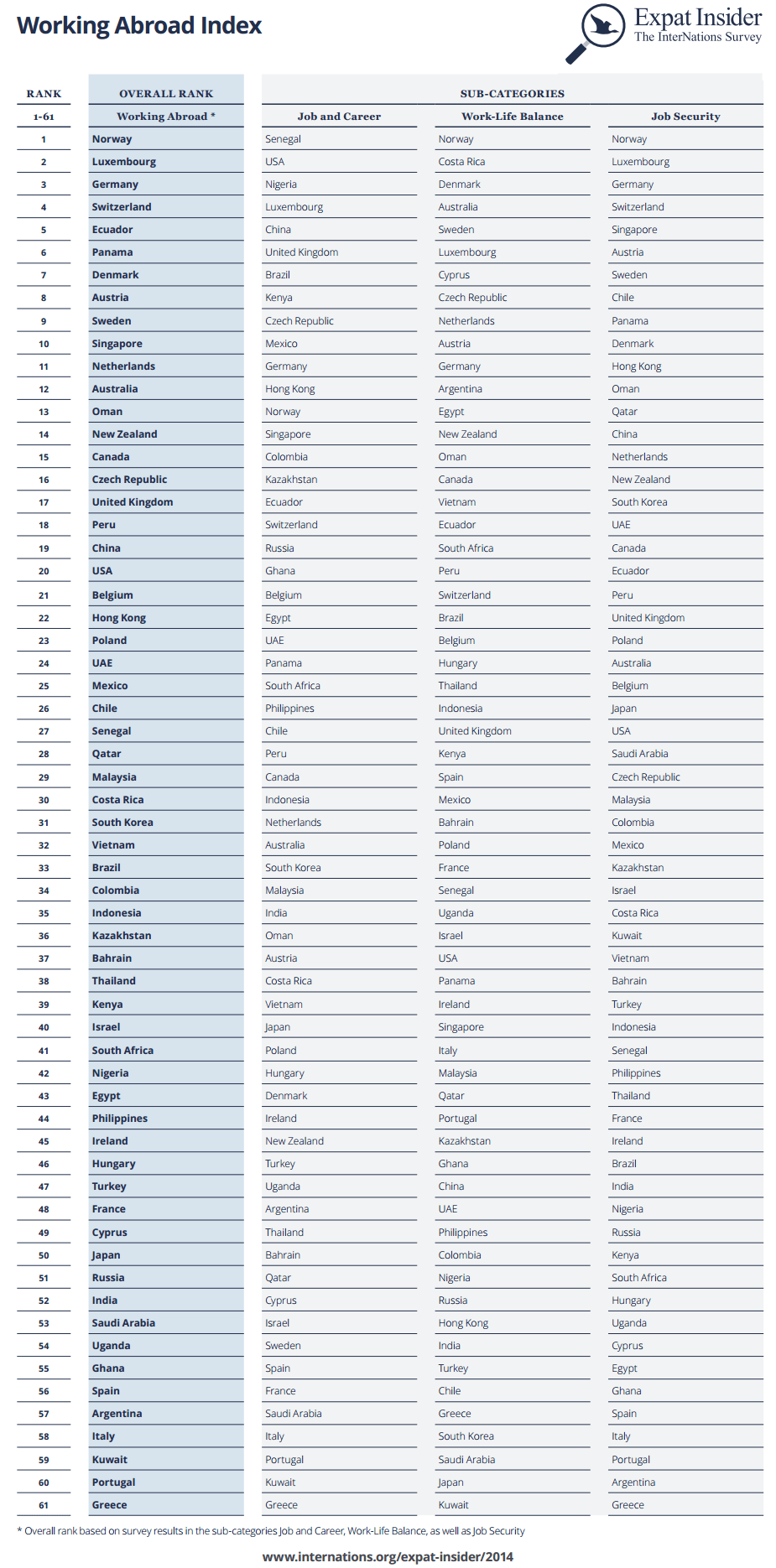 Embed this image on your website:
Norway Takes the Cake
Speaking of Norway, people imagine snow, endless summer days and beautiful fjords. But the country up north is also popular for providing the right balance between your professional and your private life.
In fact, 81% indicate that they are satisfied with the work-life balance in Norway. More than one-third even consider it very good, a result which is only beaten by Costa Rica (47%).
The vast majority of expats in Norway (85%) is also rather happy with their average 37-hour work week. Of our participants in Norway, almost half give the highest possible rating.
When asked how they would judge the state of the country's economy, 93% of the participants give a positive answer. In fact, more than two-thirds even rate it "very good", a number only exceeded by Switzerland (71%). Not one survey participant rates Norway's economy negatively.
But expats are also very happy with their level of job security. Over one-third (34%) say they are completely satisfied with the job security they enjoy in Norway. Again, only Costa Rica (50%) beats this percentage.
Although Norway ranks very highly for all employment-related factors, most expats in Norway do not list their job as the main initial reason for their move abroad. One out of four expats (25%) states love as their main motivation and another 14% their partner's job or education. One in ten (10%) relocated for a better quality of life.
While Norway excels in job security and work-life balance, it drops to 13th place when it comes to the career factor. With the majority (75%) being satisfied with their job, 13% still judge job satisfaction negatively. Things look even a touch gloomier when it comes to career prospects. Despite 65% of positive ratings, 13% are dissatisfied or very unhappy with the opportunities in Norway.
Somewhat surprisingly, Senegal, USA, and Nigeria have made it to the top of the Job and Career sub-index. All three receive high points for the local career prospects.
Job Satisfaction Is High in Luxembourg
While Norway loses somewhat in terms of job satisfaction, Luxembourg has made it to fourth place in our Job and Career sub-index. All in all, 76% of survey participants are satisfied with their job in Luxembourg, and two-thirds rate the career prospects in the country positively. In fact, nearly two-thirds (64%) chose to move to Luxembourg for job-related reasons. Nevertheless, 21% are not satisfied with the career prospects Luxembourg has to offer.
One-third of survey participants (29%) in Luxembourg work in financial services, real estate, or insurance. This matches Luxembourg's status as a well-known center for banking and financial services.
On top of the high job satisfaction, even more people (77%) value the tiny country for the job security it provides. In fact, about one-third even rate this aspect very good. Participants in Luxembourg, also rate the state of the economy very positively (95%). In fact, there are no negative responses at all.
Luxembourg has made it to number six in our Work-Life Balance sub-category. About three-quarters of all participants are satisfied with their working hours and 30% even give it the highest rating on the scale. Similarly, 69% appreciate Luxembourg for its work-life balance. Here, only 14% are not satisfied with the balance between their professional and personal life.
Germany: Where Job Security is Key
Job security is Germany's strong side! As the fifth largest economy in the world, the country holds third place in the job security ranking, right behind Norway and Luxembourg. Altogether, 70% of our participants value job security in Germany, and only 16% have a negative impression of it.
Moreover, the state of Germany's economy is also very good, according to the majority of our participants. All in all, 96% give Germany's economy a positive rating.
In our Job and Career sub-category, Germany doesn't quite make the top ten. Only 64% rate the local career prospects positively and 8% even consider them to be quite bad. While the majority (71%) is satisfied with their job in Germany, 14% still are not.
Interestingly, 14% originally moved to Germany primarily to go to school or university there. Only 9% are currently students, though. With Germany's relatively strong economy, it makes sense that many expats would choose to remain and find a job after completing their studies.
The biggest share of expats in Germany (20%) work in the IT industry, double the global average of 10%. Given the pronounced skills shortage in this sector, coupled with a high demand of qualified personnel, this number is hardly surprising. Particularly SMEs in Germany have trouble finding suitable IT specialists.
Furthermore, 9% of our respondents work in manufacturing or consumer goods and 8% in transportation, aviation, warehousing, or logistics.
The results from our Work-Life Balance sub-category are rather similar to the ones from our Job and Career sub-index. While 68% feel they are able to negotiate well between their personal and their professional life, 16% still give the work-life balance in Germany a rather negative rating.
However, 71% are happy with their weekly working hours. Nearly 30% even indicate that they are very satisfied with their average 39-hour work week.
Strong Economies, Low Job Security
As a region, the Gulf Arab states have the most expats who say that the state of the economy is very good. The percentages range from 42% (Oman) to 58% (Qatar). The notable exception to this is Bahrain (only 14% answer "very good") where the economy and also expat businesses have been suffering in recent years.
The results for job security in the Gulf Arab states paint a different picture, however. The number of expats satisfied with their job security ranges from 42%-64% in these countries. Complete satisfaction with job security dips to a low of 7% (Kuwait) and only reaches a high of 26% (Bahrain).
Weaker Economies
The countries with the worst rankings in our overall Working Abroad Index are also ones with high unemployment rates and considerably weakened economies. In last place is Greece, preceded by Portugal, Italy, and Argentina. Some of these are European countries hit hard by the 2008 global economic crisis. Argentina's economy has been struggling since 2011 after a brief rebound in 2009.
Download
Press Contact
Global Expat Guide