Austrians Abroad
The Hard-Working Austrian Expat
Life abroad for the Austrian expat revolves around work, but getting to know new friends through work and a relatively high income sweeten the deal.
Austria being the second most popular destination among Austrian expats may seem paradoxical, but it is made possible by multiple citizenship. Therefore it should be taken into account that Austrian respondents may identify with different countries and nationalities. Among the Austrian respondents with multiple citizenship, 9% list US citizenship as their second nationality and for 7% Canadian is their second nationality. On top of this, a few Austrian respondents have a third nationality as well, about equally divided between Canada and Israel.
Expat Statistics 2015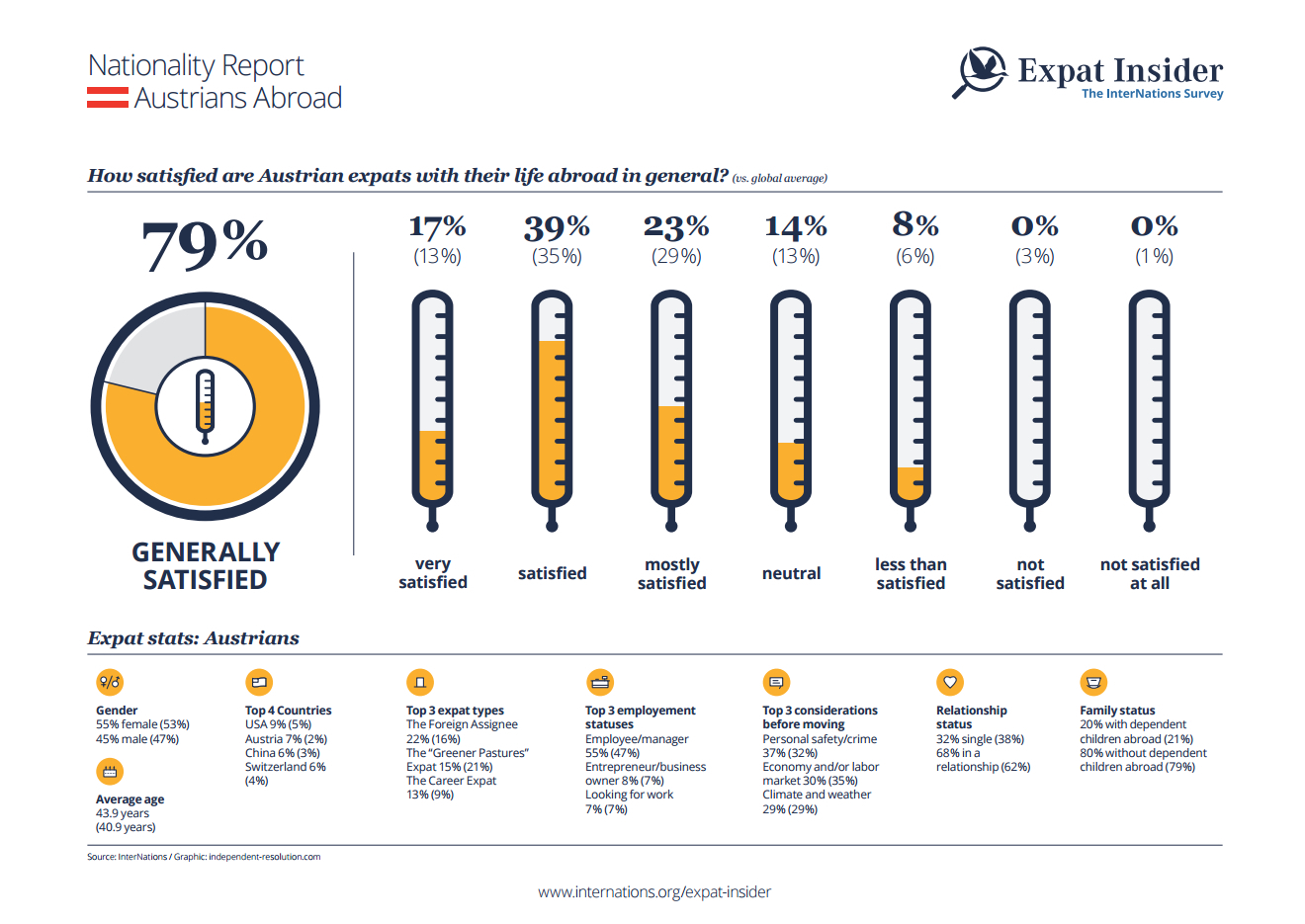 Embed this image on your website:
Leaving the Good Life Behind
It is fair to say that Austrians have good living conditions at home as only 11% indicate the search for a better quality of life to be a reason for moving abroad, which is less than half of the global average (23%). Similarly, financial woes do not plague the mind of Austrians planning on moving abroad: only one-quarter consider the cost of living when moving abroad, as compared to 38% globally.
Being asked to relocate by an employer is the most important reason for Austrians moving abroad (22% vs. 13% worldwide). Moving for love is also relatively common among Austrian expats: 15% name it as their most important reason compared to 10% worldwide.
More seasoned than some, the Austrian expat is half as likely to be living abroad for the first time as the global average (14% vs. 28%). Once abroad, 28% intend to stay possibly forever.
Full-Time Jobs and Longer Hours, but Better Pay
For 38% of Austrian respondents, work is the main reason for moving abroad. The relative prevalence of the IT sector among the working Austrian expats is quite noteworthy: 14% are employed in this field, as opposed to 10% worldwide. Similarly, manufacturing and consumer goods is also popular as an industry among Austrians abroad, with 14% working there compared to the global average of 7%.
The commercial, technical, or vocational training completed by 12% of Austrian expats provides them with a good starting point for their career path. The non-profit sector, however, apparently holds no appeal for the Austrians abroad, with none saying they work in this sector compared to a global average of 3%.
More than half the Austrians abroad (55%) work as employees or managers, eight percentage points more than the global average. As a reward for working mostly full-time jobs (nine out of ten Austrian respondents) with relatively long hours (44.6 hours vs. 42.0 worldwide), 64% of the Austrian expats now have a higher income than back home.
Mixing Business with Pleasure
Meeting new people mostly happens through work (69%), friends (57%), and professional networking (41%). Meeting people in the local neighborhood or through sports in their downtime is disproportionally common among Austrian expats when compared to the global average (34% vs. 28% and 26% vs. 19%, respectively).
Just over two out of three Austrian expats are in a relationship (68%). A full 73% of Austrian respondents are overall happy with their relationships and 35% are even completely satisfied. Perhaps a foreign partner provides the happiness factor in the relationship: 76% of Austrian expats have a partner with a different nationality, quite a few more than the average 56% worldwide.
Drawing the Line at Seven Languages
German may be the official language spoken by 98% of the Austrian population, but an affinity with other languages can still be expected given the country's many different dialects and since some provinces have Croatian and Hungarian as official languages.
Merely 1% of survey respondents from Austria, compared to 12% worldwide, speak only their mother tongue. Even though the cut-off point seems to be at seven languages, the Austrian expat scores above the global average when it comes to speaking three or four languages (41% vs. 31% and 22% vs. 19%, respectively). This evident skill set plays a part in 47% speaking the local language of their host country very well and only 8% not speaking the local language at all (as opposed to 12% globally).
Further Reading
Download
Press Contact
Related Topics