The Best & Worst Places for Expats
The Best & Worst Places for Expats in 2015
Ecuador remains at the top of the ranking. Mexico and Malta are also clear favorites, while Kuwait, Greece, and Nigeria find themselves at the bottom of the scale.
What Happened in 2014? A Quick Comparison
Compared to last year, not much has changed at the top. Ecuador is still a favorite among expats in many respects, occupying first place in our country ranking. Mexico climbed from a good third place in 2014 to an even better second place this year. Malta, on the other hand, only entered the country ranking in 2015 and already holds third place. Luxembourg, the second country on the podium in 2014, only comes in fifth this year.
In 2014, the bottom three countries, out of 61, were Greece (59th), Saudi Arabia (60th), and Kuwait (61st). Kuwait remains the least popular destination and occupies 64th place this year. Greece still comes in second to last, landing on 63rd place, while Saudi Arabia made it out of the bottom three and was replaced by Nigeria.
Top Expat Destinations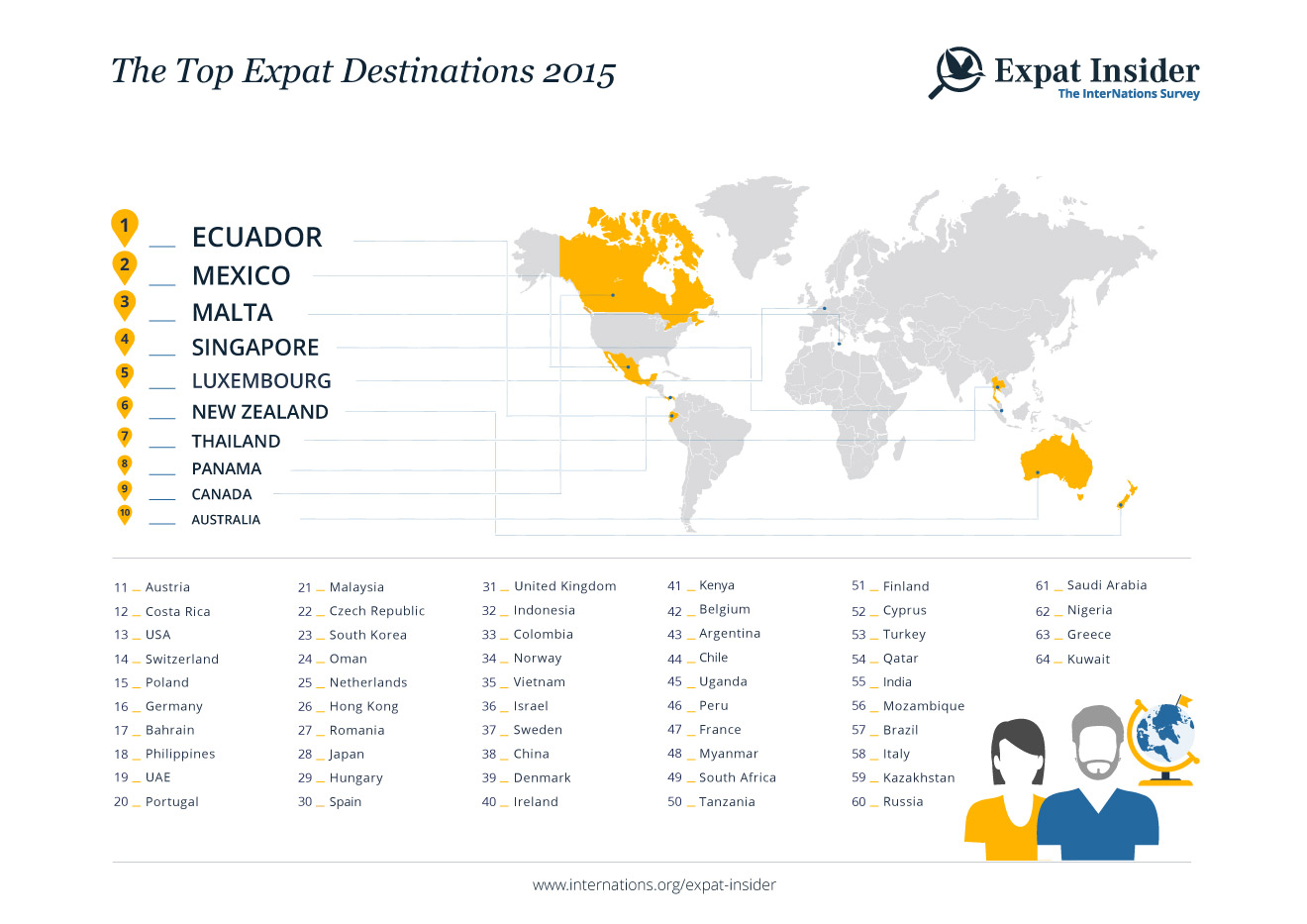 Embed this image on your website:
Ecuador: Everybody's Darling
Once more, Ecuador comes out on top as the clear winner of the Expat Insider survey. It occupies first place in the Personal Finance and Cost of Living Indices: 91% of the survey participants are generally satisfied with the cost of living and 80% say the same about their personal financial situation. But the quality of life is also relatively high. In this index, Ecuador occupies the top rank for Personal Happiness. Respondents are generally satisfied with their personal life and their romantic relationships. Leisure options also seem to be abundant in Ecuador, as 94% of respondents give them a positive rating.
More than that, though, Ecuador is a country that is easy to settle down in. The country ranks first when it comes to finding friends and feeling welcome. Job security, however, is only mediocre - Ecuador occupies 22nd rank in this subcategory and 59% say their income is lower than at home. Moreover, 55% fall into the lowest income brackets of 25,000 USD and below.
The majority of expats living in Ecuador are US Americans (56%) and in their golden years: the average age is 51.9 years. Of those who have a job, 36% work part-time while 36% of all respondents in Ecuador are retirees. The country seems to attract those who plan on a long-term stay. In fact, 45% say that they might stay there forever.
Viva Mexico!
Mexico scores highly in the Ease of Settling In Index. The country receives top marks from expats for feeling at home in the local culture and ranks second in the subcategories of Friendliness and Finding Friends. All in all, 70% agree that making local friends is easy, and 37% indeed say that they mostly make new friends by meeting people from their local neighborhood. The results are similarly positive in the Personal Finance Index: 76% are generally satisfied with their financial situation. Moreover, 81% rate the cost of living favorably.
However, Mexico only makes it to 22nd place in the Quality of Life Index. While survey respondents are fairly satisfied with leisure options, and are generally happy, their health, safety, and well-being still leave a lot to be desired. Mexico only ranks 36th in this subcategory and expats are particularly dissatisfied with their personal safety (24%).
Moreover, the country only ranks 33rd in the Working Abroad Index. These mediocre results have to do with the negative ratings for work-life balance (18%) and job security (19%). Respondents are particularly disappointed with their working hours (21%) and the state of the economy (31%).
Also in Mexico, the majority of respondents are US Americans (42%). The average age is 48.8 and thus lies significantly above the global average of 40.9.
Malta: Small in Size, Big in Popularity
Malta scores highest in the Working Abroad Index, mostly due to the high job satisfaction among survey respondents. Many of them are also generally happy with their career prospects (67%), work-life balance (67%) and working hours (69%). At the same time, though, 46% say that their income is now lower than it used to be back home and 38% fall into the lowest income brackets of 25,000 USD and below. Malta is also popular for its ease of settling in and makes it to fourth place in the respective index. In fact, 73% find it easy to make new friends there, and 77% feel right at home. Still, according to 8% of respondents, the friendliness towards foreign residents could be better.
Although only 17% find the local language easy to learn, 88% disagree that life is difficult without speaking it. This is probably due to the fact that Malta, as a former British colony, still uses English, alongside Maltese, as one of its official languages. As 40% of survey respondents in Malta are British, "overcoming" the language barrier is not an issue for them.
Unfortunately, the country scores rather poorly in the Travel & Transport subcategory, landing only on 39th place. Expats seem to be particularly dissatisfied with the transport infrastructure (36%). On the other hand, they are quite happy with the socializing and leisure options (79%), the quality of healthcare (80%), and the climate and weather (97%).
Malta only makes it to 42nd place in the Personal Finance Index, though, with 62% saying they are overall happy with their financial situation.
The Bottom Three
Kuwait occupies the 64th and last place of the overall ranking, particularly due to its low score in the Ease of Settling In Index. In fact, 53% of respondents are unhappy with the general friendliness of local residents. The opportunities to find new friends also leave a lot to be desired for one-third of respondents.
Unfortunately, the situation is similarly grim when it comes to the overall quality of life. Many expats are not satisfied with the available leisure options, while others see their personal happiness suffering. Only for the Job Security and Language subcategories does the country receive some decent results, making it to 26th and 25th place, respectively.
Greece, which occupies 63rd place overall, gets particularly bad results in all subcategories of the Working Abroad Index - Job & Career, Work-Life Balance, and Job Security - as well as in the Personal Finance Index, with 49% of respondents rating their financial situation negatively. At the same time, the cost of living is rather high. Personal happiness is also at a low among expats in Greece, with 15% unhappy with their life there. On the upside, many feel at home in Greece (71%) and value the friendliness of the local population (76%).
While Nigeria occupies 10th place in the Personal Finance Index and still gets somewhat average ratings for job satisfaction (60% positive answers) and career prospects (52% positive answers), it occupies the last place in the Quality of Life Index. Survey participants are particularly dissatisfied with travel opportunities (60%) and transport infrastructure (84%), as well as the political stability (75%) and their personal safety (61%) in Nigeria. Moreover, Nigeria is a rather expensive country for expats, with 66% of them giving the cost of living a negative rating. The country thus occupies 62nd place in the overall ranking.
Further Reading
Download
Press Contact
Selected Countries
Selected Cities