Brazil Report
No Olympic Gold for Brazil
The ongoing economic recession and political turmoil continue to take their toll on Brazil: despite a friendly local population and great weather, the country stays in the bottom 5 in 2017.
77% rate the economy negatively
Concerns about personal safety and political stability prevail
Climate and weather a big plus
Brazilians perceived as very friendly, also to kids
It's hard to get by without speaking the language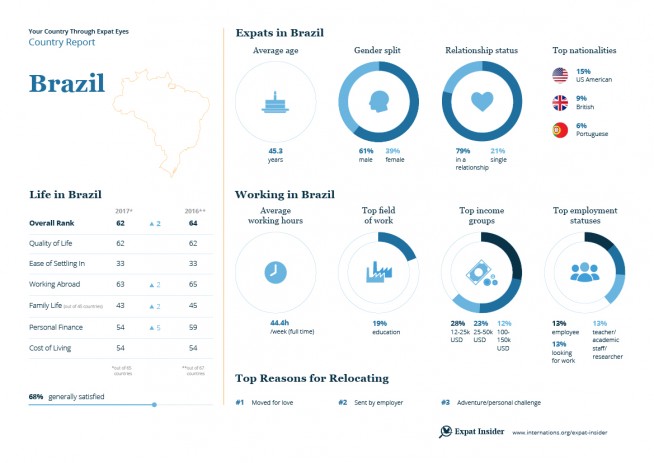 Below Average for Costs and Finance
Three in five expats in Brazil are generally satisfied with their financial situation, only slightly behind the global average (64%). However, this does not mean they are happy with the cost of living: nearly the same percentage (59%) rates the latter negatively, and double the global average even consider it to be very bad (12% vs. 6%). With these results, Brazil lands in the lower third of both indices, ranking 54th out of 65 countries in both the Personal Finance Index and the Cost of Living Index.
Economic Woes amid Political Rows
Brazil's worst performance is in the Working Abroad Index where it ranks 63rd out of 65 countries. Nearly a third of respondents are generally dissatisfied with their career prospects (32%) and job security (31%).
While the country does not shine in any subcategory of this index, it is Brazil's economy which really drags it down. Nearly a quarter of expats (24%) already thought this might be a potential disadvantage prior to their move, and 77% now rate the state of the economy negatively — over three times the global average of 25%! In the past few years, Brazil has seen its worst recession in decades and continued political turmoil following a massive corruption scandal has made it hard for the country to recover.
Sunny but Unsafe?
Brazil's politics seem to worry expats beyond their impact on the economy, with over three-quarters (76%) rating political stability negatively. "Corruption of the government is common and consequently the country is struggling from the theft of money," according to one Australian respondent.
Due to this result, as well as subpar ratings in terms of personal safety (68% regard this factor negatively), Brazil ranks second to last in the Safety & Security subcategory of the Quality of Life Index, followed only by Nigeria. "[I don't like t]he rising level of thefts and violence on the streets", one Canadian respondent said, admitting their "fear of going out at night because of security problems". According to the OECD Better Life Index, only about 40% of people in Brazil feel safe being out and about alone at night, a much lower percentage than the OECD average of 68%.
There's fear of going out at night because of security problems.
Further factors contributing to Brazil's 62nd place in the Quality of Life Index include significantly higher-than-average dissatisfaction with its transportation infrastructure (58% negative ratings), as well as the quality (42%) and affordability (56%) of medical care. "The quality of the roads and [the] infrastructure are old and decrepit", one Australian respondent agrees.
Still, there seems to be a silver lining regarding the quality of life in Brazil: 75% of respondents were looking forward to the climate and weather when contemplating relocating, and, after experiencing the Brazilian sun, 83% give this factor a positive rating. "The weather is definitely the best part about living here, that and after [six] years here we have made friends who we would count as family", an Irish respondent said.
Warm-Hearted Brazilians as Best Friends
Over three-fifths (61%) think making local friends is easy in Brazil, and more than half (53%) say their friends and acquaintances are mostly local residents. Compared to the global average of 19%, this is a striking result and is in fact the highest percentage across all countries. Well over four in five respondents agree that the population is generally friendly (86%) and appreciate the friendly attitude toward foreign residents in particular (84%).
After six years here we have made friends who we would count as family.
Still, it might take some time to settle down in Brazil: 35% of expats think it isn't easy. This is possibly due to the language, as one Nigerian respondent points out that you "can't do anything without learning the language, Portuguese". Almost double the global average (76% vs. 41%) agree that it is hard to live in Brazil without speaking the language. Thanks to these mixed results, Brazil lands a 33rd place in the Ease of Settling In Index, its best ranking across all indices.
Families Welcome, but Education Hard to Find
Brazilian friendliness also extends to families with children, according to 85% of all expat parents in Brazil; one expat from the USA added: "[P]eople are very kind to others' children. There's not as much fear about people paying attention to babies and small children." While 72% are content with their family life in general, 47% of expat parents in Brazil are still afraid for their children's safety — almost five times the global average (10%).
Childcare and education options in Brazil are not considered to be the best either. In the subcategories of the Family Life Index, Brazil ranks third to last for costs and second to last for availability.
In Brazil, a third of parents (33%) also rate the quality of education negatively, more than double the worldwide average of 16%. This might be one of the reasons why expat parents in Brazil were most likely to choose a local private school (49%) or international school (21%) for their children, rather than local state schools (18%) (multiple answers possible). All these factors add up to Brazil ranking 43rd out of 45 countries in the Family Life Index.
Further Reading
Download
Press Contact
Selected Countries
Selected Cities
Want to take a look
at other years' results?
Check out the Expat Insider 2022!