France Report
A Good Life and Affordable Education in France
The quality of life remains favorable for expats, but not knowing the local language can make it difficult to find friends.
Over seven in ten satisfied with personal safety
40% plan on staying forever
61% satisfied with their job
Learning French proves challenging
Shorter than average full-time working week with 40.9 hours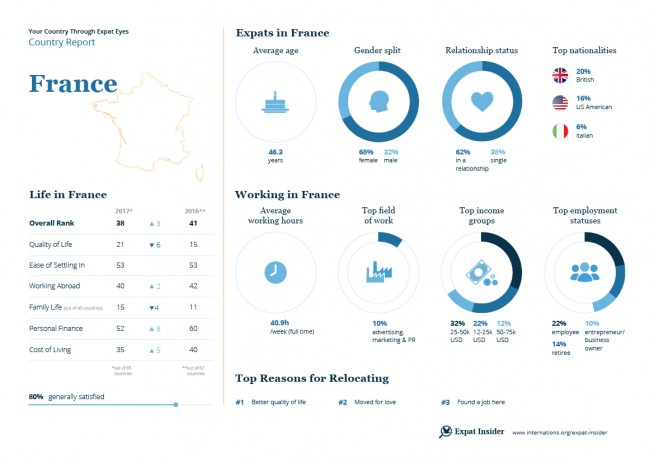 Moving for the Quiet Life
According to Euromonitor's 2017 report, France is one of the top 5 leading tourist destinations. But not only tourists have a special place in their hearts for France — expats also frequently make it their home away from home. France ranks 38th out of 65 in the overall country ranking for 2017, improving three places since 2016.
Over the years, France has performed well in the Quality of Life Index, and 2017 is no exception. Here, the country ranks particularly highly (15th out of 65 countries) in the Health & Well-Being subcategory. Despite several terror attacks in the past years, 72% of expats are satisfied with their personal safety. However, the impact of these events can perhaps be seen in the peacefulness rating; only two-thirds of expats are happy with this factor, putting France ten percentage points below the global average (76%).
According to the General Commission of Sustainable Development (CGDD), the main environmental concern in France is air pollution. Expats don't seem too worried about this, however, as seven out of ten rate the quality of the environment positively. Furthermore, 13% of respondents say a better quality of life was the main reason for their move to France and over half (53%) saw the climate as a potential benefit prior to their relocation.
A Slow but Steady Economy
While some moved to France for love (11%), employment opportunities also prove to be a popular reason to relocate; one in ten state that they moved because they found a job on their own. Around three in five expats (61%) are generally satisfied with their job, and over half (56%) are confident in their job security. While these figures are slightly below the global averages, France scores better for work-life balance, and 60% of expats living in France are positive about this factor. This could be linked to their 40.9 hour average full-time working week — over three hours shorter than the global average of 44.3.
According to the Financial Times, the French economy has been growing slowly but steadily since the financial crisis in 2008. Still, while 56% of respondents globally rate the economy of their respective countries favorably, just 45% of all expats living in France do the same.
Opinions are split on the cost of living: 30% say they considered it to be a potential benefit of moving, but 27% saw it as a potential disadvantage. After making the move, only 8% rate the cost of living as very good, 30% say their disposable household income is not enough to cover daily expenses, and two in five rate accommodation prices negatively. However, it is worth noting that over a third of respondents (34%) live in the famous yet expensive capital city.
Central Location Means More Traveling
With shorter working weeks, expats in France have more time to enjoy leisure activities; 83% are happy with the available leisure options, and 42% even say they're very good. Although expats are generally satisfied with the country's transport infrastructure (81%), you can still get hit by an unexpected strike even if the number of strike days across the country is reported to have decreased in the last few years. Expats are not only satisfied with domestic transportation, but also with opportunities to travel — an outstanding 88% rate them positively. Half of respondents (52%) even consider this factor to be very good, most likely due to France's central location.
Tight-Knit Communities
The French language doesn't have that certain "je ne sais quoi" for expats; when asked about learning and (not) speaking the local language, expats place France 60th out of 65 countries. More than three-quarters (76%) say they find it hard to live in France without speaking the local language. Although 68% speak French fairly or very well, it doesn't mean that finding local friends is an easy task. One Egyptian expat explained that "not speaking excellent French minimises my opportunities to deeply connect with the local culture and make local friends".
Not speaking excellent French minimises my opportunities to deeply connect with the local culture and make local friends.
The country ranks 52nd out of 65 in terms of finding friends and only just over half (55%) rate the general friendliness of the population positively, well below the global average of 70%. When asked to describe the people in their country of residence almost seven in ten expats (69%) say that the French are rather traditional, and at least two in five regard them as distant (43%) and reserved (45%). However, this does not seem to pose a problem, as over half intend to stay either longer than five years (12%) or possibly forever (40%).
Family First in France?
France is attractive for families, with 83% of expat parents saying that they are happy with their family life there. One US American states, "it is a family-friendly culture. It is safe, and living in the countryside feels wholesome for our children". Although the cost of living is generally high, 73% of parents find it easy to afford education in France, and 61% agree that there are numerous options. More than half (52%) decided to put their children in a local state school, as opposed to the global average of just one-third.
It is a family-friendly culture. It is safe, and living in the countryside feels wholesome for our children.
France ranks 15th out of 45 countries in the Availability of Childcare & Education subcategory, and the quality of education puts the country in 24th place. Expat parents also rate the costs of childcare and education favorably, with the country ranking 6th in the respective subcategory.
Further Reading
Download
Press Contact
Selected Countries
Selected Cities
Want to take a look
at other years' results?
Check out the Expat Insider 2022!