Ireland Report
Ireland's Bad Weather Puts a Dampener on Expat Life
Expats in Ireland neither struggle with the language nor with finding local friends, but the Irish charm can't make up for high costs, particularly for accommodation and healthcare.
60% rate the weather poorly
Seven in ten feel at home in the culture
Two-thirds are satisfied with their job
Ranks 14th in Quality of Education subcategory
56% rate peacefulness as very good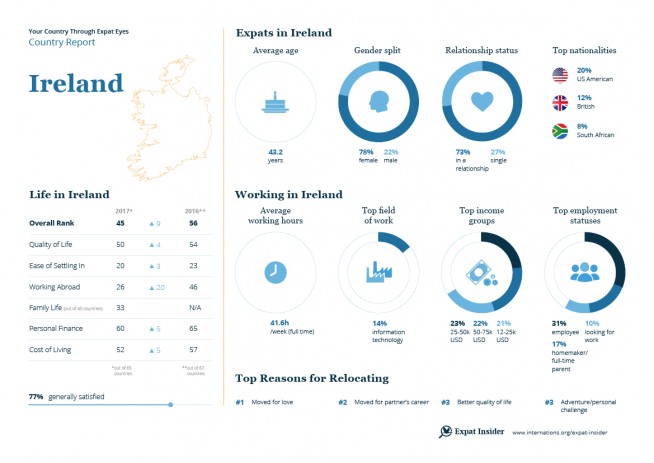 More Rain Than Shine Gets Expats Down
It's not called the Emerald Isle for nothing: with an average of 150–225 rainy days a year, Ireland's weather is a serious turn off for many expats. When asked what they didn't like about the country, weather was one of the most common answers; "rain, rain and more rain," one Burundian expat succinctly explained. Less than a fifth of expats (15%) rate the Irish weather positively, and it was seen as the biggest potential drawback prior to relocating.
But all that water has some favorable effects: 82% of expats rate the quality of their environment positively. One Maltese resident was particularly enamored with the landscape, pointing out "the fact that simply with a short trip by car, bus or train, you can get away from the hustle and bustle and find places of greenery and nature to let go and rest your mind".
Irish Charm Helps Expats Feel at Home
It's not hard to feel at home in Ireland and foreign residents are warmly welcomed. Ireland ranks 23rd out of 65 countries in the Friendliness subcategory, and nearly half of respondents (48%) gave their Irish hosts full marks. Seven in ten expats say they feel at home in the Irish culture. This might be because expats living in Ireland are almost twice as likely to have mainly local friends compared to expats worldwide (37% in Ireland vs 19% globally). As one Russian expat puts it: "Ireland is good for living, very welcoming and peaceful."
A fairly trouble-free language situation may also have helped Ireland make it into the top 20 in the Ease of Settling In Index. Although Irish is the official first language, English is the second and is far more widely spoken, which can be a persuasive reason for native speakers to relocate: predominantly English-speaking nationalities (Americans, Brits, and South Africans) make up the biggest expat groups in Ireland in the 2017 survey. Language was also cited as the second-best advantage expats considered prior relocating, and as many as 42% of respondents living in Ireland report that the language is the same as their mother tongue.
Back in Business after a Long Recession
As well as an English-speaking employment pool, low corporation tax has made Ireland especially attractive for international businesses setting up their European headquarters. Dublin has become a virtual tech hub that's home to LinkedIn, Google, and Facebook. It's no surprise that IT is a popular career choice for expats, with 14% working in the industry. Outside of Dublin's very own Silicon Valley, the effects of the recession are finally subsiding and further growth is forecast for 2017 and 2018. Ireland's prospects have improved considerably in recent years and 65% of expats now rate the state of the economy positively — up ten percentage points from 2016. Expats are also happy in the workplace; nearly two-thirds of expats (66%) say they are satisfied with their job.
The housing market is atrocious, so the overall cost of living is quite high.
Even if expats are content with work, the pay often seems to be insufficient to live in the third most expensive country in Europe. As many as 36% feel that they do not earn enough to cover their day-to-day living expenses, and Ireland sits at a disappointing 60th place out of 65 in the Personal Finance Index. Nearly seven in ten expats (69%) also rate the affordability of housing in Ireland negatively. In the words of one US American respondent: "The housing market is atrocious, so the overall cost of living is quite high."
Moving for Love, Staying for Family
Nearly a fifth of expats (19%) moved to Ireland for love and 73% of respondents are currently in a relationship. Nearly three-fifths of respondents (57%) have children living with them in the country, and almost half (49%) could see themselves living in Ireland forever.
Expat parents are impressed with schooling standards, ranking Ireland 14th out of 45 in the Quality of Education subcategory. They were equally satisfied with the price of education, with almost six in ten (58%) rating this factor positively.
Childcare, on the other hand, leaves much to be desired. Just 3% of expat parents in Ireland rate its affordability as very good, while over three-quarters (77%) consider childcare to be unaffordable. In fact, 18% say they are entirely dissatisfied with childcare options, compared to just 5% of expat parents globally.
Safe and Sound
Ireland ranks highly for safety, with six in ten expats saying they saw this as a potential advantage before they relocated. Ireland comes in 10th out of 163 countries in the 2017 Global Peace Index, and expats living seem to agree with this ranking. Well over half (56%) give Ireland the top rating for peacefulness, and 90% regard personal safety in Ireland positively.
Ireland is good for living, very welcoming and peaceful.
However, if something does go wrong, expats have limited faith in Irish healthcare. Just 6% of respondents rate the quality of Irish healthcare as very good, 20 percentage points less than the global average. The system also seems to come with a hefty price tag: 55% of expats rate the cost of healthcare in Ireland negatively, and almost a fifth (18%) give it the lowest possible rating.
Further Reading
Download
Press Contact
Selected Countries
Selected Cities
Want to take a look
at other years' results?
Check out the Expat Insider 2022!