Urban Work Life Index
Building a Career Abroad: The Best Destinations for Urban Work Life
The greatest destinations for working abroad combine a strong local economy and plenty of career opportunities with sufficient leisure time. Some other cities, however, mostly offer expat jobs with low satisfaction and long hours.
Amsterdam on #1 shines with regard to job and career as well as work-life balance.
Prague, the global #2, offers high job satisfaction and flexible working hours.
Expats in Frankfurt (#3) profit from a strong local economy and promising career options.
In Jeddah, Istanbul, and Tokyo, expats are least satisfied with their work life abroad.
London, Beijing, and Munich, however, stand out for their stellar career opportunities.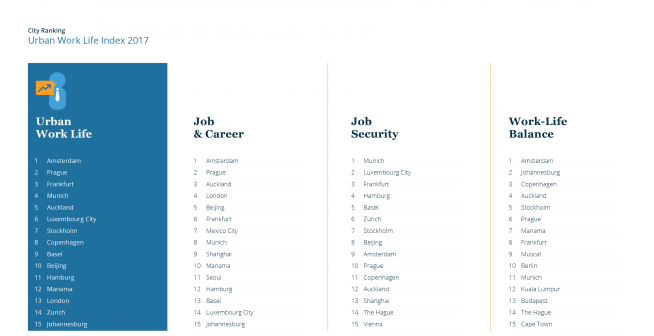 Methodology
In the Expat City Ranking 2017, 51 destinations are featured in the Urban Work Life Index. The minimum sample size for a city to be listed was 45 respondents. Survey participants were asked to rate their personal satisfaction with various factors in three areas (Job & Career, Job Security, and Work-Life Balance) on a scale of one to seven: four is the neutral answer option, while seven is the highest possible rating.
Amsterdam: The Perfect Balance of Work and Leisure
Three destinations in Western and Central Europe turn out to be the best cities for expats in the 2017 Urban Work Life Index: Amsterdam is heading the ranking as the worldwide number one. The capital of the Netherlands doesn't only charm 17 million visitors per year with picturesque canals and Dutch Renaissance buildings, but its excellent working conditions also attract countless expats from the US (15%), the UK (11%), and various EU member states (6% each from France, Germany, and Spain).
When it comes to working abroad, Amsterdam ranks first in two out of three subcategories in this index. Although nearly six in ten respondents have some kind of corporate career (42% employees, 16% managers), work seems to be anything but a dull nine-to-five job. Almost eight out of ten expats working in Amsterdam (78%) are generally satisfied with their job, and the same percentage judges local career opportunities favorably.
However, expats working in Amsterdam don't necessarily spend all day hunched over their desks — quite on the contrary. With an average 42.3 working hours per week in a full-time job, they have enough time to enjoy the city's many sights. About one in three respondents (34%) couldn't be any happier with their working hours, and 77% rate their general work-life balance positively.
Though Amsterdam doesn't make it into the global top 3 for job security, ranking 9th out of 51 destinations is still a result to be proud of. Over seven in ten expats (71%) rate their own job security positively, and 82% express their satisfaction with the local economy. In 2016, Amsterdam's urban economy grew by 3%, the strongest economic growth rate out of all major Dutch cities. Whereas public administration, education, and care offer the highest number of jobs in the Netherlands in general, expats in Amsterdam rather tend to work in IT (21%) or finance (20%).
Prague: Striking Gold in the "Golden City"
Prague, the second-best city in the Urban Work Life Index, has a lot in common with Amsterdam: an enchanting atmosphere, enormous popularity among tourists (7.07 million visitors in 2016), and great ratings from expats for job and career as well as work-life balance.
Among the survey participants in Prague, 21% — nine percentage points more than the global average — mention finding a job on their own as their most important reason for relocating, and they don't seem to regret their decision: 76% are happy with their job, and an astounding 31% consider local career opportunities in Prague to be excellent.
Just like respondents in Amsterdam, expats in Prague are content with the leisure time they have to explore their new home. Although they work about two hours more per week (44.1 hours for a full-time job in Prague vs. 42.3 in Amsterdam), 73% still rate their working hours positively. The same percentage is also satisfied with their work-life balance. Perhaps it helps that an above-average share of expats in Prague work as self-employed professionals, entrepreneurs, or freelancers (24% vs. 17% globally), thus enjoying greater flexibility in organizing their personal schedule.
Of course, self-employment doesn't only mean greater flexibility, but sometimes also potential risk. However, Prague ranks in the global top 10 for job security, coming in 10th place out of 51: 71% of expats overall are satisfied with their job security, while an even higher share (74%) rate the local economy favorably. In fact, about a quarter of the Czech Republic's entire GDP is generated in Prague.
While IT (14%) and finance (9%) are important sectors for expats working in Prague, they aren't quite as relevant as in Amsterdam. The key field of employment is education (20%); at 8%, the leisure, sports and tourism sector is also overrepresented among respondents in Prague, compared to only 2% worldwide.
Frankfurt: Working in the Financial Heart of Germany
The destination with the third-highest ranking in the Urban Work Life Index represents Europe's largest national economy. Frankfurt (am Main) is one of Germany's largest economic and financial hubs. The city of Frankfurt has a gross domestic product of about 65.5 million EUR and provides jobs to 668,000 people, while there are nearly 2.14 million employees in the Greater Frankfurt-Rhein-Main area.
Frankfurt's flourishing economy has inarguably contributed to its excellent ranking in the Job Security subcategory, where the city lands on third place worldwide: nine in ten expats feel confident about the local economy, and not a single respondent gives it a negative rating. Moreover, nearly eight out of ten (78%) are happy with their job security.
Frankfurt's results in the Job & Career and Work-Life Balance subcategories can't quite live up to this stellar rating, but they aren't lagging very far behind. With an average full-time work week of 42.1 hours, expats in Frankfurt enjoy even a bit more leisure time than those working in Amsterdam. Three-quarters are content with their working hours, and a similar percentage (77%) are satisfied with their work-life balance, too.
Around two-thirds of the expats working in Frankfurt rate their overall job satisfaction (66%), as well as local career opportunities (65%), positively. The latter is surely good news for the 8% of respondents in Frankfurt currently looking for a job. Expats don't just have promising employment options in the finance industry (18%), as might be expected from the city that houses the European Central Bank, the German Federal Bank, and nearly 200 commercial banks. One in seven expats (14%) also works in education, while about one in six (16%) have a job in advertising, marketing, or PR.
Long Working Hours, Low Job Satisfaction — The Three Worst Cities for Working Abroad
On the other end of the ranking scale, there's Jeddah, Istanbul, and Tokyo, the three most unpopular cities for working abroad.
Jeddah's abysmal ranking on 51st place out of 51 is somewhat surprising insofar as 21% of expats living there cite finding a job as their most important motivation for moving. Only financial reasons (23%) had an even greater impact on their decision.
Financially, relocating to Jeddah does appear to be worth it: 87% of respondents describe their household income as enough or more than enough to cover local living expenses, with 18% even saying they have a lot more money than they need.
The financial security comes at a price, though: expats working in Jeddah report the lowest overall job satisfaction worldwide — nearly three in ten (29%) rate this factor negatively. The city also has the second-lowest ranking for work-life balance, as 39% of respondents are unhappy with this aspect of life abroad.
While foreign assignments (20%) were the number one reason for expats to move to Istanbul and 22% of the respondents working there are now in a management position, they seem to be far from happy with their careers.
On the one hand, Istanbul's poor performance in the Job Security subcategory (49th out of 51) is partly due to the flagging local economy rather than individual dissatisfaction: every second expat rates Istanbul's urban economy negatively.
On the other hand, the respondents do report little satisfaction with their job overall (26% negative ratings), and they don't think very highly of local career opportunities, either (33% negative responses). Last but not least, with expats in Istanbul working an average 47.2 hours per week in a full-time position, it's not much of a surprise that one in three rates this factor unfavorably.
Tokyo also lives up to its reputation of being a city for workaholics. The Japanese language even has its own word for "death from stress in the workplace" (karôshi). With an average 50.8 hours of full-time work per week, the survey respondents do spend quite a bit of time at the office. They also give Tokyo the worst global ratings for both work-life balance and working hours (36% and 37% negative responses, respectively).
Although Tokyo doesn't do that badly with regard to job security, ranking 25th out of 51 destinations, expats have a rather negative view of their job and career prospects. About one in four (24%) are generally unsatisfied with their job, while over one in three (36%) rate local career options unfavorably.
Three International Boomtowns for Career-Minded Expats
In addition to Amsterdam (#1) and Prague (#4), there are three more cities that deserve a closer look when it comes to local career opportunities. London (#2), Beijing (#3), and Munich (#5) all tend to attract young "go-getters" who feel very confident about local career prospects.
Despite the ongoing insecurity associated within the UK's decision to leave the EU, expats working in London are far from pessimistic about the city's employment opportunities: 74% give this factor a positive rating, and three out of ten couldn't be more satisfied with career options in London.
The British capital is a good choice for new arrivals searching for a job on their own: for 34% of respondents, this was one of their reasons for relocating — for about one in six (16%), it was even the most important one. The three sectors where most expats found employment are finance (12%), IT (13%), and especially advertising, marketing, or PR (17% vs. only 6% worldwide).
In Beijing, the percentage of generally positive ratings for local career prospects is a little lower than in London (70% compared to 74%), but the share of expats who feel extremely positive about this factor is just as high (30%).
Moreover, expats in Beijing assess the state of the local economy more positively — 78% give this factor a positive rating, compared to less than two-thirds (63%) in London. So, if you would like to work in education (a stunning 35% of respondents) or healthcare (19% vs. 6% worldwide), a career in the Chinese capital might just be right for you!
Around two-thirds of expats living in Munich (66%) describe the local career opportunities as generally positive, and over one in four (27%) even consider them very good. This optimistic outlook is hardly a big surprise, as the city also ranks first worldwide for state of the local economy: only 1% give this factor a negative rating, while 57% rather think it's excellent.
Not only does Munich attract a considerable share of expats who have found a local job on their own (20%), but 11% of the respondents even mention being recruited directly by a local company as their most significant reason for relocating (6% globally).
Expats with a STEM (science, technology, engineering, and mathematics) background might especially benefit from a move to the Bavarian boomtown: 21% of expats work in IT and another 17% in manufacturing or engineering. However, there's plenty of room in other fields, too, particularly in advertising, marketing, or PR (17%).
On a general note: The survey for the Expat City Ranking 2017 was conducted in February/March 2017. Although it took place long after the Brexit referendum, the responses might not accurately reflect the current confidence in the local economy, while the Brexit negotiations are ongoing.
Full Ranking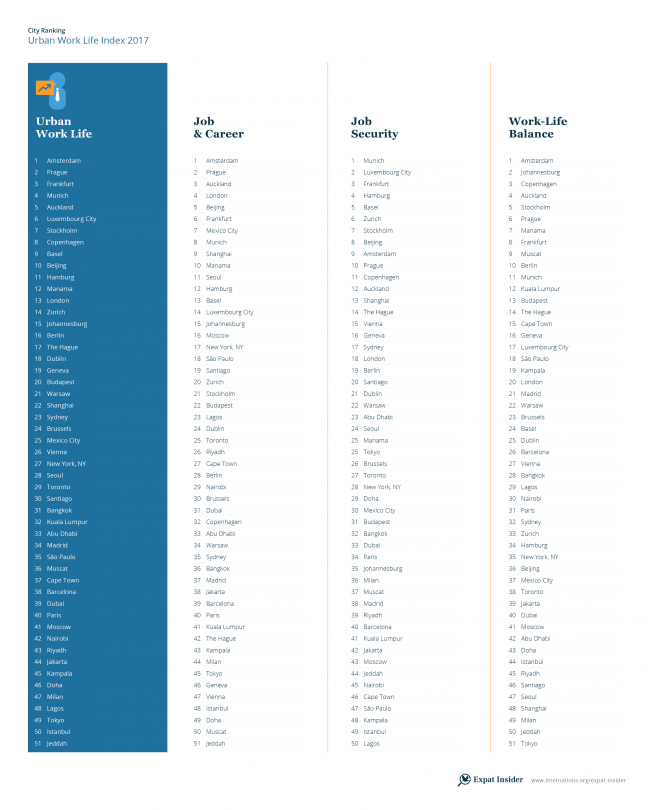 Further Reading
Download
Press Contact
Selected Countries
Selected Cities
Want to take a look
at other years' results?
Check out the Expat Insider 2022!