Russia Report
Language and Poor Weather Dampen the Mood in Russia
Russia performs well in the new Digital Life subcategory, and there is no shortage of childcare options, but expats struggle with the frosty welcome and difficult language.
Expats struggle to acclimatize to the Russian weather.
Russia remains last in the Language subcategory.
Almost nine in ten expats have easy access to high-speed internet.
Expats lament the sluggish economy and low job satisfaction.
Both childcare and education are affordable and easy to access.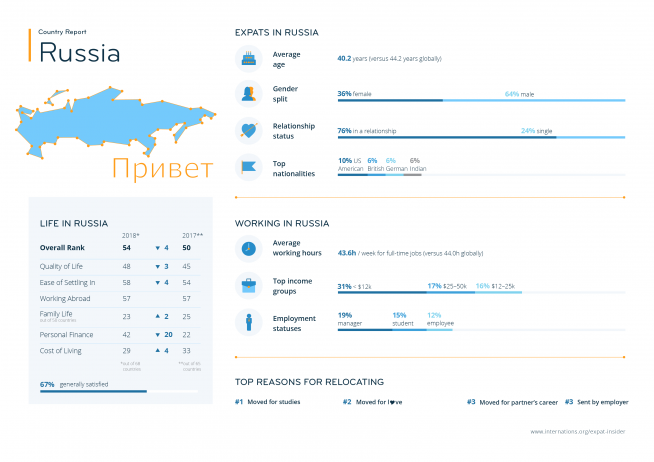 Weather Once Again Proves Tough for Expats
The infamous Russian weather is well and truly living up to expectation among expats — one US American expat draws attention to the "cold, dark winters" and adds that "the weather can be tough", while a Malaysian expat claims that it is "intense and unpredictable". Unsurprisingly, just 27% are satisfied with the Russian weather — compared to 61% of expats worldwide — and Russia ranks 59th for this factor for the second year running.
Expect a Frosty Reception and a Tough Language Barrier
Expats receive a welcome no warmer than the Russian winter. Only about half (55%) think that Russians have a friendly attitude towards foreign residents, eleven percentage points less than the global average of 66%.
No one speaks English here.
For expats, the process of moving to and settling down in Russia seems to be exacerbated by the local language, which once again places last in the Language subcategory of the Ease of Settling In Index: about three-quarters (74%) say that learning the language is hard, and 62% of expats agree that living in Russia without knowledge of the language is difficult, with an Indian expat explicitly pointing out the "language barrier" and how "no one speaks English". These findings are particularly striking when compared to the global averages of 45% and 39%, respectively.
Keeping Pace with Global Digitalization
Russia performs above average in the new Digital Life subcategory and seems to be keeping pace with the rate of global digital development. Despite only a third of respondents saying that unrestricted access to online services such as social media is very good, compared to 58% worldwide, there are plenty of other positive things to say about the Russian digital sphere. Access to high-speed internet at home, for instance, is very good, according to 59% of expats in Russia. An impressive 89% are generally satisfied with this factor, compared to just 75% of expats around the world.
Further, 92% of respondents agree that it is easy to get a local mobile phone number in Russia, and running out of cash is hardly a problem either: almost nine in ten expats (87%) say that paying cashless is easy.
Sluggish Economy, Poor Career Prospects, and Low Job Satisfaction
A third of expats bemoan the career prospects in Russia, and only 57% are satisfied with their job. This could potentially be linked to the apparent dissatisfaction with working hours: only just over half of the respondents (54%) could say that they were content with their schedule.
The heavily sanctioned Russian economy also appears to be a big cause for concern. Just 40% rate the state of the economy well, 24 percentage points worse than the global average (64%). This is something expats also seem to be aware of prior to their move: only 41% of respondents say that they viewed the economy / labor market in a positive light when they were considering relocating to Russia.
Plenty of Options for Childcare and Education
Expats with young families should have no trouble in finding both childcare and education options in Russia. Just over half of expat parents (56%) attest that childcare options are numerous and easy to get, and there is a similar positive view regarding education, where almost a quarter completely agree (23%), compared to 16% globally.
Importantly, it is not only the availability of childcare and education that is good in Russia but also the affordability. Only just under a quarter of respondents raising children in Russia (24%) are of the opinion that childcare is unaffordable, and a similarly small portion (26%) say the same about education. These numbers really stand out when compared to the opinions of expat parents worldwide, with 39% and 37%, respectively, stating that they are not affordable.
Russia also performs well in the Quality of Education subcategory — 70% of expat parents believe that the education system is good. In fact, education is also one of the main factors driving expats to Russia — over one in every five expats (21%) move there to go to university or school. A Colombian man in Saint Petersburg says that, as a father, "the quality of education for my kids is important for me, and education here is good".
The quality of education for my kids is important for me, and education here is good.
Perhaps Russia's new best position of 23rd out of 50 countries in the Family Life Index can likewise be attributed to the emphasis and importance of family in Russian culture. There is a consensus that family life is generally good, with almost eight in ten expat parents (77%) in agreement with this. Moreover, 81% say that there is no reason to worry regarding children's general well-being, a result that is on par with the global average.
Making Ends Meet Is a Struggle
Although the general cost of living appears low, with 55% generally satisfied compared to 51% globally, it seems that expats in Russia struggle to secure salaries that make ends meet. Only slightly above three-quarters (77%) say their disposable household income is enough or more than enough to cover everything they need in daily life, while 12% do not have nearly enough to cover costs.
Furthermore, almost a third (31%) are in the lowest household income bracket, with under 12,000 USD a year. Some of these figures could be explained by the high proportion of students, who represent 15% of respondents in Russia. The financial strife may also have a lot to do with location — 78% of expats in Russia live in either Moscow or Saint Petersburg, which rank 17th and 49th, respectively, out of 209 cities in the 2018 Mercer Cost of Living survey.
Further Reading
Download
Press Contact
Want to take a look
at other years' results?
Check out the Expat Insider 2022!
Selected Countries
Selected Cities