Milan
Milan: A Troubling Financial Situation & Difficult Working Life
Milan performs rather poorly in the Expat City Ranking 2022, placing 44th out of 50 destinations. It even does slightly worse than Rome (41st).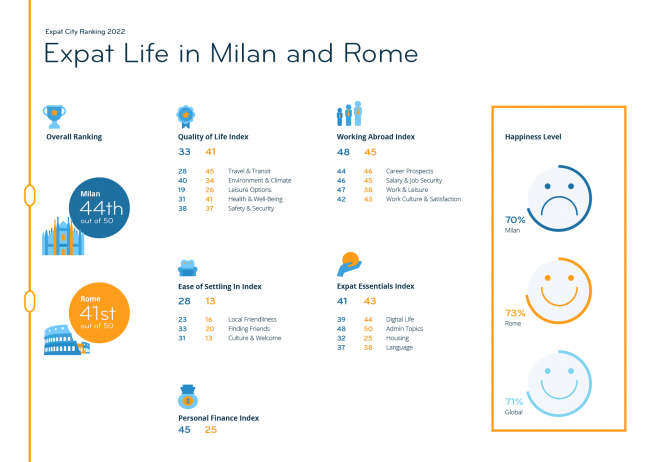 Like Rome, Milan does worst in the Working Abroad Index (48th). The Work & Leisure Subcategory (47th) is a particular low point for Milan — the city ranks in the bottom 5 for both working hours (48th) and work-life balance (46th). Nearly one in three expats (31%) also struggle with the lack of personal career opportunities (vs. 22% globally), and 29% feel that they are not paid fairly for their work (vs. 20% globally). "Finding a job is so hard, and the salaries are so low," shares an Iranian expat. This contributes to Milan's low rank in the bottom 10 of the Salary & Job Security Subcategory (46th).
Milan has both highs and lows to offer in the Quality of Life Index (33rd). While over half the respondents (54%) are unhappy with the city's air quality (vs. 19% globally), about three in four (73%) enjoy the climate and weather (vs. 62% globally). And while the infrastructure for cars (42nd) leaves much to be desired, expats appreciate their opportunities to travel (10th), due to the central location, tourism, or other reasons.
The Personal Finance Index (45th) is another low point for Milan, though. About one in three expats are unhappy with their financial situation (33% vs. 21% globally) and feel that their disposable household income is not enough to lead a comfortable life in Milan (34% vs. 28% globally). When it comes to the Expat Essentials Index (41st), the city does not fare much better. Dissatisfaction with the Admin Topics Subcategory seems to be a general problem in Italy, as Milan (48th) joins Rome (50th) in the bottom 3: nearly two-thirds (66%) find it hard to deal with the local bureaucracy, compared to 39% globally.
Further Reading
Download
Press Contact
Selected Countries
Selected Cities