China
China Is a Financial Haven, but Expats Face a Difficult Start
Expat life in China is very affordable, but getting a visa or opening a local bank account can be really tough.
China ranks 26th out of 53 destinations in the Expat Insider 2023 survey. Ranking 10th for Personal Finance, the country is a great place for expats who want their money to go a long way. Another highlight is the widely available (5th) and easily affordable (2nd) public transportation network. On the downside, the country ranks 48th in the Work Culture & Satisfaction Subcategory. The majority of expats is unhappy with their work-life balance (45th). The Expat Essentials (50th), such as administrative topics or digital infrastructure, are another source of disappointment. All things considered, 74% are happy with their life in China, close to the global average of 72%.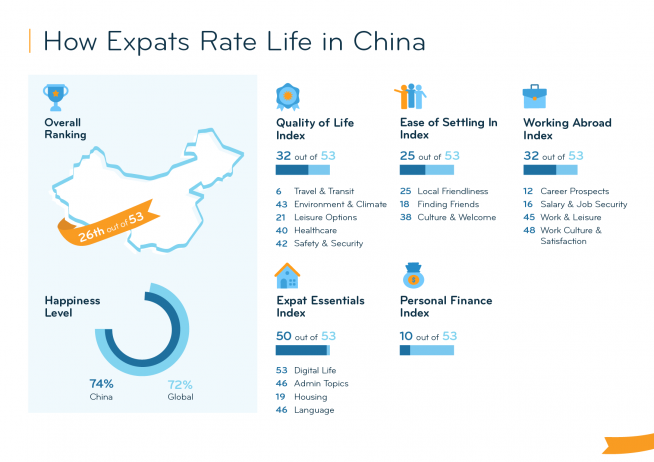 Expats' Money Can Go a Long Way in China
Paying the bills is no problem for the majority of survey respondents in China: 86% say that their disposable household income is enough (or more than enough) to lead a comfortable life (vs. 73% globally). Additionally, 69% are happy with their financial situation (vs. 58% globally), and half (50%) rate the general cost of living positively (vs. 44% globally). Overall, China ranks 10th in the Personal Finance Index.
The financial advantages are also reflected in other factors throughout the survey. In the Working Abroad Index, 68% of expats say that they are paid fairly for their work, slightly more than the global average of 62%. The country also ranks 2nd for the affordability of public transportation in the Quality of Life Index. Only healthcare is difficult to afford for some: China ranks 42nd for this factor.
"I like the food and the convenience of using public transportation." – Spanish expat
Top-Tier Transportation
China ranks 32nd for its Quality of Life. Expats find it relatively easy to get around China, as nearly all of them consider public transportation both easy to afford (99% happy vs. 71% globally) and widely available (94% vs. 73% globally). Drivers appreciate the road infrastructure (10th), but pedestrians and cyclists are not left in the dust: 88% say that it is easy and safe to get around by bike or on foot (vs. 77% globally).
However, expats struggle with the Environment & Climate (43rd). In fact, three in ten (30%) rate the air quality poorly (vs. 17% globally). And although 94% feel safe in China (vs. 83% globally), more than half (54%) say that they cannot openly express themselves, more than triple the global average of 15%. In the Ease of Settling In Index (25th), expats also struggle at times. It can be hard to get used to the local culture (44th), but at least they still have a personal support network in China (6th).
An Old-Fashioned Work Culture
Working Abroad (32nd) brings up some issues for expats in China, especially when it comes to Work & Leisure (45th) and Work Culture & Satisfaction (48th). In fact, nearly one quarter of expats (23%) are unhappy with their work-life balance (vs. 17% globally). The local business culture is another pain point: expats believe that it does not encourage creativity (51st), independent work (51st), or flexibility (50th). On the positive side, 71% say that moving to China has improved their career prospects (vs. 59% globally).
Expats Do Not Have an Easy Start in China
Getting started as an expat in China can be a big challenge: the country ranks among the global bottom 5 in the Expat Essentials Index (50th). It even ends up at the bottom of the Digital Life Subcategory (53rd). For example, 19% struggle to get high-speed internet at home (vs. 10% globally).
Although the majority of expats in China (96%) finds it easy to pay without cash (vs. 84% globally), only 13% say they enjoy unrestricted access to social media and other online services, significantly less than the global average of 84%. Admin Topics (46th) are not much better. Opening a local bank account (48th) and getting a visa for moving to China (44th) can be difficult. And, 66% struggle with learning the local language(s) (vs. 38% globally).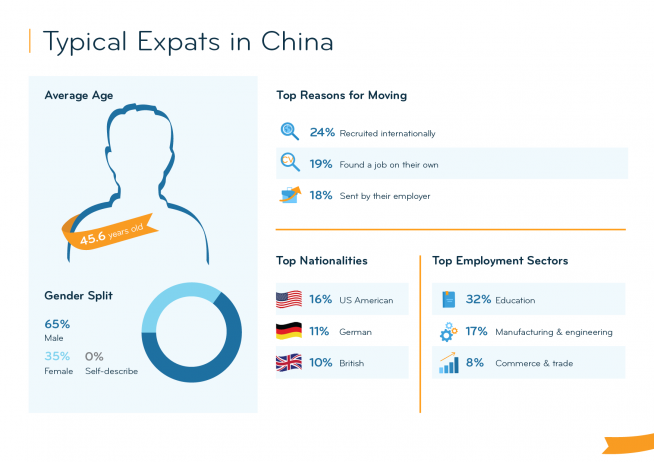 Further Reading
Download
Press Contact
Selected Countries
Selected Cities