Portugal
A Great Quality of Life in Portugal but Poor Job Opportunities
Expats in Portugal love the local climate and feel welcome there, but they also face poor career prospects.
Portugal comes 10th out of 53 destinations in the Expat Insider 2023 survey. Expats are very happy with their Quality of Life: they enjoy the climate, leisure options, and safety. They find it generally easy to get settled and feel at home in Portugal. Despite frustrations with the local bureaucracy and a disappointing job market, 85% of expats are happy with their life in Portugal, compared to 72% globally.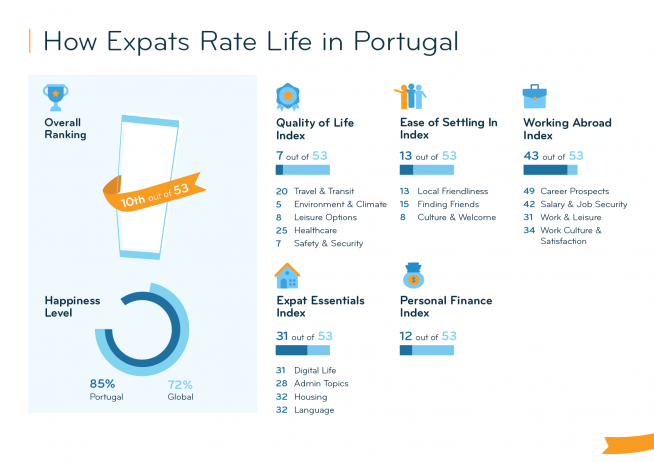 Welcoming Culture
The Ease of Settling In Index (13th) is one of the major highlights for expats in Portugal, particularly with regard to Culture & Welcome (8th). Expats feel very much at home (78% vs. 62% globally) and welcome (81% vs. 67% globally) there. This may be partly due to the fact that 71% have a personal support network in Portugal, compared to 58% globally. What's more, 76% find it easy to get used to the local culture (vs. 62% globally). The majority (80%) also reports that the population is generally friendly to foreign residents, 15 percentage points more than the global average (65%).
"Even though I have limited Portuguese language skills, the locals are friendly and accepting." – Irish expat
Plenty to See & Do
Since the first Expat Insider survey in 2014, Portugal has consistently performed well or very well in the Quality of Life Index — in 2023, it ranks 7th worldwide. Some of the country's long-standing highlights have been the climate & weather (7th) and the air quality (9th). "The beaches and scenery are excellent, and the weather is fantastic!" shares a US American expat. It is hardly surprising that the country ranks among the best destinations for Environment & Climate (5th).
Expats also have many opportunities for recreational sports (85% happy vs. 75% globally) and enjoy the local culture and nightlife (74% happy vs. 68% globally). They feel safe (94% vs. 83% globally) in Portugal and agree that they can openly express themselves and their opinions (83% vs. 65% globally).
Expats Face Administrative Hurdles
In the Expat Essentials Index (31st), though, the country ranks only midfield. Over half the expats (56%) have a hard time dealing with the local bureaucracy (vs. 38% globally). And one in four (25%) is unhappy with the availability of government services online (vs. 21% globally). On top of that, more than half the expats describe Portuguese as difficult to learn (vs. 38% globally). Luckily, another two in three (68%) consider it easy to live there without local language skills (vs. 50% globally).
"The Portuguese bureaucracy is inefficient and unpredictable. It can be nearly impossible to figure out how things are supposed to be done." – US American expat
Not a Destination for Career-Driven Expats
Portugal narrowly escapes the bottom 10 in the Working Abroad Index (43rd). The country performs worst in the Career Prospects Subcategory (49th). Expats vote it 45th for local career opportunities, and more than one in three (36%) are unhappy with the job market (26% globally). Unsurprisingly, 28% state that moving to Portugal has not improved their career prospects (vs. 18% globally). The country does rank above the global average for work-life balance (17th), even though expats rate their working hours rather poorly (45th).
On the Plus Side: Personal Finances
Interestingly, while the country does badly for fair pay at work (42nd), 78% of expats still agree that their household income is enough or more than enough to lead a comfortable life (vs. 73% globally). Overall, Portugal performs very well in the Personal Finance Index (12th): 63% are happy with the general cost of living, compared to a global average of 44%.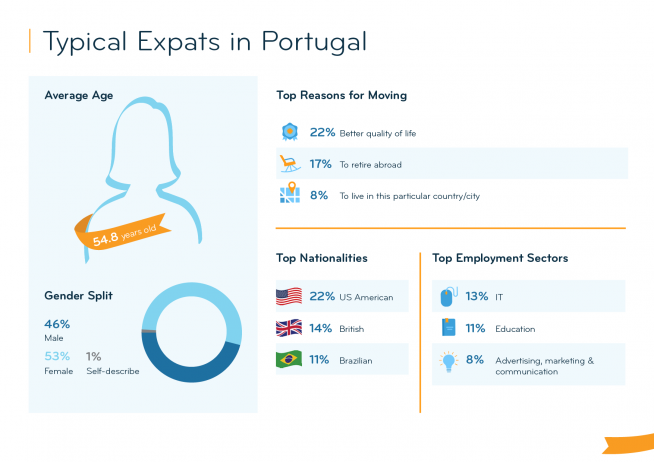 Further Reading
Download
Press Contact
Selected Countries
Selected Cities