Canada Report
Canada: Far Away but Worth a Lengthy Stay
Expats in Canada may have worried about the distance from home before moving, but the great quality of life, friendly Canadians, and good career prospects certainly make up for this after they arrive.
45% are considering staying forever
High satisfaction with safety, peacefulness, and healthcare
Great environment tempered by the cold climate
Population friendly, but finding friends can be difficult
Income not enough to cover expenses for 28% of respondents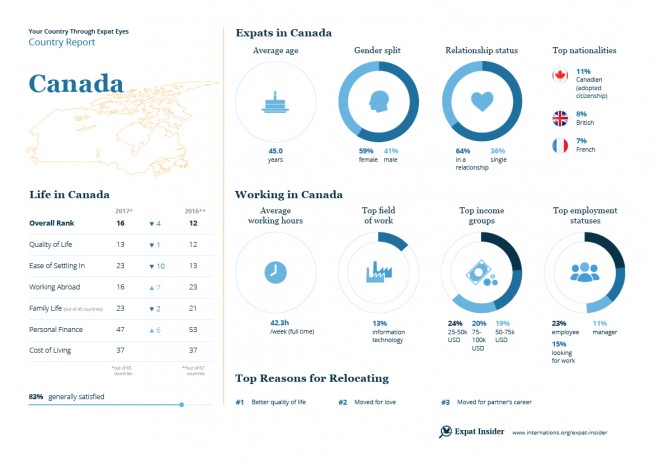 Moving for Love, Staying for Good
When asked whether they considered certain factors to be potential benefits or disadvantages prior to their move, 44% of respondents in Canada cite the distance to their home country as a possible disadvantage. However, love seems to have been a strong motivator to brave the distance: 13% moved to Canada in order live in their partner's home country and another 13% because of their partner's job or education.
The former might be a contributing factor to the high number of respondents who have acquired Canadian citizenship since relocating (39%). The same percentage say they have already been living in the country for more than ten years. In fact, 45% of respondents in Canada say they may stay forever.
Improving Expats' Quality of Life
The most common reason for moving, however, was for a better quality of life: 17% of respondents said this was their main motivation, and three-quarters (75%) also considered general living standards a potential benefit prior to moving. Canada seems to live up to expectations: 13th place out of 65 countries in the Quality of Life Index is Canada's best result across all indices. Respondents are particularly happy with their personal safety — just 1% have something negative to say about this factor — as well as peacefulness, which 94% rate positively.
Canada also ranks a respectable 13th place in the Health & Well-Being subcategory of the Quality of Life Index. Three-quarters of respondents (75%) are generally satisfied with the affordability of healthcare — 42% even consider it very easy to afford — and Canada's nature does the rest: an impressive 91% of respondents rate the quality of the environment positively, with more than half (54%) calling it very good.
Canada offers a clean environment and plenty of leisure activities — the majority (52%) rates the latter as excellent. However, respondents are less happy with the country's cold climate. One Maltese respondent likes "everything but the weather", echoing the 31% of expats who give Canada's climate and weather a negative rating.
Confirming the "Friendly Canadian" Stereotype
Luckily, the welcome expats receive in Canada is less frosty than the weather. Over four in five respondents (81%) regard the attitude towards foreign residents as friendly; nearly twice the global average even describes it as very friendly (46% vs. 26% worldwide), including this Nigerian expat: "Canadians are the most wonderful people… We feel like we are able to work hard to achieve our best for ourselves and our children and contribute to society."
Expats in Canada don't seem to have any major problems getting used to the local culture either: 75% agree it's generally easy to adapt to (global average: 62%). This might be because few respondents consider the local language(s) hard to learn (14% vs. 50% worldwide) and just 4% only speak it a little or not at all. However, it should be kept in mind that the Expat Insider was conducted in English, the more widely spoken of Canada's two official federal languages, giving a certain bias. Most respondents (57%) also say life in Canada could be hard if you don't speak the local language(s).
Canadians are the most wonderful people… We feel like we are able to contribute to society.
Despite these good results in terms of language, friendliness, and feeling welcome, the country only ranks 23rd out of 65 in the Ease of Settling In Index. This is, to a certain extent, due to its below-average result in the Finding Friends subcategory, where Canada ranks 37th. Still, expats there are more likely to have mostly local friends than the global average (27% vs. 19%).
Career Opportunities but Unsatisfying Salaries
In 16th place, Canada has recovered from its slight dip in 2016's Working Abroad Index where it ranked 23rd out of 67 countries following two years in the top 15. Expats in Canada are particularly happy with the state of the local economy: 61% even considered it a potential benefit before relocating, and close to three-quarters (73%) give this factor a positive rating (global average: 56%).
Canada also receives average-to-good results in the Job & Career and Work-Life Balance subcategories of the Working Abroad Index: 61% are generally satisfied with their career prospects and two-thirds (67%) consider their working hours favorably. There are "lots of options and stability," according to one Brazilian expat in Canada, "people can start a new career at any age".
In the last few years, life has become more expensive in the part where I live.
General satisfaction with work, however, does not necessarily mean high salaries; Canada's worst result is in the Personal Finance Index, where it ranks 47th out of 65 countries. Close to three in ten (28%) find their disposable household income isn't enough to cover their living expenses, and 12% even say it's nowhere near enough. "In the last few years […] life [has] become more expensive in the part where I live. House prices [have] increased, but overall life is good", a Romanian in Canada disclosed.
Costly Childcare but Affordable Education
Childcare can also take up a sizable chunk of your budget, according to expat parents in Canada: three in five (60%) don't consider it affordable, and close to a quarter (23%) even say it's very hard to afford. In contrast, education is less expensive: almost two-thirds of expat parents (64%) rate its affordability positively, 19 percentage points more than the worldwide average of 45%. They are also generally happy with the quality of education — almost three-quarters (74%) say it's good.
When it comes to family life in general, a large percentage of expat parents are very happy with their children's health (49%), safety (72%), general well-being (41%), as well as the available leisure activities for kids (51%). One British expat parent really likes "the outdoor life and the opportunities my children now have, like skiing".
Further Reading
Download
Press Contact
Selected Countries
Selected Cities