Finance & Housing Index
More Than Making Ends Meet: The Best Cities for Finance and Housing
In the best cities for money-savvy expats, housing costs remain affordable, and a balanced budget is the rule rather than the exception. Find out which destinations around the globe offer ideal options with regard to finance, housing, and cost of living!
Bangkok is the #1 city for expat finance worldwide.
Kuala Lumpur (#2) performs particularly well for housing, also proving to be a great option for expats on a shoestring budget.
#3 Johannesburg turns out to be a far more affordable alternative to Cape Town.
Stockholm, Dublin, and Copenhagen suffer from competitive housing markets and high expenses.
Berlin, Prague, and Mexico City shine with regard to cost of living.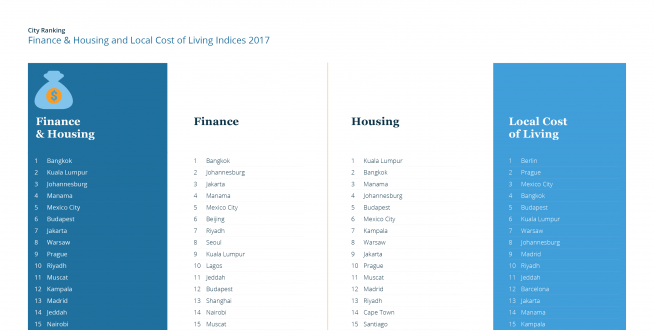 Methodology
In the Expat City Ranking 2017, 51 global cities are featured in the Finance & Housing Index. The minimum sample size for a city to be listed is 45 survey participants.
The Finance & Housing Index is based on four rating questions with a scale of one to seven — two questions per subcategory: regarding finance, participants were asked how they perceive their financial situation abroad and whether their disposable income is enough to cover daily expenses. The first question carried double the weight when the average ratings were combined to create this subcategory.
As for housing, the two rating questions cover the following topics: how easy it is for expats to find housing in their city and whether they consider local housing affordable. Unlike in the Finance subcategory, both questions carried the same weight.
To give a more rounded picture of expats' financial situation, insights from the Local Cost of Living Index are included in this article. Due to its similarity with the Personal Finance Index, however, the Local Cost of Living Index is not a part of the overall city ranking; this keeps the financial aspects of urban life abroad from being overrepresented in the final results.
Friendly and Affordable: Bangkok
Two out of the top 3 cities for finance and housing are located in Southeast Asia, with Thailand's capital coming in first place. Bangkok does extremely well in both subcategories, and for expat finance it is even the number one worldwide.
Among the respondents in Bangkok, 26% cite financial reasons as one of their motivations for moving abroad, compared to a global average of 15%. Their decision to relocate to Bangkok has paid off: over two-thirds (68%) are generally satisfied with their personal finances, with only 14% judging them negatively (vs. 25% globally). Nearly nine in ten expats (89%) also state that their household income is enough or more than enough for everyday expenses.
Expats in Bangkok are just as happy with their housing situation, especially with the affordability of their accommodation. Over one in five (21%) even think housing in Bangkok is very easy to afford. An impressive 83% also say that expats have little or no trouble finding housing in the Thai capital.
When it comes to rating the local cost of living, Bangkok ranks 4th out of 51 cities: 69% overall are content with this aspect of urban life abroad. An expat from Venezuela, for example, mentions the "affordable cost of living" as one of the things they appreciate most about their life in Bangkok.
However, it also needs to be considered that some of the expats in Bangkok are fairly well-off: one in four respondents has an annual household income of over 100,000 USD.
Improved Lifestyle and a Great Housing Market: Kuala Lumpur
With regard to finance and housing, the second-best destination, right after Bangkok, is the capital of neighboring Malaysia. Kuala Lumpur appears among the global top 10 in both subcategories, especially ranking 1st out 51 cities for housing.
Expats in Kuala Lumpur find the housing search particularly easy: 46% even report that expats usually have no difficulties whatsoever. Moreover, the costs for their new home aren't a financial strain. Nearly seven in ten respondents (69%) rate them positively.
When it comes to finance, 61% are generally satisfied with their own financial situation in Kuala Lumpur, and 85% have as much as they need — or even more — to balance their budget. The cost of living is rated favorably by 71% of the respondents, too. For instance, a respondent from the UK comments on the fact that "it's possible to afford a far better lifestyle than back home".
Interestingly, however, the city performs really well despite the fact that one in five participants falls into the lowest income category of up to 12,000 USD a year. Perhaps "KL" is the place to be for the cost-conscious expatriate!
A Cheaper Alternative to Cape Town: Johannesburg
The third place in the Finance & Housing Index takes us from Southeast Asia to South Africa: Johannesburg, its largest city, ranks among the top 5 destinations worldwide for both finance and housing.
Over seven in ten expats in "Joburg" (71%) rate their financial situation positively, and 85% think their disposable household income is enough or more than enough to cover all costs. Thus, only 15% report any difficulties with getting by on their income, eight percentage points less than the global average of 23%. In addition to the sunny climate and South African wines, an Australian expat singles out the cost of living as one of things to love about "Jozi".
Housing appears to be both available and affordable in Johannesburg: one in three expats considers finding a new place to live very easy, while nearly two-thirds (65%) describe their new home as relatively easy to afford. With another 67% positive ratings among respondents, the local cost of living seems fairly moderate as well.
Interestingly, Johannesburg's results in the Finance & Housing Index are a stark contrast to Cape Town's. While the latter is very popular among expatriates for its coastal location, it is much harder to afford than Johannesburg. Cape Town's ranking in the Housing subcategory (14th out of 51) is a solid top 20 result; however, when it comes to finance, Cape Town (49th out of 51) is one of the three worst-rated cities worldwide!
Housing Crises and Soaring Living Expenses
All three worst-rated destinations for finance and housing are spread across Northern and Western Europe, with a Scandinavian capital bringing up the rear.
Ranking 51st out of 51 cities overall, Stockholm is especially daunting for expatriates as far as housing is concerned. Sweden's national housing crisis has repeatedly made international headlines: 255 out of 290 local municipalities are struggling with a shortage of available housing, and the situation in the capital is the worst nationwide.
Among the Expat Insider 2017 respondents, 78% agree it is hard to find housing, while 37% also think the available housing is very expensive — not much of a surprise in a local housing market where the demand far outstrips supply. An Italian expat observes that "housing prices are very high, and finding a place for rent in Stockholm is a real challenge, especially for foreigners".
On 50th place, Dublin is the runner-up for the "biggest loser" in this index. Both Dublin and Stockholm perform poorly regarding finance, but housing is also the biggest hardship in the Irish capital. Dublin does even worse than Stockholm concerning affordable housing: almost four out ten expats (39%) consider housing extremely expensive.
In general, Dublin's local cost of living poses some major problems: 71% of all expats rate it negatively. No wonder that one in six expats (16%) thinks their household income isn't nearly enough to cover their daily expenses!
And it's back to Scandinavia for the third-to-last destination! Copenhagen's results are equally bad in either subcategory: it ranks 47th out of 51 cities for housing and 48th for finance. Just like in Stockholm, the availability of housing for expatriates is a serious issue: 74% of respondents in Copenhagen report difficulties in finding accommodation. Individual satisfaction with personal finances isn't particularly high, either: only 7% of expats in Copenhagen are completely satisfied with their financial situation — although 27% have a gross household income of more than 100,000 USD per year.
Three Great Options for Cost-Conscious Expats
So, what about expats who'd like to avoid cities with such a high cost of living as Dublin? Where should they move? Continental Europe offers two great alternatives; the third-best city in the Local Cost of Living Index is, however, more of a typical destination for expats from North America.
When it comes to the local cost of living, Berlin ranks 1st out of the 51 cities featured in the Expat Insider 2017 ranking. Nearly three out of four expats overall (73%) are satisfied with living expenses in the German capital. However, Berlin isn't necessarily a paradise for money-savvy expatriates.
There's an interesting discrepancy between Berlin's stellar ranking in the Local Cost of Living Index and its below-average results for finance and housing (34th out of 51). While expats appreciate the affordable living expenses, some struggle financially nonetheless: 27% are unhappy with their financial situation, and only 4% think their income is much more than what they need. One in five expats in Berlin is either a freelancer or in between jobs, which might explain some of this dissatisfaction.
The other two cities in the global top 3 for cost of living don't share this particularity with Berlin, though. Prague (#2) and Mexico City (#3) do equally well as far as living expenses and finance or housing are concerned.
In Prague, not one single expat gives local living expenses the worst possible rating. Rather, nearly one in five (18%) think life in Prague is very affordable. Nearly six in ten (59%) also appreciate the affordability of housing, while 85% consider their household income to be enough — or more than enough — to cover all costs: "The cost of living in relation to the local salaries is really good," an expat from South Africa says.
One in four expats in Mexico City couldn't be any happier with the local cost of living, and 21% say the same about their financial situation. Nearly two-thirds (65%) are generally satisfied with the affordability of housing as well. All in all, life is good in the Mexican capital.
Expats looking to balance their budget should stay far away from the following destinations: in Sydney (#49), Geneva (#50), and New York City (#51), respondents tend to be most seriously displeased with local living expenses. In NYC, 38% even claim that the local cost of living couldn't be any worse!
Full Ranking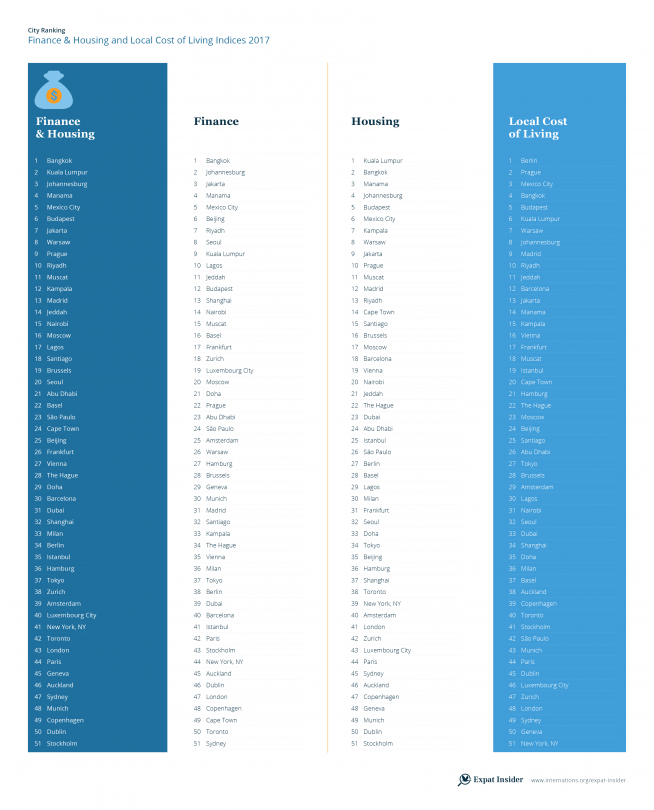 Further Reading
Download
Press Contact
Selected Countries
Selected Cities