Quality of Urban Living Index
Safety Trumps Sunshine: The Quality of Urban Living
European cities dominate the top 5, with Basel and Zurich coming in first and second respectively. The struggles Lagos faces award it last place, right after Jakarta and Nairobi.
#1 Basel impresses expats with safety and political stability but disappoints with local leisure options.
#2 Zurich and #5 Tokyo delight with their high-quality local transportation.
The quality of the environment is considered very high in #3 Vienna.
#4 Barcelona is loved by sun-worshippers but loses some ground when it comes to safety and political stability.
The bottom three, Lagos (51), Jakarta (50), and Nairobi (49), underperform significantly in most subcategories.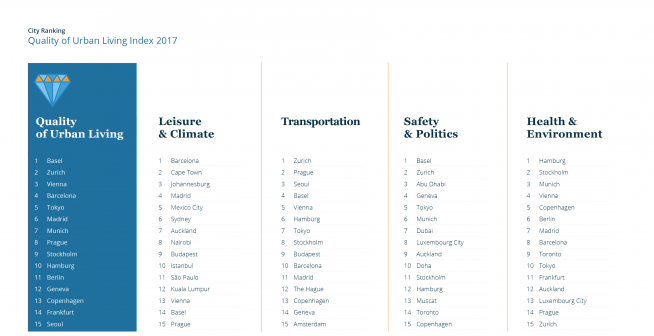 Methodology
For the Quality of Urban Living Index, survey respondents evaluated the leisure and climate, local transportation, safety and politics, as well as health and environment in their city. A city needed to have at least 45 respondents in order to rank in this index, which was the case for 51 cities in 2017.
The Sun Shines Bright in Catalonia
The cities that boast the best quality of urban living are Basel, Zurich, and Vienna, followed by Barcelona and Tokyo.
Despite being in first place, Basel only comes in 20th for local leisure options and 14th for local climate and weather. Out of the top 5, Zurich and Tokyo do even worse in the Climate & Leisure subcategory: Tokyo only makes it to 21st, Zurich to 24th place. One respondent from Slovakia says about Zurich that "sometimes it's foggy for weeks". Vienna still ranks a mediocre 13th, mostly due to its many leisure options which 52% rate as very good.
Barcelona occupies an impressive first place in the Leisure & Climate subcategory! Be it the nice weather or the fact that the sea is just at their doorstep, expats value the Catalonian capital for its local leisure options and its weather and climate alike. These factors are rated as very good by 65% and 71% respectively.
I love the combination of having the sea and the mountains very close by. It's fantastic to be able to enjoy a perfect climate with lots of sun and mild weather here in Barcelona.
Swiss Cities: Where Expats Feel Safe
Swiss cities dominate the top 5 of the Safety & Politics subcategory: Basel and Zurich occupy first and second place, while Geneva (which misses the top 10 of the Quality of Urban Living Index by only two places) comes in fourth.
"My kids will grow up safe, speaking different languages," one Kenyan expat in Basel says, "which is pretty awesome." With 98% and 96% positive ratings respectively, Basel achieves rather impressive ratings when it comes to personal safety and political stability, closely followed by Zurich with 95% and 93%.
It is not surprising that these cities receive such positive results. In the Expat Insider 2017 survey, Switzerland performs exceptionally well for personal safety, peacefulness, and political stability. Only 1% rated the latter negatively, while the country received no negative results for the other two factors.
Meanwhile, Vienna makes it to 16th place and Barcelona only comes in 29th in the Safety & Politics subcategory. Survey respondents are especially unhappy with the political stability in the city, with a quarter rating this factor negatively. When asked about the downsides of living in Barcelona, one expat from Ukraine mentions "bad communication between politics and society", for instance.
The perceived lack of political stability might be partly due to uncertainties following Catalan elections in 2015, and political unrest in relation to Catalonia's ongoing push for independence. After the Expat Insider survey was conducted in February/March 2017, this push for independence peaked in conflicts between the Spanish police and Catalonian voters over a vote for independence in October 2017.
Although the personal safety in the city is regarded more positively, Barcelona also only reaches 23rd place for this factor. Aside from a lingering terrorism threat that is palpable all over Europe, petty theft and pickpocketing are a recurring problem in the city and especially in crowded tourist areas.
The Best Local Transportation Systems
When it comes to local transportation, all of the top 5 cities receive good ratings and rank among the ten best places in this subcategory. However, Zurich impresses the most with its local transportation system, with 81% giving it the best possible rating. A German survey respondent says, "I love how easy it is to get around — by bus, train, and airplane."
Basel also ranks in fourth place, attesting to the high quality and good reputation of the Swiss transportation system. The country as a whole receives the best possible rating from about seven in ten respondents (69%) for the opportunity to travel, and from 74% for its transportation infrastructure in the Expat Insider 2017 survey.
Tokyo also received favorable responses for transportation, with 70% rating this factor as excellent. While it may not always be easy to navigate the city, its extensive railway system, transporting about 14 billion passengers per year, was listed among the best metros in the world by CNN.
Tokyo has a transportation system that works like a microprocessor.
Staying Healthy Comes at a Price
Only Vienna makes it into the top 5 of the Health & Environment subcategory, ranking fourth, right after Hamburg, Stockholm, and Munich. The Austrian capital mostly owes its position to the quality of its urban environment, such as the quality of water, air, and green space — a factor in which only Stockholm receives better results (95% vs. 96% of positive ratings). "I love how green it is here," a British expat says, and a German survey respondent praises Vienna's "quality of environment, weather, food, water, mountains, and alternative energy".
While Tokyo and Barcelona still make it to the top 10 of the Health & Environment subcategory, Zurich and Basel rank 15th and 16th respectively. Nine out of ten respondents consider the quality of medical care to be rather high in Zurich, and 83% say the same about Basel. Additionally, the availability of healthcare is considered good by 92% (Zurich) and 81% (Basel) respectively.
However, when it comes to the affordability of healthcare, both Swiss cities occupy lower ranks: Zurich, which receives 42% negative responses, comes in 38th for this single factor. Basel trails closely behind on 42nd place, with half the respondents rating this factor negatively. While Switzerland has a fantastic healthcare system, the costs are among the highest in the world. Insurance premiums are rising in accordance with federal spending, and price hikes between 3.5% and 7.3% (depending on the Canton) are expected for 2017.
The Bottom Three
Lagos (51st), Jakarta (50th), and Nairobi (49th) occupy the bottom ranks of the Quality of Urban Living Index. The three cities perform below average across all subcategories, with only Nairobi making it to a good eighth place for leisure and climate. The Kenyan capital owes this result mostly to the positive responses on its climate and weather: more than half of the survey respondents in Nairobi (53%) rate this factor as very good.
A survey respondent from India specifically considers the "weather, green spaces, wildlife, leisure options, and hiking options" a big plus. Nairobi enjoys a maritime climate and is less hot than the rest of the country due to its high elevation. Since it is located closely to the equator, the weather is mild, even in the winter months.
When it comes to health and environment, Nairobi also performs slightly better than the other cities in the bottom 3. The city receives 58% of positive responses for the availability of healthcare and slightly more than one in two survey respondents in Nairobi (52%) rate the quality of medical care positively.
However, coming in 45th out of 51 countries, its performance in the Health & Environment subcategory is still not impressive. A Dutch expat summarizes these results well, praising the "general quality of life" in Nairobi but also pointing out that the city is "kind of rough on the edges."
While Jakarta occupies one of the bottom ranks when it comes to availability (50th) and affordability of healthcare (46th), as well as the quality of urban environment (50th), the city receives slightly more positive results for personal safety (40th). In fact, 61% rate this factor positively, compared to only 33% in Lagos and 25% in Nairobi.
The city's traffic seems to be another big problem, though. "Jakarta's traffic is the worst in the world," says an expat from the UK. "The general road infrastructure is poor." Unsurprisingly, the city receives less than favorable results for its local transportation: three in five respondents rate this factor negatively.
Lagos, the biggest city in Nigeria, consistently occupies the last or second-to-last place across three out of four of the subcategories of the Quality of Urban Living Index. Although it has a young population and has seen constant growth in recent years — "Lagosians are aggressively entrepreneurial," a German survey respondent notes — Lagos keeps battling a range of issues, including poverty, power cuts, and corruption.
However, Lagos performs better when it comes to the climate and weather: 54% of respondents rate this factor favorably. An Indian expat appreciates Nairobi for its "good climate and the friendly local citizens" while "the opportunities" the city offers and its "weather" are what makes living in Nairobi worthwhile for a respondent from the USA.
Full Ranking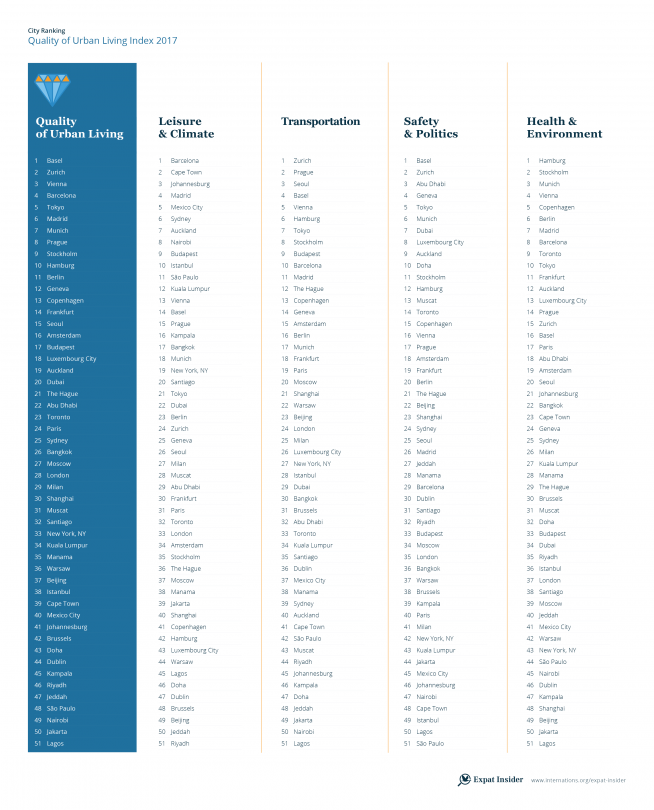 Further Reading
Download
Press Contact
Selected Countries
Selected Cities
Want to take a look
at other years' results?
Check out the Expat Insider 2022!