Switzerland Report
Switzerland: More Than Just Clocks, Chocolate & Cheese
Expats in Switzerland continue to appreciate the excellent quality of life, while struggling with a distant local population and high expenses.
Three in ten consider the Swiss unfriendly toward foreign residents
Ranks first for safety and security
Central location and public transportation system make for great travel opportunities
Healthcare scores well in terms of quality, but not for costs
Childcare options are few and far between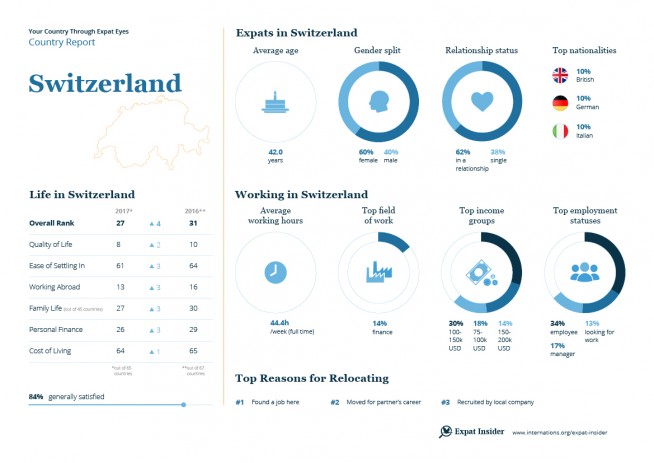 Challenges with Culture and Communication
As in 2016, Switzerland remains in the bottom 5 of the Ease of Settling In Index, ranking 61st out of 65 countries in 2017. Respondents often don't feel at ease in the Swiss culture, perceive the local population as rather unwelcoming toward foreign residents, and struggle to make friends.
Close to seven in ten expats in Switzerland (68%) agree that it's difficult to make local friends and just half (50%) give the general friendliness of the population a favorable rating, 20 percentage points less than the worldwide average. According to a US American respondent, "people in Switzerland have a culture of being reserved, they are friendly, but not actually looking for friends".
Perhaps as a result, the majority (52%) mainly has other expats as friends. When asked about the reasons why, these respondents cite the high number of other expat colleagues (53%), cultural issues (50%), the high number of expats living in Switzerland in general (46%), as well as the language barrier (42%) as potential reasons.
People in Switzerland have a culture of being reserved, they are friendly, but not actually looking for friends.
Even expats that speak the local language(s) can find themselves struggling. Only 22% of expats in Switzerland consider the local language(s) easy to learn (global average: 33%). What's unusual is that 61% say they can speak it at least fairly well, including 11% who are native speakers. The problem appears to be dialect; as one US American said, "they speak Swiss German, which is so far from high German that native German speakers cannot understand them."
The Driving Force of the Swiss Economy
In contrast to the Ease of Settling In Index, Switzerland does pretty well in the Working Abroad Index, ranking 13th. This is largely thanks to the excellent state of its economy: just 1% of respondents in Switzerland have something negative to say about this factor, as opposed to a quarter (25%) worldwide. Close to three in five (58%) even go so far as to rate the Swiss economy as very good.
This result both confirms the respondents' considerations prior to their move and is backed up by external sources: 65% of Expat Insider 2017 survey participants in Switzerland thought of the economy and/or labor market as a potential benefit when planning their relocation. Moreover, Switzerland ranks 4th in the 2017 Index of Economic Freedom and has one of the lowest unemployment rates across Europe.
High Incomes — Even Higher Costs
Nearly half of those working in Switzerland can be found in finance or IT (14% each), healthcare (11%), or manufacturing and engineering (10%). Incomes in Switzerland are higher than they would be back home for over three-quarters of working respondents (77%), and 44% even say it's a lot higher. A look at absolute numbers supports this statement: in Switzerland, an impressive 57% report an annual gross household income of over 100,000 USD, with 14% even having 200,000 USD or more at their disposal; these results are nearly three times the global average of 21% and 5% respectively.
The cost of living is very high, even when considering the high income.
In contrast, the country ranks second to last in the Cost of Living Index, with close to three-quarters (73%) rating this factor negatively. "The cost of living is very high, even when considering the high income", a Hungarian respondent complains. The majority of expats also gives the affordability of housing (67%), healthcare (50%), and childcare (71% of parents) a negative rating.
Despite the infamously high costs, nearly seven in ten expats (69%) are generally satisfied with their financial situation in Switzerland. Together with a fairly average 78% who say they have enough or more than enough to cover their expenses, this results in a respectable 26th place in the Personal Finance Index.
Safe and Sound, Not Only While Traveling
The quality of life in Switzerland seems to make up for such high living expenses. The country ranks 8th in this index and scores especially well when it comes to safety and transportation.
Not one single respondent perceived personal safety as a potential drawback prior to their relocation to Switzerland — and they weren't wrong. In fact, less than 0.5% end up judging this factor negatively after experiencing life in Switzerland. Peacefulness and political stability earn similar praise with 97% and 93% positive ratings respectively.
The destination has even more to offer. "I love that Switzerland is centrally located and affords me the opportunity to travel all over Europe. Switzerland's public transportation system makes adjusting to life without a car quite easy", shared another US American expat. Around seven in ten respondents give the opportunity to travel (69%) and the local transportation infrastructure (74%) the best possible rating.
In the Health & Well-Being subcategory, Switzerland only loses ground due to the aforementioned healthcare costs — both the quality of medical care (85%) and of the environment (98%) are rated favorably by the vast majority of respondents.
Great Education, but Few Childcare Options
The health and safety of children is also rated positively, with 95% and 97% of expat parents reporting they are generally happy with these factors. However, while hardly any parents (6%) think Switzerland could be bad for their kids' general well-being, the availability and cost of childcare can be problematic. A Polish expat sees a "lack of support for working parents and their kids: very expensive childcare [and a] school system totally not adjusted to two working parents." Over seven in ten parents (71%) agree that childcare is anything but affordable.
Thankfully, education is less difficult to find and afford — ratings for these two factors are close to the global average. This could be linked to the fact that a large share of expat parents (58%) send their kids to local state schools. After all, the county is in the top 5 for quality of education: 38% of parents consider it excellent.
Further Reading
Download
Press Contact
Selected Countries
Selected Cities
Want to take a look
at other years' results?
Check out the Expat Insider 2022!