The Tiger States
Tiger States Show Very Different Stripes
Hong Kong, Singapore, Taiwan, and South Korea may have gone through a similarly swift economic development, but expat life in the four Asian Tiger States couldn't be more different.
Full-time workweeks of up to 46.7 hours
Over two-thirds rate transportation infrastructure as excellent
63% rate Hong Kong's quality of environment negatively
International schools preferred, but expensive
High cost of living in Hong Kong and Singapore
Varied results regarding ease of settling in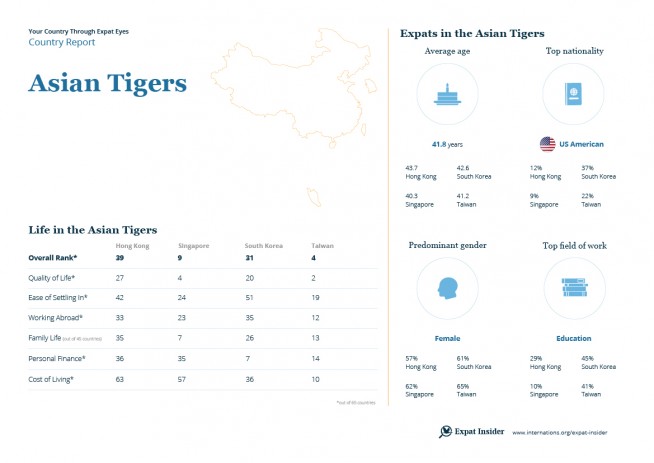 Little Satisfaction with Work-Life Balance
Taiwan, the overall winner of 2016, just missed the podium in 2017, ranking 4th out of 65 countries. It is joined in the top 10 by Singapore (9th), while South Korea (31st) and Hong Kong (39th) see comparatively bad results across nearly all indices.
Known as the four Asian Tigers or Dragons thanks to their economic leaps which catapulted them from developing to affluent high-tech economies within a few decades, these destinations can all be found in the top 30 out of 139 in the Forbes 2016 Best Countries for Business list. However, expats' satisfaction with working in South Korea and Taiwan has cooled compared to 2016: both destinations have fallen by at least ten places in the Working Abroad Index, now ranking 35th and 12th, respectively.
In terms of work-life balance, Taiwan does particularly badly, falling from the top 5 in 2016 to 35th out of 65 countries in 2017. It's a weak spot for all of the four Asian Tigers, however, ranging from Taiwan's slightly below-average performance to Hong Kong's 61st place. In the latter, unions have been calling for standardized working hours for years.
Top Transportation but Mixed Results for Health
Outside of work, the four Tiger States have plenty to offer. Taiwan (second) and Singapore (fourth) both make it into the top 5 of 2017's Quality of Life Index — you can find a detailed report on Taiwan's results in the article A Place in the Sun? Where Expats Enjoy the Quality of Life. South Korea (20th) and Hong Kong (27th), however, have continued to lose ground — in 2014, both were in the top 10 for this factor.
One of the best things about Singapore is its location and the ease to travel to many countries.
Across all four destinations, respondents are particularly happy with the local transportation infrastructure — over two-thirds rate this factor very good — as well as the opportunity to travel. In Singapore, nearly three-quarters of respondents (74%) give their travel opportunities the best possible rating; "I think one of the best things about Singapore is its location and [the] ease to travel to many countries", said one Indian respondent in Singapore. As such, all four destinations can be found in the top 10 of the Travel & Transport subcategory, with Singapore first and Hong Kong second.
Expats in all four destinations are happy with their personal safety — between 70% (Hong Kong) and 90% (Singapore) give this factor the best possible rating. However, results are not as uniform when it comes to health and well-being: while Taiwan comes first in this subcategory, Hong Kong only ranks 44th out of 65 countries. This is largely due to Hong Kong's poor results for the quality of the environment, which 63% of respondents rate negatively. Considering how levels of air pollution have exceeded the WHO's standards for more than 15 years, expats seem to have due cause to worry.
Paying for an Expensive International Education
Pollution in Hong Kong is also a problem for expat parents: while up to 8% of parents in the other three Tiger States think the country has a negative effect on their children's health, nearly a quarter (24%) are dissatisfied with this factor in Hong Kong. The special administrative region also ranks in the bottom 5 for the availability of childcare and education (41st out of 45), and its results for the costs of childcare and education are not much better (39th). Nearly four in five expat parents in Hong Kong (78%) send their children to an international school, and the already high tuition fees have continued to rise over the last few years — only one respondent in Hong Kong says education is affordable!
International schools are also popular in Singapore, where half the respondents with dependent kids chose this type of education. Consequently, the city-state ranks a below-average 35th for education and childcare expenses, followed by South Korea (36th). However, while 64% of parents in Hong Kong are unhappy about the lack of available education options, Singapore shines in this regard, ranking 2nd out of 45 countries. It also comes in second place for the quality of education.
Results for Taiwan and South Korea are generally less striking: they rank 13th and 26th respectively in the Family Life Index, compared to Singapore's 7th and Hong Kong's 35th rank out of 45 destinations.
High Costs but Incomes to Match
It is not only education and childcare that can be costly. Singapore (57th) and Hong Kong (63rd) are both in the bottom 10 of the Cost of Living Index, with at least 62% of respondents saying they're dissatisfied with this factor. Both destinations are also at the top of EIU's Worldwide Cost of Living Report 2017. "The cost of housing is astronomically high," according to one US American respondent in Hong Kong, an opinion that is shared by 65% of expats who give the affordability of accommodation the worst possible rating.
The cost of housing in Hong Kong is astronomically high.
Luckily, high costs are offset by high incomes: over two in five respondents in the two cities have access to an annual household income of over 100,000 USD, more than double the global percentage of 21%. Incomes are not as high in South Korea and Taiwan, but neither are prices. Over seven in ten expats in these two Tiger States are generally satisfied with their financial situation; South Korea ranks 7th and Taiwan 14th in the Personal Finance Index.
Taiwan Makes It Easy to Settle In
Besides the cost of living, the Asian Tigers see some of their worst results in the Ease of Settling In Index. This is especially true for South Korea, where respondents hardly feel welcome (60th out of 65), have trouble finding friends (51st), and struggle with the local language (52nd). At least the latter is not a problem for expats in Singapore, with respondents ranking the city-state third for language. It is important to note, though, that the Expat Insider survey was conducted in English, one of Singapore's four official languages.
With the exception of Taiwan, expats in the Tiger States are noticeably more likely to have mostly other expats as friends: 44% or more say this is the case. According to over half of the respondents with mostly expat friends in Singapore and Hong Kong, cultural differences hold them back from making local friends, while almost two-thirds of expats in South Korea (65%) blame the language barrier. Taiwan, on the other hand, ranks 15th in the Finding Friends subcategory, with 61% agreeing that it is generally easy to find local friends.
Taiwan also sees significantly better results when it comes to the perceived friendliness of the local population: 60% agree that Taiwanese people are very friendly. This is double the global average (29%) and over three times the percentages for Hong Kong (12%), Singapore (19%), and South Korea (17%).
Further Reading
Download
Press Contact
Selected Countries
Selected Cities
Want to take a look
at other years' results?
Check out the Expat Insider 2022!