New Zealand
New Zealand Ranks Last Worldwide for Expats' Personal Finances
Expats love the Environment & Climate in New Zealand, but the cost of living is an increasing burden for them.
New Zealand comes 45th out of 53 destinations in the Expat Insider 2023 survey. It does best in the Expat Essentials (27th) and Working Abroad (28th) Indices. However, New Zealand ranks last in the Personal Finance Index (53rd), and many expats do not feel their disposable household income is enough for a comfortable life there (53rd). They also give the country somewhat mixed reviews in both the Quality of Life (38th) and the Ease of Settling In (37th) Indices. Overall, only 63% of expats are happy with their life in New Zealand, compared to 72% globally.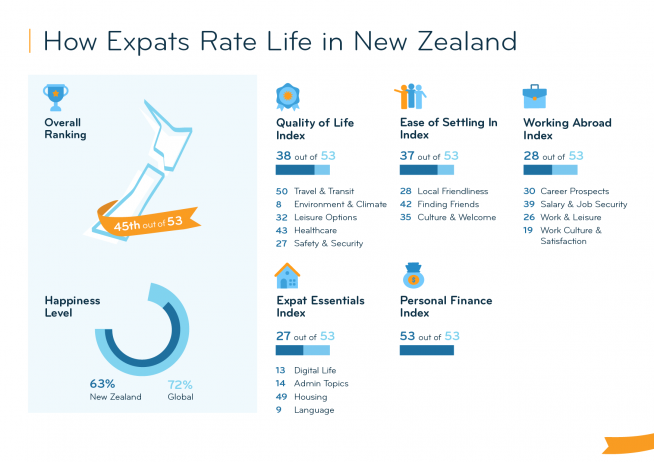 Getting Around Is a Headache
New Zealand has many ups and downs when it comes to its results in the Quality of Life Index (38th). Its lowest point is the Travel & Transit Subcategory (50th): 38% say that public transportation is not easily available, more than double the global average (16%). And another 24% find it hard to afford (vs. 15% globally).
New Zealand also ranks last globally for travel opportunities (53rd), most likely due to its isolated location. "It's expensive to travel from New Zealand, it's so far from everywhere!" explains a US American expat. Expats also report that healthcare is far from easily available there (44th).
An Environment That Impresses
On the positive side, expats love the Environment & Climate (8th) in New Zealand. The air quality is great (3rd), and almost all expats (95%) are happy with the natural environment, such as the country's scenery, nature, and wildlife (vs. 84% globally). When it comes to the Leisure Options Subcategory (32nd), expats in New Zealand have many opportunities for recreational sports (4th), but they are disappointed with the culture and nightlife (50th).
"I love the beautiful landscape and the relaxed lifestyle." – Canadian expat
Good Job Market — But Little Pay
New Zealand claims a midfield spot in the Working Abroad Index (28th). Despite the fact that about one in four (24%) believe that moving there has not improved their career prospects (vs. 18% globally), 63% are happy with the local job market (vs. 47% globally). However, fair pay at work (44th), as well as overall job satisfaction (49th), leave a lot to be desired.
A Dismal Financial Situation in General
New Zealand ranks last worldwide in the Personal Finance Index (53rd). Expats feel that their disposable household income is not enough to lead a comfortable life (53rd) and are not satisfied with their financial situation (51st). And 64% struggle with the general cost of living, nearly 30 percentage points more than the global average of 35%.
"One of the things I dislike most about New Zealand is the high cost of living. Prices go up but never come down." – US American expat
Easy Bureaucracy, Troublesome Housing
The Expat Essentials Index (27th) reveals more highs and lows for life abroad in New Zealand. Digital Life (13th) is a particular highlight: expats find it easy to pay without cash (8th) and appreciate the unrestricted access to online services (10th). About two in three (65%) say that it is easy to deal with the local bureaucracy (vs. 39% globally), and most (80%) report that it is easy to open a bank account too (vs. 62% globally).
However, getting a visa to move there in the first place proves to be a challenge (47th). Housing (49th) is another low point for New Zealand. Expats describe it as both difficult to afford (71% vs. 42% globally) and hard to find (45% vs. 31% globally).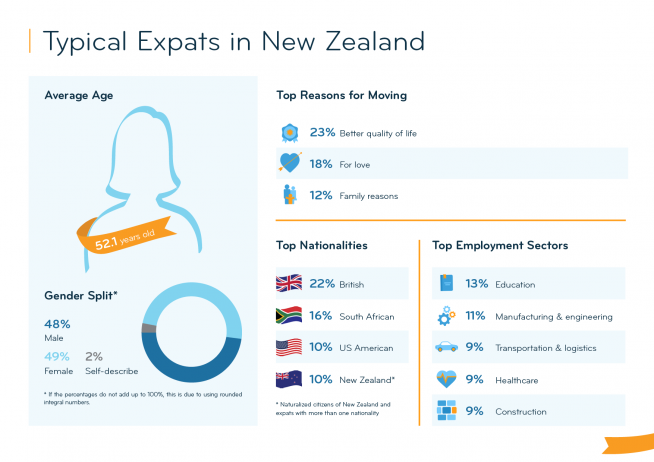 Further Reading
Download
Press Contact
Selected Countries
Selected Cities