The GCC States
Highs and Lows in the GCC States
High living standards and low taxes tempt many expats to the Gulf states, but opinions and results differ significantly across the region.
Home to some of the best and worst performing countries in the survey
Taxation one of the top three advantages of moving to the GCC states
Bahrain is second best for work-life balance and overall 2017 winner
Kuwait least friendly country
Just 26% very happy with welcome for families in Saudi Arabia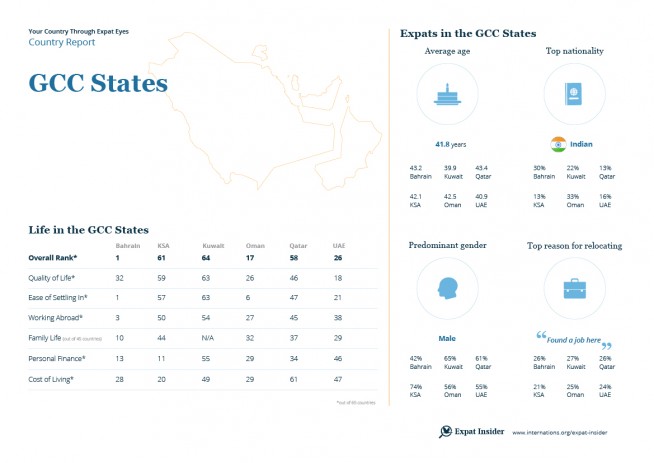 Getting Away from the Taxman
Improving personal finances motivates many to relocate to the Gulf, and taxation was cited as one of the top three advantages expats saw before moving. There is no real income tax levied in any of the GCC states, although it is worth noting some have to contribute towards social security in Bahrain and Kuwait. Even taking this into account, the non-existent tax rate makes these states highly attractive.
As well as low taxation, some states also offer top salaries. A third of expats living in Qatar have a gross household income of over 100,000 USD a year, and more than eight in ten (81%) say this is enough or even more than enough to cover their daily expenses. However, there is some variety within the region: in Oman, Kuwait, and Saudi Arabia, over one in five expats fall into the lowest income bracket, with household incomes of less than 12,000 USD a year.
Expats on a budget should be cautious before moving to Qatar. Ranking 61st out of 65 countries in the Cost of Living Index, expats found accommodation on the peninsula particularly expensive: two-thirds (67%) rate the price of housing negatively, and rent usually constitutes about a third of outgoings. While over three-quarters of respondents (77%) rate the Qatari economy positively, it is worth noting that the survey was conducted prior to the diplomatic crisis and cutting of trade ties between Qatar and Bahrain, Saudi Arabia, and the UAE.
Mixed Results for Work Life
The winner of the overall Expat Insider 2017 ranking, Bahrain, is also the third best country for working expats — for more information, please refer to the report on the Best & Worst Places for Expats in 2017. However, the other Gulf states struggle, especially regarding job security; discounting those living in Bahrain, less than half of expats in the Gulf region were content with this factor.
Similarly, Bahrain also did better than its neighbors regarding work-life balance, with expats ranking it the second-best country for this factor globally. Ranking ninth, Oman is also a good place to be if you don't want to spend your whole time in the office: a full-time working week there comes in at a below-average 43.5 hours, which could be one reason why seven in ten expats there are content with this factor.
From Friendly Melting Pot to Cold Shoulder
Quality of life in the Gulf states also varies considerably. There are stark contrasts in the Personal Happiness subcategory across the region: while Bahrain takes the second spot, Kuwait trails behind in last place, and three in ten expats say they are dissatisfied with their life in the country.
Kuwaitis also come last for friendliness, while their Bahraini neighbors offer a considerably warmer welcome. Bahrain comes top in the Ease of Settling In Index and is the highest-ranking Gulf state for making expats feel welcome.
Bahrain is a beautiful melting pot of many different cultures, and I love that.
With foreign nationals making up almost half of the population of the Gulf region, expats generally have international friends. However, social circles are more mixed in Bahrain and Oman where 55% and 61% of expats respectively say their friends are either a mix of expats and locals or mainly locals. One American expat living in Bahrain was particularly impressed with the international culture, praising "the wonderful people in Bahrain. It is a beautiful melting pot of many different cultures, and I love that."
All GCC states fared well in the Language subcategory of the Ease of Settling In Index, with only Saudi Arabia failing to make it into the top half of the table. Around nine in ten expats in Bahrain and the UAE (91% and 89% respectively) find it easy to get by without speaking the local language, while another 85% in Qatar feel the same; a German expat based in the UAE commented that "conversation in English is possible everywhere". In contrast, almost two-fifths of expats in Saudi Arabia (38%) say it's hard to get by without speaking the local language.
A Safe Spot with Satisfactory Politics
The UAE, Oman, and Qatar all make it into the top 10 of the World Economic Forum's Safety and Security Index, and Expat Insider survey respondents also rate the GCC states well for personal safety; all states in the region receive good ratings, with as many as 19 out of 20 expats feeling positive about their personal security in the UAE. The UAE just missed a spot in the top 5 in the Safety & Security subcategory, while Oman came in at a similarly impressive ninth place.
Expats also see the region as politically stable, with most of the countries coming in well above the global average for this factor. However, Kuwait and Bahrain didn't do quite as well as their neighbors: less than half of expats (48% and 49% respectively) rate this factor positively.
Lacking Options for Families with Children
There were insufficient respondents with dependent children living in Kuwait for the country to feature in the Family Life Index. With the exception of Bahrain, the Family Life Index is a weak spot for the region, and all four remaining Gulf states are in the second half of the ranking. Saudi Arabia does particularly badly, and is in the bottom 5 in all but one of the Family Life Index subcategories.
Schooling is way too expensive and not in line with the quality.
Childcare is one of the main challenges for expat parents across the region: in Oman and Qatar, only 40% and 43% of expat parents respectively are positive about the availability of childcare options, dropping to only a quarter of satisfied respondents in Saudi Arabia. Similarly, those with older children struggle with the affordability of education. In the UAE, for example, 65% of expats aren't happy with schooling costs: "Schooling and housing is way too expensive and not in line with the quality", says one Dutch expat. This dissatisfaction with education costs may also be related to the fact that seven in ten expat parents send their children to an international school.
Despite limited options, many expat parents in the region say that local residents are welcoming towards families: as many as 57% of those living in Bahrain and 54% in the UAE give the country top marks for this factor. However, once again there's variation across the Gulf: just 26% of expats in Saudi Arabia rate the friendliness towards families as very good, well below the global average of 48%.
Further Reading
Please note that the survey results pre-date the diplomatic crisis in the Gulf states.
Download
Press Contact
Selected Countries
Selected Cities