Feeling (Un)Welcome Abroad
Feeling (Un)Welcome Abroad
Which factors contribute to expats feeling less than welcome in their new home? The biggest issue seems to be the language or even accents.
Most expats do feel welcome in their new country of residence.
Age doesn't make much of a difference — but sexual orientation or gender does.
Nigerians feel least welcome because of their nationality, culture, race, and ethnicity.
Turkish expats tend to feel unwelcome due to their religion.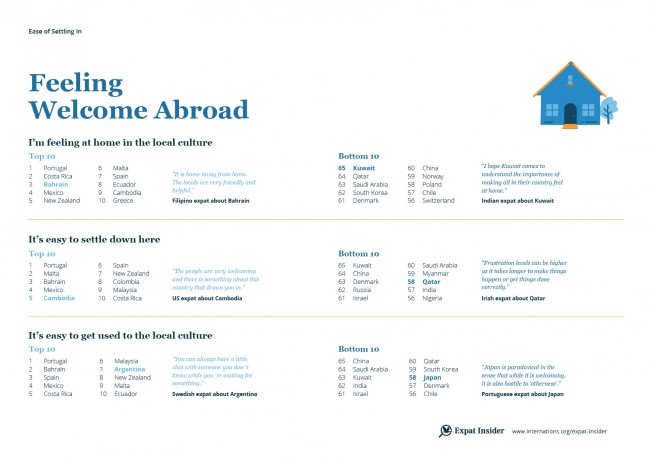 Apart from the Ease of Settling In Index which is based on "soft" factors that help make a stay abroad successful (e.g. finding new friends), the Expat Insider 2017 survey also sets out to explore whether expats feel welcome abroad and why. Respondents were asked if they had ever felt unwelcome in their country of residence in the past twelve months due to any of these factors: nationality, culture, race, ethnicity, language or accent, age, gender, or sexual orientation.
A Warm Welcome for Most Expats
Generally, the responses show a positive trend. For all factors, most survey participants say they have never felt unwelcome abroad for this reason. Those percentages range from 58% for language or accent to 88% each for age or religion.
Even when participants state that they have felt unwelcome due to a specific factor, they selected "yes, but very rarely" or "yes, sometimes", rather than "yes, frequently" and "yes, all the time". For example, only 5% and 2% have frequently or always felt unwelcome due to language issues or their accent respectively.
Demographic Factors
When it comes to demographic factors, age is rarely an issue. As mentioned above, 88% overall say they've never been made to feel unwelcome because of their age. Though the percentage is slightly lower for the youngest participants, aged 25 or below (85%), and the oldest, above 50 (84%), these differences are negligible.
The results for sexual orientation are more difficult to evaluate. The Expat Insider survey doesn't include any direct questions on this topic. However, 7,565 of the survey participants are currently in a committed relationship and also provided (optional) information on their gender and their partner's gender; about 3.5% are in a same-sex relationship.
In this small subgroup, only 64% say they have never felt unwelcome because of their sexual orientation; 17% have very rarely felt unwelcome, while 14% say it has sometimes been an issue. Another 3% report feeling unwelcome frequently, and 2% even say that they feel unwelcome all the time because of their sexual orientation.
Women Not Welcome?
For 86% of all respondents, gender has never been a reason to feel unwelcome abroad. However, there is a difference between male and female expats: only 79% of women say they've never felt unwelcome due to their gender compared to 94% of men. Among expat women, 11% state they feel unwelcome due to their gender very rarely, and another 7% feel less than welcome sometimes. The percentages for men are noticeably lower, 3% and 2% respectively.
The five countries where expat women don't feel particularly welcome are Kuwait, India, Qatar, Saudi Arabia, and Japan. In Qatar, for example, only 46% of female respondents have never felt unwelcome because of their gender — 33 percentage points less than the global average of 79%. One in eleven expat women in Kuwait even says she feels unwelcome all the time, nine times the worldwide average of just 1%.
When looking at how these countries perform in other aspects of the survey among female respondents, Kuwait scores particularly badly. More than one out of five women (22%) are generally dissatisfied with their life there, compared to a worldwide average of 9%; another 22% report being unhappy with their personal life.
However, the same isn't true for Japan. Despite half of expat women living in Japan (50%) having felt unwelcome at some point due to their gender, Japan ranks 34th out of 61 for general satisfaction among women. About seven in ten (71%) are generally satisfied with life abroad, only slightly less than the global average of 78%.
The Odd Expat Out?
Out of 38 nationality groups with 75 survey respondents or more, Nigerians feel least welcome on account of nationality, culture, race, and ethnicity, but not religion. For example, only 45% of Nigerians have never felt unwelcome due to either race or nationality (global average: 78% and 65% respectively).
When it comes to feeling out of place due to culture or nationality, Venezuelans and Egyptians also find it tough. Among the respondents from Egypt, 31% report feeling unwelcome "very rarely" due to their nationality, and another 19% say "sometimes". Among Venezuelan expats, 14% say their nationality makes them feel less than welcome either frequently (8%) or all the time (6%).
Interestingly, both Egyptians and Venezuelans often move to countries where cultural differences might be less substantial. Egyptian expats often settle in the Arab Gulf states, particularly Saudi Arabia (24%), the UAE (21%), and Kuwait (11%). Venezuelans prefer Panama (18%) and Colombia (8%), as well as Spain (8%), where at least the language barrier shouldn't be much of a problem.
Lastly, Turkish expats tend to feel unwelcome due to religion. While seven out of ten say this has never been an issue for them, that's still 18 percentage points less than the global average of 88%. Almost one in four (24%) state that religion makes them feel unwelcome either rarely (15%) or sometimes (9%).
Though the Expat Insider survey doesn't touch upon religious affiliation, up to 98% of the Turkish population is officially Muslim. Turkish survey participants predominantly relocated to countries like Germany (10%), the Netherlands (7%), or the US (7%), where Muslims tend to be a minority, compared to other religious communities.
Parlez-Vous Français? — Language and Accent
The major reasons why expats often feel unwelcome are language or accent. More than four in ten expats (42%) have felt unwelcome in their new country to some degree because of these factors. Over one in five (22%) have felt uncomfortable on rare occasions, and another 13% sometimes feel excluded because of this.
Expats are most likely to think that their language or accent makes them stand out in France, Austria, Denmark, the Czech Republic, and Germany. For example, 62% of expats in France have recently felt unwelcome due to language issues — 15% even feel like this frequently or all the time, about double the global average of 7%.
In most of these countries, expats also find it hard to learn the local language. While French poses a problem to "only" 50% of expats in France, Czech and Danish are considered difficult to learn by over eight in ten (82%). Only one in eight expats in the Czech Republic speaks the local language fluently, compared to one in four (24%) respondents worldwide. About one in nine also thinks it's very hard to live in the Czech Republic without speaking Czech, and 35% of expats in France agree.
Further Reading
Download
Press Contact
Selected Countries
Selected Cities
Want to take a look
at other years' results?
Check out the Expat Insider 2022!