France Report
Families and Retirees Flock to France for a Healthy Life
France offers a consistently high quality of life, though life can also be hard if you don't speak the local language.
France makes the top 10 for health and well-being.
Only 19% find it easy to live there without speaking French.
Childcare and education are affordable.
81% are satisfied with the quality of the environment.
France is a hotspot for retirees.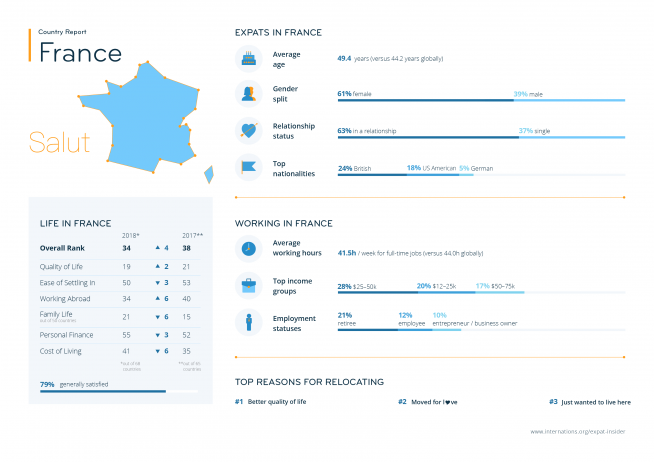 Excellent Healthcare Attracts Expats
France makes the top 20 expat destinations for quality of life once again, after rising two places from ranking 21st in the Expat Insider 2017 survey. The 2018 findings show that expats in France are particularly satisfied with their health and well-being, with the country scoring a high 9th place out of 68 countries — and an even higher 5th out of 68 when it comes to the quality of medical care in particular.
France's healthcare system impresses in 2018, which might explain the high rate of expat retirees (21%). Over half the expats (52%) regard the quality of medical care as very good, and 79% are satisfied with its affordability.
It's clear to see that expats are drawn to these aspects of living in France. Before relocating, a considerable share of 67% thought that the general living standards in France would be a benefit of moving there, and 17% even state that a better quality of life was their main motivation for moving to France.
French Language Throws Up Barriers
Although there's been a small improvement since 2017, France still performs poorly when it comes to settling in abroad (50th out of 68). A certain difficulty in finding friends is certainly a contributing factor — 40% of expat respondents don't think making local friends is easy. While there has been some change in the ranking for the factor "friendly attitude towards foreign residents" since 2017 (55th to 52nd), its low positioning still indicates that expats feel less welcome in France than in other countries.
Interestingly, the French language is not deemed too hard to learn by expats, with a very average ranking of 28th out of 68. However, learning the language appears to be crucial to a successful social life: France is the third-worst country to live in if you don't speak the local language.
The French are expecting you to speak perfect French and speak too fast even if they know you are a foreigner.
Over half the expats who rate their happiness negatively (54%) say that one of the main reasons for their unhappiness is a lack of socializing opportunities, and close to four in ten (38%) are affected by the language barrier. A Romanian expat in Strasbourg says that the French "are expecting you to speak perfect French and speak too fast even if they know you are a foreigner".
An Economy on the Rise
The local economy isn't the biggest selling point for France as an expat destination. Only around three in ten (31%) considered the economy and labor market a potential benefit of moving to France.
However, since the Expat Insider 2017 survey there has been an improvement in the general state of the economy according to expats: France's ranking went from 42nd out of 65 countries to 34th out of 68 in 2018. In 2017, less than half the expats in France (45%) were happy with the state of the economy; this number has risen to 66% in the 2018 survey. In fact, France's economy has expanded modestly, with a GDP growth of at least 1.6% in 2017–2018, according to the OECD's Economic Survey of France 2017.
Despite a better economic outlook in 2018, expats seem to feel less secure in their jobs: the "job security" factor fell eleven places. However, 61% rate their overall job satisfaction positively. Happiness at work often goes hand in hand with a healthy work-life balance: in France, the ranking for work-life balance has jumped an impressive 14 places from 35th to 21st, as almost a quarter (24%) are completely satisfied with their work-life balance. This is perhaps explained by the comparatively lower working hours in France — full-time hours average at 41.5, whereas the global average is 44.0 hours per week. One expat from Ireland appreciates how the French "understand the value of leisure time".
The French understand the value of leisure time.
Once again, however, France performs poorly in terms of financial satisfaction among expats: in the Personal Finance Index, it ranks a low 55th out of 68 destinations, and in the Cost of Living Index, it places only slightly higher at 41st out of 68. Before moving to France, three in ten expats thought the cost of living would be a potential disadvantage. As far as disposable income is concerned, 26% think that they don't have enough to cover all living expenses, slightly more than the worldwide average of 22%.
A Family-Friendly Expat Destination
Despite dropping six places from the 2017 survey, France scores a respectable 21st place out of 50 in the Family Life Index, with 84% of expat parents satisfied with their family life in general. Expats raising children in France seem to feel welcome there, with nearly eight in ten (79%) saying the attitude towards families with children is generally friendly. Four out of five expat parents in France rate their children's well-being positively, probably thanks to the high quality of life.
While the cost of living in France might be higher than elsewhere, the childcare and education costs are certainly a plus to living in France: in 2018, it ranks 8th out of 50 in this subcategory. More than half (53%) think that childcare is easy to afford, compared to 43% worldwide, and 63% say the same about education (vs. 52% worldwide). The benefits of raising your children in France are plenty — the available leisure options for children rank 17th out of 50 destinations, and 80% of parents judge them favorably, slightly more than the global average of 74%.
Further Reading
Download
Press Contact
Want to take a look
at other years' results?
Check out the Expat Insider 2022!
Selected Countries
Selected Cities