China Report
China Hits Rock Bottom for Digital Life
Pollution, media censorship, and language difficulties negatively affect expat life in China. But the country offers good finances and a serviceable transportation infrastructure.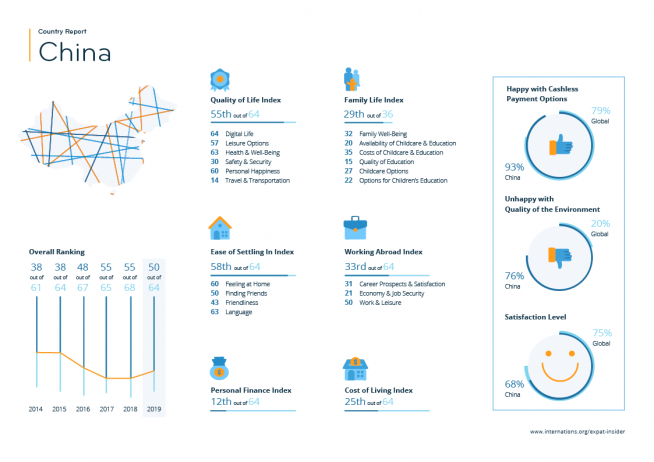 Great Firewall of China Continues to Frustrate
In 2019, China ranks last in the Digital Life subcategory. More than eight in ten expats (81%) find that their access to online services, such as social media, is restricted — nine times the global average of 9%. Moreover, 45% say that it is hard to access administrative and government services online (vs. 26% globally), and 36% disagree that it is easy to get high-speed internet access at home, more than double the global average of 15%.
There's no need to bring cash with you.
On the other hand, China is in the top 10 regarding the ease of paying without cash (9th), with more than nine in ten respondents (93%) rating this factor positively — noticeably above the global average of 79%. As an Indonesian expat puts it: "There's no need to bring cash with you."
Great Transportation but Too Much Pollution
The country ranks a good 14th place in the Travel & Transportation subcategory. Nine in ten expats (90%) are satisfied with the transportation infrastructure (globally: 68%), and almost six in ten (58%) even claim it is very good — well above the 35% average. A Malagasy expat appreciates that "China is surrounded by many countries and traveling is affordable". However, this is the only area where China performs well in the Quality of Life Index, where it places 55th.
Respondents are concerned with the quality of environment, which only 14% rate positively (globally: 67%) — only India performs even worse for this factor. "Pollution affects one's life way more than it should," according to a US respondent, "from not being able to go for a walk to problems sleeping." Almost three in ten (28%) aren't satisfied with the quality of medical care, either, landing China in second to last place (63rd out of 64) in the Health & Well-Being subcategory.
Overall, expats in China don't seem very happy, with the country ranking 60th out of 64 in the Personal Happiness subcategory.
Language a Big Challenge
The language barrier and potential for culture shock are seen as further obstacles. China ranks 63rd out of 64 in the Language subcategory, with four in five expats (80%) considering the local language difficult to learn — not quite double the global average of 45%. The majority (53%) also finds it hard to live in China without local language skills. An Indian respondent highlights how "language is a big barrier that doesn't allow expats to completely enjoy their stay".
Language is a big barrier.
Moreover, China ranks in the bottom 10 for feeling at home in the local culture (59th out of 64), the ease of settling down in the country (60th), and getting used to the local culture (62nd). Almost three in ten expats (28% vs. 14% globally) say that culture shock was one of their main concerns before moving to China, and an even higher share was worried about the language barrier (64% vs. 37% globally).
A Downturn in Career Prospects and Job Security
In the Working Abroad Index, China has dropped ten places compared to 2018 (from 23rd to 33rd) and places 31st for career prospects and job satisfaction (previously 23rd). Almost six in ten expats (58%) are satisfied with their career prospects, while two-thirds (67%) are generally satisfied with their job (vs. 55% and 64% worldwide).
Compared to 2018, China has lost ground in terms of economy and job security (21st in 2019 vs. 12th in 2018). This is in large part due to a worse rating of the local economy: while over four in five expats (82%) regarded this factor positively in 2018, less than three-quarters (73%) still do so in 2019.
Respondents continue to be dissatisfied with their work-life balance, with almost three out of ten expats (27%) rating it negatively. Overall, China ranks a poor 50th place in the Work & Leisure subcategory.
Cost of Living Not an Issue
China still does well for personal finance (12th). Over seven in ten expats (71%) rate their financial situation positively, and 65% say that their disposable household income is more than enough to cover daily expenses, 16 percentage points above the global average of 49%. A British expat claims to be "able to save a considerable amount", and a US American respondent adds: "I can live and not just survive."
I can live and not just survive.
These results may well be due to a favorable cost of living: China ranks an above-average 25th place in this index. More than three in five expats (61%) rate the cost of living positively (globally: 47%), and only 9% say they were concerned about high costs before moving (vs. 32% worldwide).
Friendly Attitude, but Expensive Education
China's strong points regarding family life are the friendly attitude towards families with children (12th out of 36 countries in 2019) and the quality of education (15th). In fact, three-quarters of expat parents (75%) rate the latter positively (globally: 69%), and 38% claim it is very good, compared to 27% of parents worldwide.
Costs remain a concern, though: only 13% think that education is easy to afford in the country — 36 percentage points less than the global average of 49%.
Next to costs, children's health also seems to be a worry: a quarter of expat parents (25%) rate this factor negatively, more than double the global average of 10%. As a US American points out: "Air, food safety, and environment issues are hard to deal with, especially if you have small children."
Further Reading
Download
Press Contact
Want to take a look
at other years' results?
Check out the Expat Insider 2022!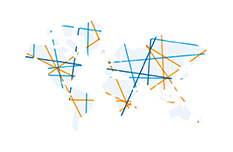 Selected Countries
Selected Cities