India Report
Low-Cost Living at a Price: Expats Struggle to Settle in India
High-paying jobs help expats to afford their life in India, while culture shock and the lack of leisure options take their toll.
India comes in the top 10 countries for personal finance.
Expats with full-time jobs in India work 3.8 hours per week more than the global average.
83% respondents rate the quality of the environment negatively.
Almost half the expats (48%) struggle with getting used to the Indian culture.
22% are unhappier after moving abroad (vs. 16% globally).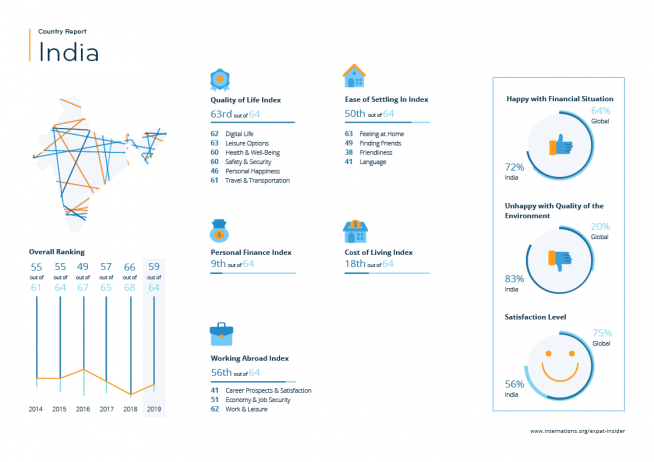 Digital Life and Transportation Disappoint Expats
India still performs poorly in the Quality of Life Index and comes in 62nd place out of 64 countries in 2019. The destination lags behind digitally (62nd): More than half the respondents (53% vs. 26% globally) rate the availability of administrative and government services online negatively. Getting access to high-speed internet at home is also an issue for 26% of expats (globally: 15%), and 25% report that paying without cash isn't easy (vs. 13% globally).
Even worse, while only 7% worldwide struggle with getting a local mobile phone number, about two in five expats in India (38%) rate this factor negatively, landing India in last place (64th out of 64 countries).
The destination doesn't perform well for its travel and transportation, either. Even though a good 75% rate the opportunity to travel positively — only slightly below the global average of 82% — over half the expats (55%) are unhappy with the transportation infrastructure, compared to only 21% globally. Moreover, 37% name a bad local infrastructure as one of their biggest concerns before moving to India (vs. 9% globally).
Expats Frown on Safety and Politics
India ranks 60th out of 64 countries when it comes to safety and security. Over four in ten respondents (44%) report negative feelings about the peacefulness in the country (globally: only 10%), and 27% are displeased with their personal safety — three times the global average of 9%. A US American expat, for example, does not like "always having to keep my guard up — as a female, I don't feel safe. As a resident, I often feel taken advantage of, at work and outside work."
As a female, I don't feel safe in India.
In addition, almost double the global average (32% vs. 17% worldwide) rate the political stability of the country negatively. An Australian expat shares that "politics has become hardline, and there are social tensions".
High Pollution and a Lack of Leisure Options
India places 63rd out of 64 for leisure options. Two in five expats (40%) are unhappy with their socializing and leisure activities (globally: 19%), and 45% rate the available leisure activities in general negatively — nearly four times the global average of 12%.
Placing 60th out of 64 countries, India doesn't rank well for health and well-being, either. This can mainly be attributed to the quality of the environment, which is rated negatively by more than eight in ten expats (83% vs. only 20% globally) — a staggering 44% even say it is very bad (vs. 4% globally). A US American is worried about "the long-term health effects of so much pollution", and an Australian expat is dissatisfied with "the pollution and lack of cleanliness in general".
However, affording healthcare at least doesn't seem to be an issue for expats in India. The country ranks a good 15th place, with close to seven in ten respondents (69%) being satisfied with its costs — 14 percentage points above the global average of 55%.
Cultural Differences Make Feeling at Home Hard
Adapting to the local culture seems to be an obstacle for expats settling in India. In fact, the country places second to last (63rd) in the Feeling at Home subcategory: over four in ten expats (41%) struggle with feeling at home in the local culture (vs. 23% worldwide). Also, close to half (48%) claim that it isn't easy to get used to the local culture — more than double the global average of 20%.
The cultural norms are very different, and I have struggled to adapt.
More than half (56%) generally find it difficult to settle down in this country, while only 23% of expats worldwide share the same struggle. A US American expat thinks that "the cultural norms are very different, and I have struggled to adapt".
High Salaries for a Low-Cost Living
Over one in five expats in India (21%) have been sent there by their employer, a share that is more than twice the global average of 10%. However, India ranks a poor 56th place out of 64 countries when it comes to working there.
Expats working full time in India do so an average 47.7 hours per week, compared to the global average of 43.9 hours. This means that they work 3.8 hours more compared to their counterparts worldwide. It is hardly surprising then that 37% rate their working hours negatively — compared to 19% globally — and more than four in ten (41%) struggle with finding a balance between their personal and professional life (vs. 21% globally).
However, the long work weeks at least seem to be well rewarded, as India shows great results in the Personal Finance Index, reaching the top 10 (9th out of 64 destinations). Double the global average even have an annual disposable income of 150,000 USD (18% vs. 9% worldwide). In combination with a low cost of living — 69% rate this factor positively, compared to just 47% worldwide — this makes for a financially stable, and in some cases even luxurious, life: over six in ten (63%) report having a disposable household income that is more than they need to cover daily costs — 14 percentage points above the global average of 49%. A Swiss expat likes "the ease of relying on hired help in my daily life: I can off-load household duties and delegate far more easily than in Switzerland."
Further Reading
Download
Press Contact
Want to take a look
at other years' results?
Check out the Expat Insider 2022!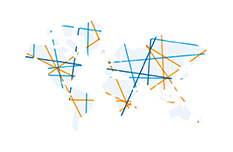 Selected Countries
Selected Cities