South Africa Report
Safety and Security: Tough for Expats in South Africa
Well-known for its scenic landscapes, South Africa offers many leisure activities and a pleasant climate. However, safety and politics continue to worry expats.
57% of expat parents are worried about their children's safety.
South Africa doesn't perform well for digital life.
80% of respondents are happy with the leisure activities the country offers.
Nearly three in five (59%) are concerned about the state of the economy.
60% say moving abroad has made them happier (vs. 61% globally).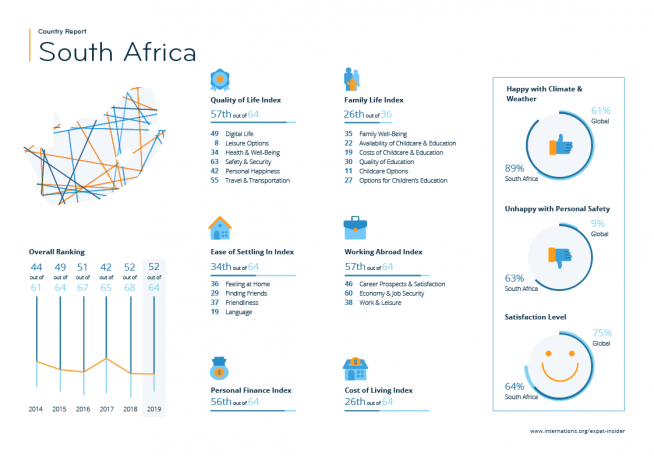 Safety Remains Main Concern
In the Quality of Life Index, South Africa comes second to last for safety and security (63rd out of 64 countries). Expats are especially concerned about their personal safety: South Africa hits rock bottom for this factor (64th), which is rated negatively by 63%, seven times the global average of 9%. Among expat parents in South Africa, almost three out of five (57%) think their children are not safe abroad, more than six times the global average (9%).
I miss the freedom of going anywhere at any time without worrying about my security.
A British expat sums it up: "I miss the freedom of going anywhere at any time without worrying about my security." Respondents are also dissatisfied with the peacefulness (61st), with 36% rating this factor negatively (globally: 10%). Another big concern is the political (in)stability, which worries more than half the expats (51%) — 34 percentage points above the worldwide average (17%).
Lagging Behind for Digital Life and Transportation
South Africa is not a top scorer, either, for digital life (49th): only 26% of expats think government services are easily available online (globally: 55%), and 27% struggle with getting access to a high-speed internet connection at home — twelve percentage points above the average of 15% worldwide. However, paying without cash is not an issue for over nine in ten (91% vs. 79% globally).
While the quality of medical care seems to satisfy expats in South Africa — 75% are happy with this factor (vs. 65% worldwide) — close to two in five (37%) think healthcare isn't affordable, eleven percentage points above the global average of 26%. Regarding travel and transportation, South Africa ranks a poor 55th place out of 64 countries. This is mainly due to the inefficient transportation infrastructure, which more than half the respondents in South Africa (51%) view unfavorably, compared to 21% worldwide.
Attractive Leisure-Time Options
South Africa performs very well in the Leisure Options subcategory, even making it into the global top 10 (8th out of 64). The country's strongest point is its climate and weather, rated positively by almost nine out of ten respondents (89% vs. 61% globally): 65% even say it is very good (vs. 26% worldwide). A Belgian expat, for example, appreciates South Africa's "blue skies and fresh air".
Moreover, eight in ten expats (80%) are satisfied with the available leisure activities in general — versus a global average of 75%. Three in four (75%) are happy with their personal socializing and leisure activities, too (globally: 65%).
Easy to Make Local Friends
In the Easy of Settling In Index, South Africa ranks an average 34th out of 64 destinations. Feeling at home in the local culture, for example, isn't an issue for 64% of expats (globally: 60%). Another 61% consider settling down to be easy in this country (vs. 59% globally).
Half the expats living in South Africa (50%) don't think that making local friends is a problem, somewhat above the global average of 42%. In fact, nearly one in three (32%) are mostly friends with local residents, compared to just 19% worldwide.
The language barrier causes little trouble as well: fewer than three in ten (28%) think that learning the local language is hard, while 45% agree with this statement globally. However, as the Expat Insider survey was conducted in English, which is one of South Africa's eleven official languages, results may be biased in this respect.
State of the Economy: Worrying
In terms of working abroad, South Africa only comes in 57th place out of 64 countries, with particularly poor results in the Economy & Job Security subcategory (60th). Almost six in ten expats (59%) consider the state of the economy unsatisfying — 41 percentage points above the global average of 18%. A Belgian respondent points out that the "economic growth is weak".
South Africa's economic growth is weak.
In the Work & Leisure subcategory, South Africa has dropped 18 places, from ranking 20th out of 68 countries in 2018 to 38th out of 64 in 2019. Despite this poor performance, 68% of expats are still satisfied with their working hours (62% globally), and 60% are happy with their work-life balance, which is on par with the global average. Career prospects perform below average, though: only 44% of expats in South Africa rate them positively, compared to 55% worldwide.
Financial Situation in Decline
The cost of living in South Africa is rated positively by nearly three in five respondents (58%), eleven percentage points above the global average of 47%. However, South Africa has declined noticeably in the Personal Finance Index, falling from 38th place to 56th. Fewer than three out of five (59%) are happy with their financial situation (vs. 64% worldwide), and 34% think their disposable household income isn't enough to cover all expenses (globally: 23%).
Parents Unhappy with Poor Quality of Education
Childcare doesn't seem to be much of an issue for expats raising children in South Africa. In fact, 48% are content with the availability of childcare options — about the same as the global average of 47% — and 53% think it is easy to afford (vs. 43% globally).
However, only 40% rate the availability of education for expat children favorably (globally: 53%) and 46% think it is expensive (vs. 35%). South Africa comes in 30th place out of 36 countries for the quality of education, which nearly one in four expat parents (23%) view negatively (vs. 16% globally).
Further Reading
Download
Press Contact
Want to take a look
at other years' results?
Check out the Expat Insider 2022!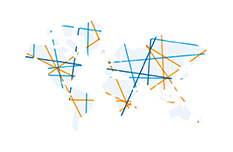 Selected Countries
Selected Cities