USA Report
The USA: The Most Expensive Country for Expat Health
Getting used to the local culture and career opportunities are no issues for expats in the USA, while the high healthcare costs remain a big concern.
The USA ranks among the global top 10 in the Digital Life subcategory.
73% think that the US population is generally friendly.
Expats are dissatisfied with the high cost of living.
Only 14% of expat parents are happy with the cost of childcare.
19% of expats are unhappier after moving abroad (vs. 16% globally).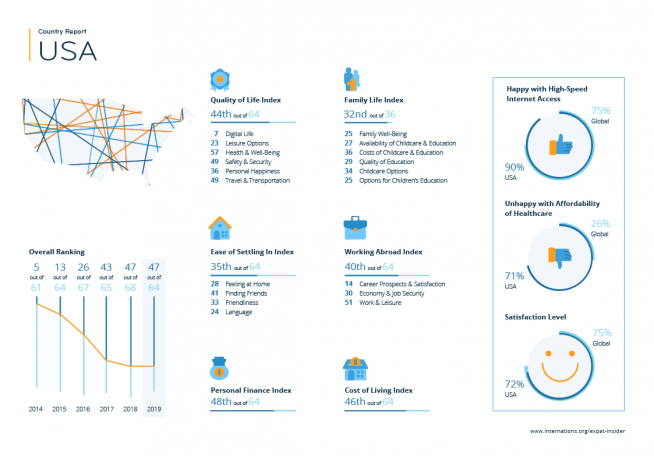 Excessive Healthcare Costs
The USA ranks only 44th out of 64 countries for the quality of life. Healthcare is the main concern. For example, an Australian expat states: "I fear something major could happen, like a hospital stay, and I would need a loan to pay the bill."
While 57% of respondents rate at least the quality of medical care positively (vs. 65% globally), 71% think it isn't affordable — 45 percentage points above the global average of 26%. This makes the USA the most expensive country for healthcare.
Safety and security seem to be another issue for expats in the USA. The country ranks 49th out of 64 in this subcategory: about seven in ten expats (69%) feel safe in the USA, a lower share than the global average of 81%. Less than half (48%) rate the country's political stability positively, compared to 61% globally.
Public transportation is difficult to use, so I have to be able to drive.
Although expats in the USA have plenty of opportunities to travel, the transportation infrastructure is poorly rated. More than four in ten (41%) complain about it, compared to 21% worldwide. Sometimes, driving seems to be the only option, as an Indonesian expat points out: "Public transportation is difficult to use, so I have to be able to drive."
Among the Digital Top 10
If the other subcategories in the Quality of Life Index show poor results, this is not the case for digital life: the USA ranks among the top countries (7th place out of 64). Having a fast internet connection is not an issue, with nine out of ten expats (90%) having easy access to high-speed internet at home (globally: 75%). Moreover, 70% are happy with the availability of administrative and government services online (vs. 55% worldwide).
Paying by credit card or smartphone app is common practice in the USA: 95% think that paying without cash is not a problem, and 75% agree it's very easy (globally: 79% and 50%, respectively).
A Friendly Welcome
US Americans seem generally welcoming, thanks to their positive attitude. The general friendliness of the population is rated positively by 73% of expats (globally: 68%). A Jordanian expat appreciates that "you are accepted, and the Americans are open and friendly".
The Americans are open and friendly.
These factors are probably among the reasons why feeling at home is not an issue for expats in the USA. In fact, 66% already feel at home in their new country of residence, about the same as the global average of 65%, while only 14% struggle with getting used to the local culture (vs. 20% worldwide).
Good Career Prospects, Not Enough Downtime
Among those expats who moved to the USA for work-related reasons, half did so for their general career development. The USA is a good choice for this, landing in an above-average 14th place out of 64 countries for career prospects and satisfaction. It promises good career prospects according to 64% of respondents, compared to a global average of 55%. Moreover, among those expats who aren't happy with their life abroad, only 14% indicate this is because they are unable to find a suitable job.
Almost three in ten expats living in the USA (28%), however, struggle with finding a good work-life balance (worldwide: 21%). For instance, a British expat says: "I work too many hours with not enough flextime or vacation." On average, respondents with a full-time job work 44.5 hours a week, slightly more than the global average (43.9 hours).
High Salaries for High Expenses
About one in three working expats (33%) think their current income is a lot higher in the USA than it would be in a similar position back home (globally: 25%). Among those respondents who answered an optional question about their annual gross income, more than one in three (36%) earn at least 100,000 USD before taxes.
Nonetheless, covering daily expenses with their disposable household income is an issue for almost three in ten expats (29%), slightly more than the worldwide average (23%). Moreover, 45% rate the local cost of living negatively (vs. 34% worldwide).
A Poor Performance for Families
The USA doesn't do well in the Family Life index, with a poor 32nd place out of 36 countries. Even the Family Well-Being subcategory, where the USA does best, comes in 25th place.
At least the attitude towards families with children pleases 84% of expat parents in the USA (globally: 81%). Moreover, expats raising children are generally happy with the leisure activities available for their children (84% vs. 75% worldwide).
If you have kids, their education will cost a fortune.
Even though 64% of expat parents rate the quality of education positively (vs. 69% globally), 55% are unhappy with the costs — 20 percentage points more than the worldwide average of 35%. As a French expat states: "If you have kids, their education will cost a fortune."
The cost of childcare performs even more poorly. In fact, 73% of expat parents think childcare isn't easy to afford in the USA — compared to a global average of 40%.
Further Reading
Download
Press Contact
Want to take a look
at other years' results?
Check out the Expat Insider 2022!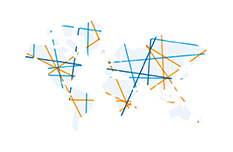 Selected Countries
Selected Cities